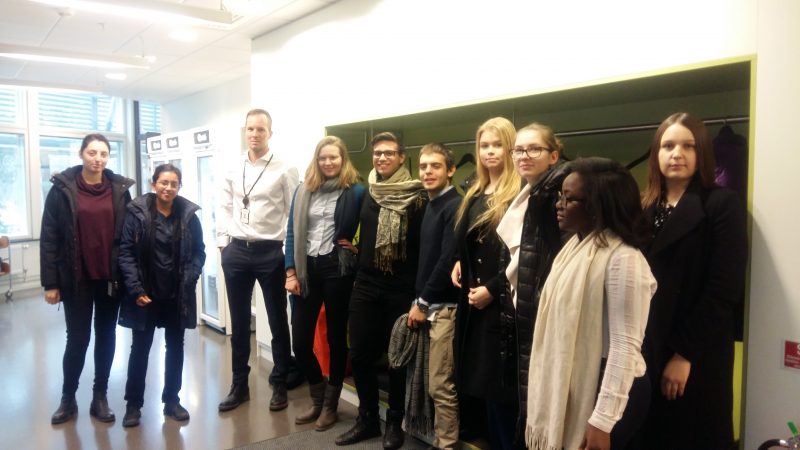 A possible career path? Study visit to a biopharmaceutical company
Hello again!
Last week towards the end of the general organic chemistry course (I see light at the end of the tunnel) we were granted the opportunity to visit a biopharmaceutial company. The company is called SOBI (Swedish Orphan Biovitrium) and the headquarters are right by the KI campus in Solna!
Initially, I felt the visit would not be that informative but after the information provided and some critical thinking I believe the visit was truly useful. Thing is, at this point in the semester we have covered two courses one related to biology and one to chemistry. The courses ahead will only get more complex and integrated. /C-A-N-T W-A-I-T/
Visiting the company headquarters, the labs and meeting the researchers helped me gain an insight into what career path I could choose if I choose to carry on with research. The company does research to get treatment and therapy for orphan diseases. (Diseases that affect less than 1 in 100000 people) When we were told how much research, effort and long the process to finding the right type of drug treatment, I was taken by surprise. It meant working the labs for a long long long time sometimes with no success if you're a chemist or biologist or researcher! Whaaaaaatttt?
After the tour of the labs (which were pretty cool) and information on the brief history of the company, my friends and I discussed what we would like to do if given a chance: to work in a lab or to not work is the questions folks! Do I want to spend ages in a white coat, sitting around for the reflux reaction to finish, digging through complex chemical structures to find a substitute for the toxic one, performing clinical trials?! Most of my classmates felt that lab work was not what they preferred while some did like it. I personally felt I could work in a laboratory given the opportunity. White coat and toxic chemical compounds? Sure why not.
This visit therefore was almost a guideline to help me decide whether I want to carry on with research or not. This does not mean it stops one from pursuing other positions in the lab or other paths that may include bioentrepreneurship or global health! Thing is research only isn't the driving force behind these treatments being produced. As we were told a whole lot of team work is put into the trials and research.
So I try not to worry too much! There are plenty of career paths out there, I'll eventually find the one! Or so I hope…
Thats all for now,
See you around!
Nishi.
(nishi.dave@stud.ki.se)