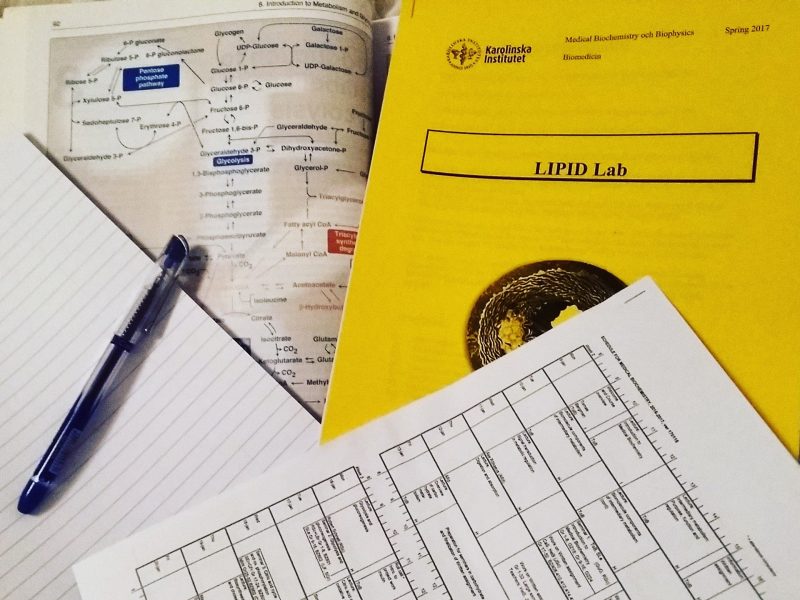 Medical Biochemistry- a new semester, a new course!
The new semester started on 16th of January also known as the spring semester. For the first year Biomedicine Bachelor students, this meant no break post organic chemistry exam because we started immediately with the Medical Biochemistry course. I will give a brief overview of what the course is going to be like and hopefully you gain some insight about the course!
What is Medical Biochemistry?
It is a field that deals with understanding the biochemical mechanisms in the human body and their corresponding physiological and metabolic processes. Studying diseases and the functioning of the human body at a molecular level helps in treating and introducing cures at molecular levels thereby advancing in medical care and treatment.
There is a variety of research going on in the Medical Biochemistry field right from cancer to diabetes to neurological diseases. The extent of research performed is vast!
Medical Biochemistry at Karolinska Institutet and Biomedicine Bachelor Programme
At KI, there is the Department of Medical Biochemistry and Biophysics that has 12 research divisions which are devoted to teaching about and researching even more about protein chemistry, molecular and structural biochemistry, tissue biology, inflammation and a lot of other topics. You can read more about it on their Web page.
For the Bachelor programme, in this course we focus majorly on how the most important mechanisms of the human body such as lipid, carbohydrate, protein, nucleic acid mechanisms. This means learning how energy is produced, learning the Krebs cycle and then in the end, learning about how all the mechanisms come together!
It is a lot of information but the course has been very interesting so far. We have two labs this course, two project works and a final exam. One of the labs is the lipid lab that Anna mentioned in her blog to be one of the top 5 labs and I cannot wait to perform it!
Studying Medical Biochemistry I feel is important to me and  I enjoy it because this truly helps me realise which aspect of the biochemistry part truly intrigues me. It also helpse decide in a way what research I want to be carrying out.
That's all for now, hope you gained some insight about Medical Biochemistry and are in awe of it because seriously, go Google research in Medical Biochemistry, you will also be stunned by the research going on! (And all of it sounds so interesting)
See you later,
Nishi.
nishi.dave@stud.ki.se