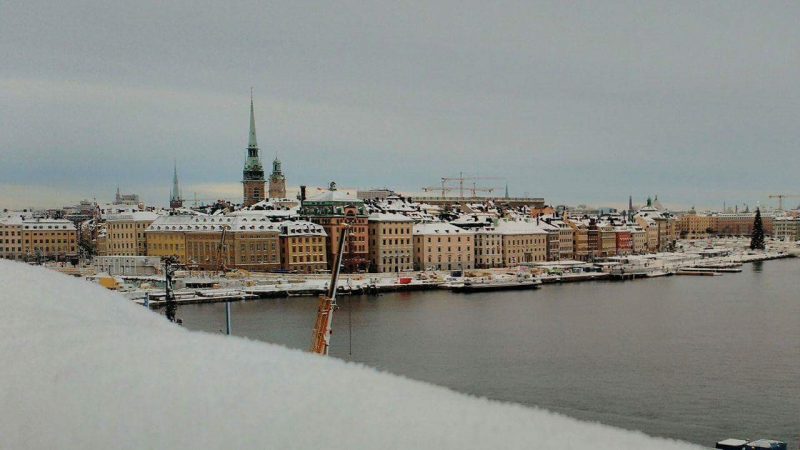 7 things to do during winter in Stockholm
Winter in Stockholm does not have to mean sitting in your room with a cosy blanket and some tea, no matter how appealing that sounds, as there are many other activities that one can do during this cold, cold weather! Winter generally starts from November/December and lasts until February/March, or longer who knows!  Here are some acitivities I have discovered in Stockholm that you can do:
1. Ice Skating
During winter, most of the lakes are frozen solid enough that you can walk on it or even better ice skate on! In Kungsträgården, they have an ice rink set up where you can pay and enjoy some time ice skating or as my dorm mate Virgina did, buy your own skates and go ice skating whenever and wherever you want! Vasaparken and Hagaparken are parks where the lakes freeze and it is really fun to go ice skating there.

Virginia testing her ice skating skills
[wpvideo T3hzR6jQ]
When I stood on a frozen lake for the first time and was praying that I wouldn't fall inside.
2. Hellasgården
This is a nature reserve where you can go ice skating or go to the sauna. If there is snow, you can also rent some ski equipment and go skiing! Just walking around the park itself is also an option because the snow makes everything alluring. They also have ice holes where you can jump inside the freezing lake from the sauna and then run right back inside the sauna and warm yourself up! This is something I really want to try but have yet to achieve.
3. Boat trip around archipelago or around Stockholm
Going to the archipelago when it's freezing outside on a boat? Yes! If you have the chance book one of these boat rides that take you on a 2 hour or 6 hour boat ride around the archipelago or Stockholm. The archipelago is basically a cluster of some islands and the boat ride takes about 2.5 to 3 hours or depends on which boat tour you book. It may cost more than the other activities but all in all its worth the experience.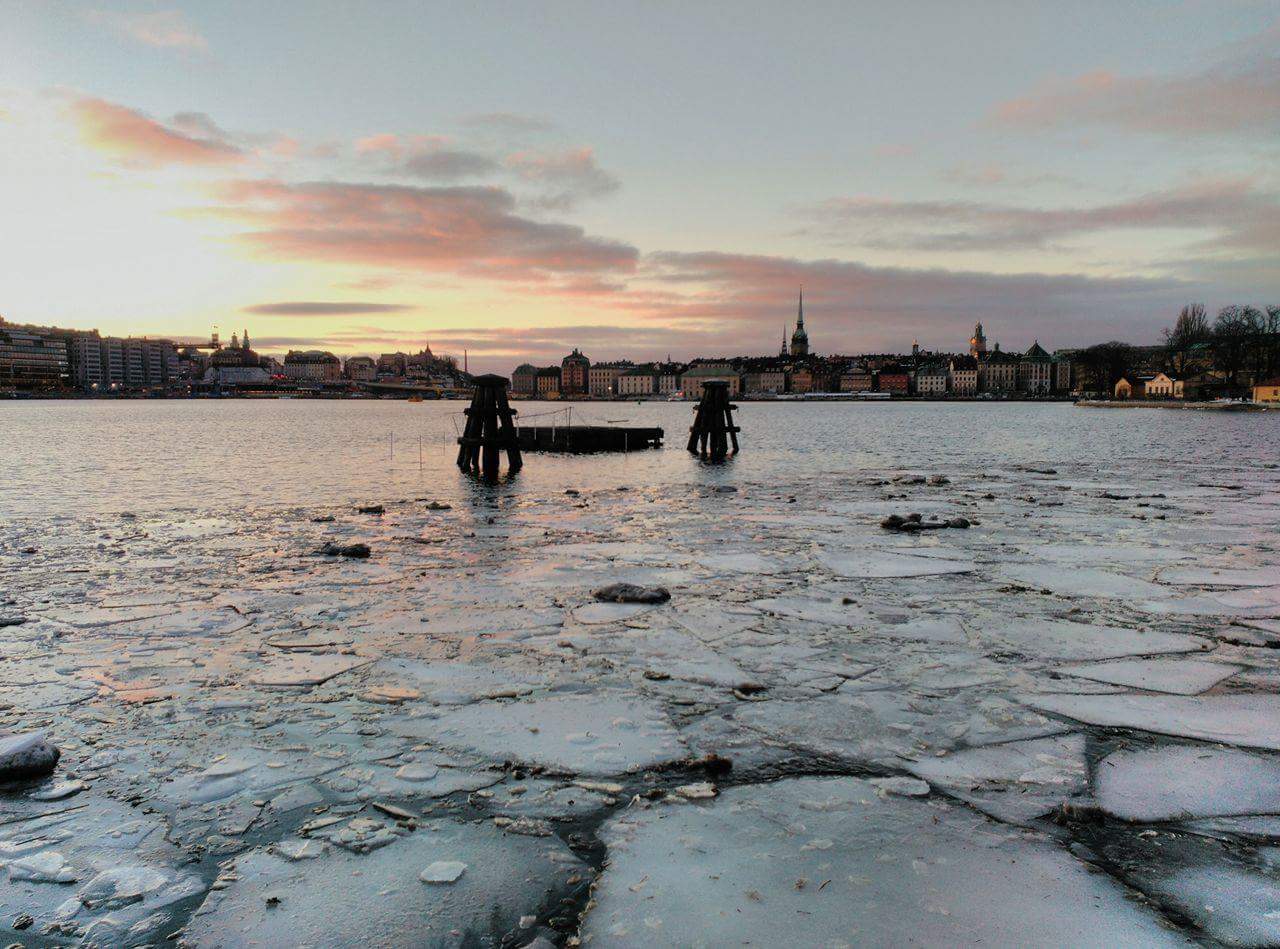 View of the lake from the boat!
4. Sauna
Ah, one has to go to the sauna if ever in the Nordic countries. You can find saunas or bastu in Swedish almost everywhere in Stockholm. The KI gym in Huddinge has a sauna close by that you can go to or there are gyms that have saunas that you can access if you are a member or just go to Hellasgården! Going to the sauna is a part of the culture here and honestly it really does warm you up during the cold times! Literally.
5. Enjoy the sunset
If you enjoy just walking around the town or by the lakes like me, this city has some really beautiful views to offer! The sunset during winter takes place quite early as the days get shorter but the view is beautiful nonetheless! You can go to Söder Mälarstrand and enjoy the view of the city or go to Skansen.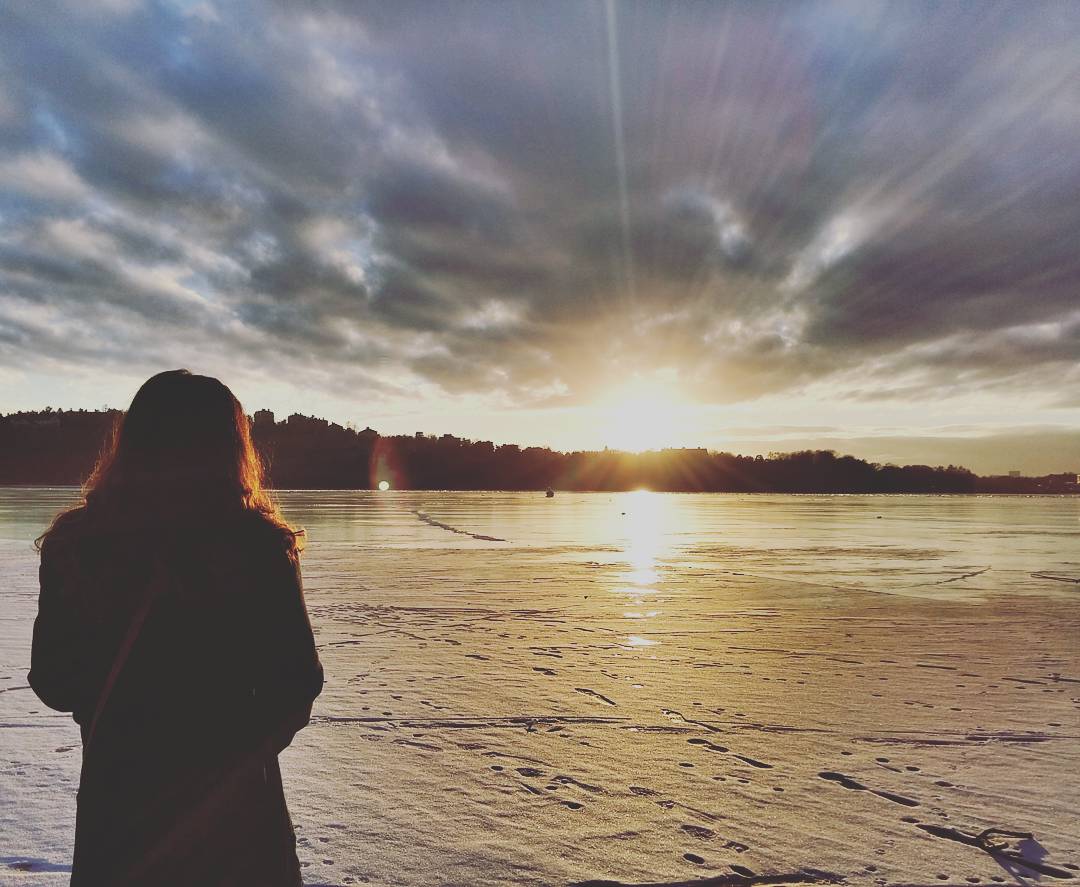 Standing on a frozen lake + enjoying the sunset + posing = Instagram worthy picture
6. Visit museums
There are many museums in Stockholm. The Vasa museum displays some beautiful real 17th century ships. The line is generally quite long so make sure you go early and start queueing. The Moderna museum in Skeppsholmen displays some modern and contemporary art so if you are an art fan make sure you go here. Similarly, Fotografiska also has contemporary art displayed but through photographs and there are exhibitions by various artists. It is located in Skansen near the Vasa museum. The Nobel museum located in Gamla Stan is also worth visiting. It displays information about the Nobel laureates, Alfred Nobel himself and what the Nobel prize signifies. As someone studying Biomedicine going to the museum really was inspirational and also this year I got to witness the Nobel prize winners talk about their work which is something really awe-inspiring. There are many other museums in Stockholm such as the Skansen museum, ABBA museum or Museums about Medieval Stockholm which you can go to.
7. If nothing works, go for some fika!
You may notice a trend here, my love for fika. In all honesty, going to a café after a walk around town or a long day after work going to warm up with some coffee and semla or cinnamon bun is one of the most comforting things. So go out, go exploring and then enjoy a fika!
Thats all for now,
See you around!
Nishi
nishi.dave@stud.ki.se
Instagram- @nishi__d
Also, shoutout to Virginia for providing and taking some beautiful pictures! Instagram- @virgar