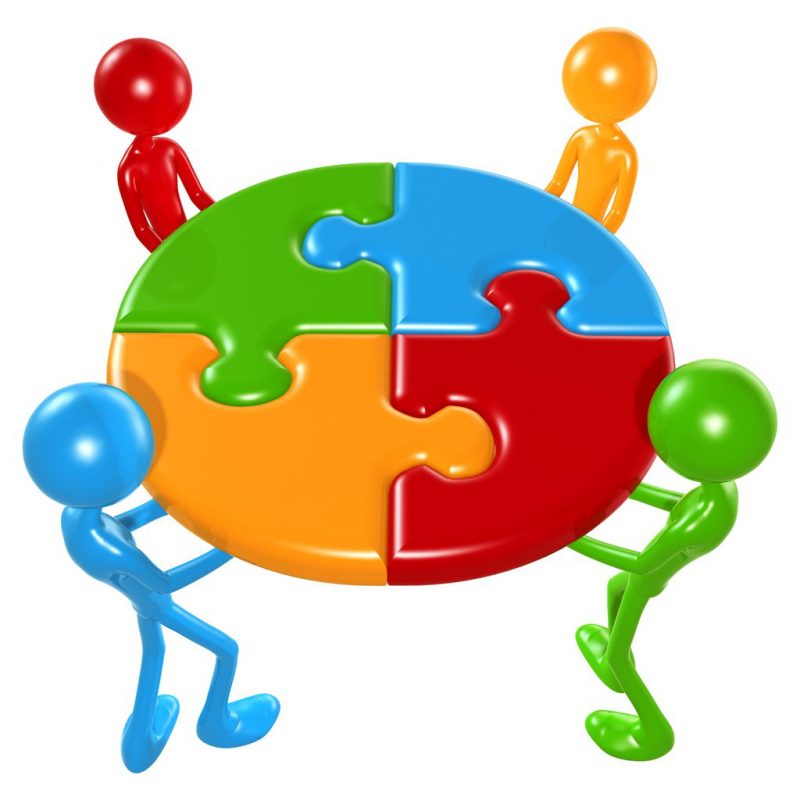 A beginner's guide to group work – from classmates to teammates
We've all witnessed a classroom fill out with sighs from the mere mention of group work. Why is it that most people dread group work? How much group work awaits you at KI? What are the benefits of group work?  Is there a success formula to it?
Most people dread group work due to the accountability shift from individual to shared.
Group work is an (un)popular teaching method that challenges a group of individuals to collaborate towards achieving a common goal. Despite having a common goal, each group member might have a very different idea of how to attain it. If you don't believe me, just ask 5-6 strongly opinionated people with different academic backgrounds, organizational skills and learning preferences to collaborate on a project. As they begin to discuss the project, take a seat and watch closely as the inevitable power struggle between the well organized individuals and minions of procrastination plays out.
With the roles assigned, the newly formed group is ready to face its first big challenge – scheduling their first group meeting. Those of you with some experience in group work know that even a simple thing like scheduling a group meeting can become an equally daunting task as providing an answer to the question about the chemical origins of life. "Why?", you ask. Well, truth is there are a number of possible reasons – certain group members might be living in another city, have a part-time job or a family to take care of… When you eventually do find a time slot that suits everyone, get ready to repeat the same process as many times as needed to complete the group project.
How much group work awaits you at KI?
While the amount of group work does vary from course to course, each course included at least one group project. During one of the most recent courses, "User Needs and Requirements Engineering", we were divided into groups of 5-6 and assigned projects which we worked on for six weeks. Bearing this in mind, taking the time to master the art of group work is definitely worth your while.
What are the benefits of group work?
The idea behind group work is to encourage students to use a deeper approach to problem solving and adress more complex problems than they would individually. It requires them to overcome their fear of trusting others with decisions that directly influence them. In spite of the stress caused by the feeling of not being in control, group work has its benefits:
Gaining a better understanding of the subject – group work is meant to be a learning experience regardless of whether you assume the teacher or student role. Explaining a concept provides a deeper understanding of it, and helps identify potential knowledge gaps.
Knowledge exchange / active learning – working in smaller groups creates a safe environment for quiet / shy students to share their ideas. HI is a program with a very diverse group of students which means that each group member brings a whole new perspective to the project.
Developing stronger communication skills – providing good arguments for your ideas and cooperating with people with whom you've had a difference of opinions.
Developing critical thinking skills – challenging others' hypothesis often leads to new ideas as a result of collective thinking.
Learning how to give and receive feedback, negotiate / compromise and make decisions 
Is there a success formula for group work?
The short answer to this question would be no. Unfortunately, there is no such thing as a unique set of rules which would, if followed, magically make all the challenges associated with group work disappear. Nonetheless, I found that following this simple set of rules tends to improve the group dynamics and ultimately the result:
Get to know your new teammates – taking the time to meet your new teammates outside the classroom context may have a positive influence on the group dynamics.
Make sure everyone feels heard – including others' ideas is a way of acknowledging their efforts and helps create an atmosphere where everyone feels free to share their ideas.
Distribute the workload evenly and set clear deadlines early on
Keep in mind everyone's capabilities when delegating roles / responsibilities  – each member brings a set of skills to the table. However obvious this may sound to you, I feel like this potential benefit of group work is often underused. Although I'm not saying that people with certain skills should stick to one type of tasks only, delegating the tasks to the people with the right set of skills / experience for it might prove itself as a huge time saver.
Don't let (non)existing personal relationships affect your attitude towards other teammates' ideas – I think it's safe to say that we're all guilty of this to a certain extent, but in order to get the most out of group work you should try to separate the inside and outside the classroom relationships. After all, group work is about coming up with the best solution through collective thinking and not winning a popularity contest.
Feel free to share your own experiences, questions / comments in the comment section bellow and I will get back to you as soon as I can.
Nikola