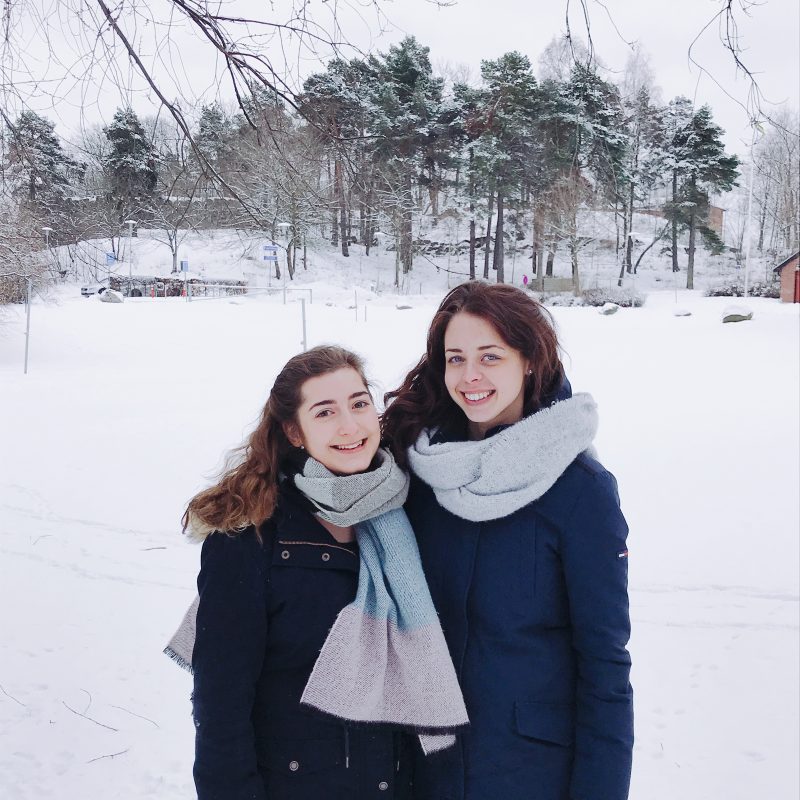 Meet our Tox students from Europe
It's been already 6 months since the Toxicology class of 2017 started their programme and it's time to introduce you to some of the first year Tox students. If you are a prospective student at the Toxicology programme, continue to read!
Name: Belinda Trachsel
Country of origin: Switzerland
Bachelor's degree: Pharmaceutical Sciences
"How was the transition from your bachelor's programme to Toxicology?"
Belinda's previous studies gave her a broad background in chemistry, medicine and biology. Therefore, her transition into toxicology went pretty smooth. However, during her bachelor, a thesis was not included and that's when she realized that laboratory work and writing scientific texts was a bit challenging at KI. Before, she was glad there was no long individual project, but now she thinks that it would have been nice if she had that previous experience. The Tox master also requires students to do more group assignments, presentations and there is a focus on all the different fields within Toxicology including risk assessment which is very unique.
Belinda really enjoys being in an international environment that KI offers with the close interaction with professor which was very different from her previous experience during the bachelor. The atmosphere here is very nice and KI offers many activities related to career prospective which prepares her for her future career. Also, MF (our official student union) offers a variety of event and committees.
"Adjusting to Stockholm and KI"
It was really easy for Belinda to move to Stockholm and she didn't experience something like a culture shock. Just small things like the different Swedish mentality, the way how people dress, Sweden's love for queuing up for everything and it's such a cosmopolitan city. Even finding housing went pretty well since she started early looking for accommodation.
Since she moved to Stockholm she has been very active with sports. Belinda used to be a tennis coach during summers in Switzerland, so she continued with other sports such as volleyball, badminton, running and ice-skating during winters. Apart from that, she has been dedicating quite a lot of her spare time to learning the Swedish language. She goes to Swedish class every week. I would say that Belinda is the sportiest person I know here in Sweden!
"Some words of encouragement"
Belinda encourages future students at the programme of Toxicology to do lots of extracurricular activities because there are many opportunities at the student unions, you can volunteer at the yearly nobel night cap (which is the nobel prize after party), involve yourself in the different committees and make the best out of it!
Name: Magdalena Baricicova
Country of origin: Slovakia
Bachelor's degree: Biomedical Science (UK)
"How Magda experienced toxicology and KI"

Before attending the Toxicology Master, Magda had a broad knowledge in biology because of her bachelor's in biomedical science. The reason why Magda has chosen to come to KI is because she was at Uppsala university before as an exchange student where she did some courses in toxicology which sparked her interest. Going from her bachelor to the master's programme in Toxicology was quite a big change. She used to be in big lecture halls with 100 students where personal connection with professors was difficult. At KI, there is more interaction with the professor due to the smaller class sizes. The teaching style is more on a personal level. Also, she feels that there is more focus on the coursework than the exam which allows her to learn more consistently and better.
Magda actually liked all the courses at Tox so far and the diversity in learning methods (problem-based learning, journal clubs and presentations) is very inspiring. It feels like she is getting the knowledge and also the practical skills for her future career.
"Moving to Sweden"
Because of her previous experience in Sweden, she knew what to expect from the teaching style. Her international background in an International European high school and bachelor in the UK made it much easier to settle in Stockholm. Finding accommodation was pretty tough for Magda and reading the blogs about finding an accommodation in Sweden stressed her a lot and she forgot to apply for the KI housing on time. However, she eventually managed to find a nice house on Blocket (website for selling and housing) with a nice landlord.
Magda has a very busy week. Like Belinda, she keeps herself very active outside the courses. She plays badminton at KI sports on Tuesdays, has Lindyhop classes on Wednesday and goes to social dance at MF on Thursdays. She attended Swedish class on Mondays and goes regularly to the Thursday coffee hours and small seminars at the KI library.
"Some advice"
Magda's last advice it not to forget to have fun when you come to the Tox programme at KI. Take all the opportunities that you have because KI offers a lot of interesting events and there are many ways to be involved with social activities which helps to broaden you network. Also, everyone is very helpful so take advantage of that.