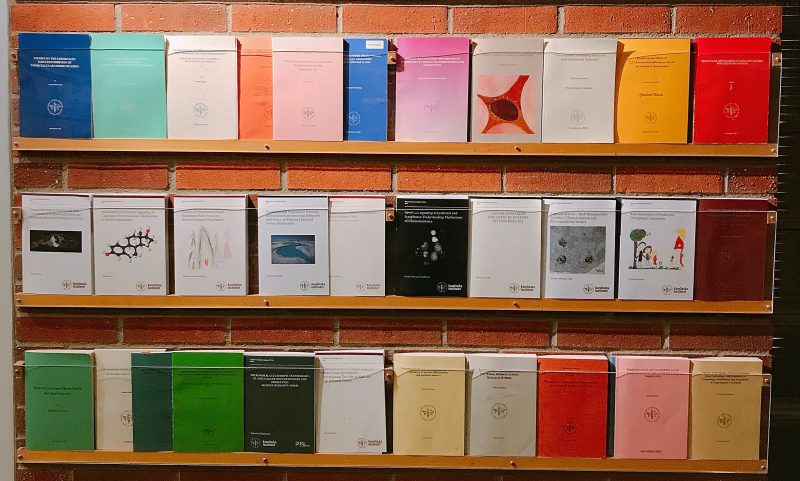 Life of Sara after the Tox Master
Meet Sara Banderby
Today we will hear more about one of our Tox Alumni, Sara Banderby! Sara was one of our guest lecturers during the course "Applications of Method and Methods in Toxicological Research", where she talked about Animal use in In Vitro Research with an emphasize on the 3R perspectives which are reduction, replacement, refinement. The lecture was a true eye opener and this lecture is an important part of her career.
What did you do after the Tox Master?
Sara graduated the Tox Master in 2016. From then, everything went quite smoothly. She had done her master's thesis at Swetox studying nanoparticle toxicity, where she tried to develop new models. She enjoyed her work quite a lot but during her time at Swetox she tried to explore other research as well. Towards the end of her thesis project, she was recommended to another researcher at Swetox who was looking for a laboratory engineer. Soon, Sara was offered a job for 6 months and could start working directly after the summer of her graduation. During her last summer holiday, she worked at the public health agency in Sweden, where she already had worked before during her summer holidays. Around August, back at Swetox she did a lot of different studies. Again, she tried to stick her nose into several projects.
It was then when she formulated the 3R project that she is still working on now. One of the researchers gave her an assignment: "I would like to give you guys a 3R assignment. Go look into your fridges and freezers and try to write all the components that come from animals." Back then, Sara was very annoyed because the reason why she was there was because she did NOT want to work with animals.
However, when she looked into her fridge and started to write down all the components derived from animals, she had an epiphany. She realized how many animal-derived products she was using and decided to do something about it. Sara wanted to increase more awareness and started the project about 3R's with her colleagues.
What was next?
When her employment at Swetox was finished, she continued the project while she was again employed by the public health agency for a year. That time, she worked with next-generation sequencing and light bioinformatics because that was something that was getting bigger and bigger even within toxicology. After working there for a year, Sara recently started her new job as a research scientist at Cepheid, which is a molecular diagnostics company.
Why Sara still continued with the 3R project
The 3R project has allowed Sara to be very creative. People are very explorative. Right now, one of Sara's projects is still going on. Her presenting for example at the Master's programme in Tox is part of her project. She wants to increase awareness and reach students with this. She would like to present the facts and give them an "Aha!" experience. Even if you work with in vitro methods, you will use animal biproducts in your research such as antibodies and cell medium. It is not easy to realize this during your studies when you are busy and just working towards the exams and final projects. There is barely time to reflect on the work you have performed throughout the courses. 
Words of encouragement
Something that bothered Sara throughout her career is that she would hear: "No, we won't change that because that's the way how we did it until now". However, is that always the right way to do it? When you have just graduated, you are still young! Therefore, Sara encouraged students just to try everything that they are interested in. She believes that the generation will be able to create new alternative methods with fewer animals in the future. Until then, Sara will next to her new job continue working on her 3R project during her free time.
Sara thinks that the Tox Master is unique in terms of the 3R perspectives. 3R cannot only be used in research but as you can expand toxicology to many fields, it expands to the market, the attitudes in human, economics and governmental policies. Dealing with 3R opens big doors and new opportunities.
If you have any questions regarding the Toxicology Master at KI, feel free to contact me!
jie-hyun.choi@stud.ki.se