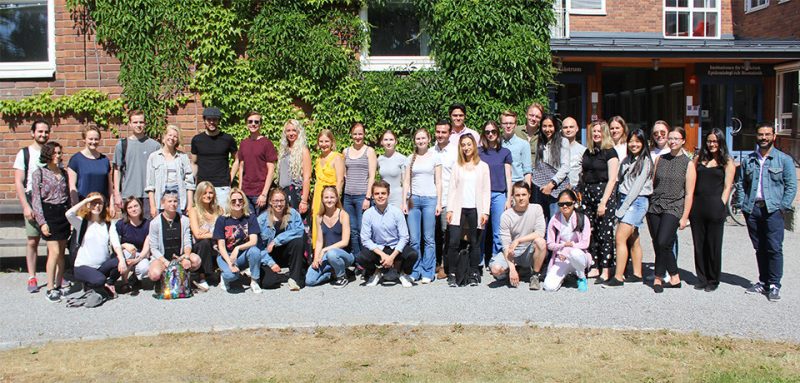 KI Summer School in Medical Research- Summer Research Part 2
Hello from sunny Sweden!
In one of my previous blogs, I had mentioned about the different research opportunities a Bachelor student has while following the programme. I even blogged about one of them called the Amgen Scholars, here!
Amgen Scholars is a program that lets you apply for summer research to a lot of different universities. Today I want to talk more about summer research at Karolinska Institutet. The program that I had applied to and got in is called the KI Summer School in Medical Research.
What is KI Summer School in Medical Research?
This is an introductory research course offered by KI to students from not just research related courses like Biomedicine but also for medical doctors and dentists! This program is specifically for students enrolled in the undergraduate programs at KI so it exposes students to research at an earlier stage. The program is offered by the Department of Microbiology, Tumor and Cell Biology (MTC). The program is entirely in English.
Previously, this course was called Sommarkurs i medicinsk forskning, 10.5 Hp/ Summer Course in Medical Science, 10.5 Credits (1QA017) however it has now been discontinued and instead replaced by this program. Therefore no credit points are allocated if you do the KI Summer School in Medical Research. But that should not be seen as a negative because despite the credit points this course offers lot of experience with research work!
We get to carry out a research project under the supervision of our preferred supervisor. So you need to contact a supervisor whose group you would like to join and work in. This fosters curiosity for research and helps encourage students to apply for Doctoral education.
What is the course structure?
The course starts in June so right after the last semester and the first week is an introductory week. Below I've added the schedule for this years introductory course. As you can see we had a lot of interesting lectures and seminars. Lot of experienced researchers such as the Vice-President of KI, Karin Dahlman-Wright spoke to us about their research experience throughout their life. I found this to be quite inspiring and enlightening. We also had lectures on hypothesis testing, how to write a scientific paper and other research related topics. This is because not all the students in the course are from a research programme therefore they introduce the topics to them.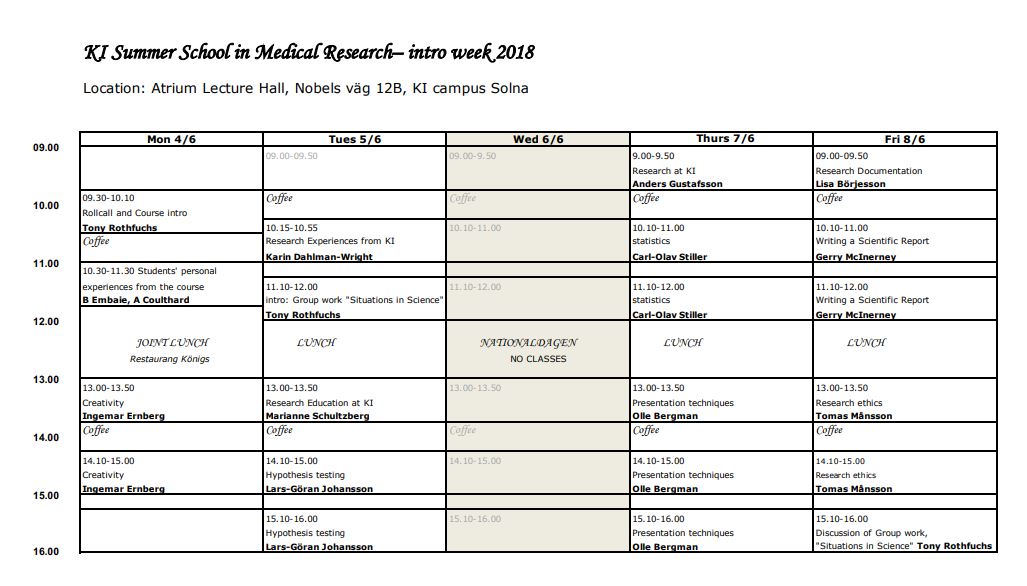 After the mandatory week we have a 6-week time frame to carry on research in the department that we have selected. The project is carried out under supervision. Finally, the project ends in August with 2 mandatory days where we have poster presentations and also we present our project to the others in 15 minutes using a PowerPoint presentation.
The students receive a stipend for the course as do the supervisors. Therefore, it is a great initiative to work during the summer as well but also to gain experience in research.
Application and requirements
The application deadline is usually in February every year. It is a straightforward application system where you fill out a form, a cover letter, CV and priority is given to students who have a supervisor already. Only undergraduate students at KI can apply and at least 30 credit points need to be accumulated for one to be eligible.
Project requirements and evaluations
The project needs to be carried out over a span of 6 weeks with 1 week for preparing the poster and presentation. On being accepted in the course the supervisor needs to send a project plan at the start.
At the end of the course in August, all students will hold a 7-10 minute presentation and also have a poster session. The students give each other feedback and earn about the different projects.
Read more about the course here: https://ki.se/en/education/ki-summer-school-in-medical-research
I am very happy to have been accepted in the course. I am currently working on my project in the Department of Neuroscience and have learned a lot! More about this in an upcoming blog! I would definitely encourage anyone to apply for this as it is a great chance to experience research early on during our academic studies and start to build a good foundation.
That's all for now.
See you around!
Nishi Dave