The long distance relationship series – part 1 of 2
One of the challenges of being an international (dare I say mature) student, is the likelihood that you'll be in a long distance relationship (LDR). With those three words, many worries, fears and questions crop in everyone's mind, such as: "How will I/we cope?"; "Will we manage to stay in touch and keep the flame burning?"; and "Do others manage and remain together?". Well, I won't claim to answer those questions for you, but I can canvas the Global Health class of 2018/2019 to get an insight in to the modern day LDR.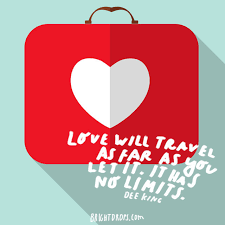 Going the distance
LDRs are when people in an intimate relationship are separated geographically and can't meet regularly face-to-face[i]. There is no prescribed distance or time difference. The distance between couples in class ranged from 460km (Sweden) to 17000km (New Zealand). As you can see each relationship presents its own unique challenges, one obvious one being time difference. If you happen to be living on the other side of the world there can be as big a time difference as 12 hours!
The majority of couples arranged a schedule around each other's timetables so they knew the most convenient times to call each other. The most common mode of communication was via video chat (Skype, Facetime or WhatsApp – the choices feel endless). If the modern way isn't your cup of tea, then there's always the love letter. The love letter is a dying art, that can lead to anticipation whilst waiting for mail (we just don't receive enough personalised post anymore); excitement (at receiving – hopefully – handwritten post addressed to you); and delight (at the words a loved one took the time to pen).
When the frequency of seeing your significant other (SO), reduces drastically, and you're the type of person that likes to prepare themselves for the challenges it might throw your way, I've learned that sometimes there can be unexpected positives and hurdles, that might not have been accounted for. I've already mentioned time difference as being difficult. Many disclosed it was an opportunity to be creative and learn to communicate better. On the flip-side, the hardest part was not being there when your SO has a bad day.
For those who have left busy jobs behind, they've found a new-found freedom in having a more open schedule, so they're more reachable. Coming to KI was a necessary step to take for each individual to achieve what they desired academically and personally. Both seemed to recognise this, and it has seemed to fuel their commitment to one another, especially at times when it feels they mightn't emerge intact at the other side.
Some would say, "think twice," others, "trust the other person and the relationship."* Find out what makes you personally happy apart from your SO and together. 
If these couples can do it, so can you. So, you're feeling somewhat encouraged, but you're still wanting concrete steps or tips on keeping the flame alive from those going through it IRL, then look no further than my next blog (and whatever else you can find online).
*Acknowledgement: I would like to thank all the lovely people in my class who took the time to complete a survey on what is undoubtedly a personal (and sometimes trying) aspect of their life here at KI.
Disclaimer: My blogs on LDRs are based on anecdotal evidence and not research, something you learn about during the research methodology course in the first semester. I'm afraid I will not be held responsible for the outcome of any LDR (unless of course it was successful).
---
[i] Wikipedia [Internet]. Long-distance relationship [updated 2019 January 9; cited 2 February 2019] Available from: https://en.wikipedia.org/wiki/Long-distance_relationship
E-mail: rahel-ochido.odonde@stud.ki.se
---