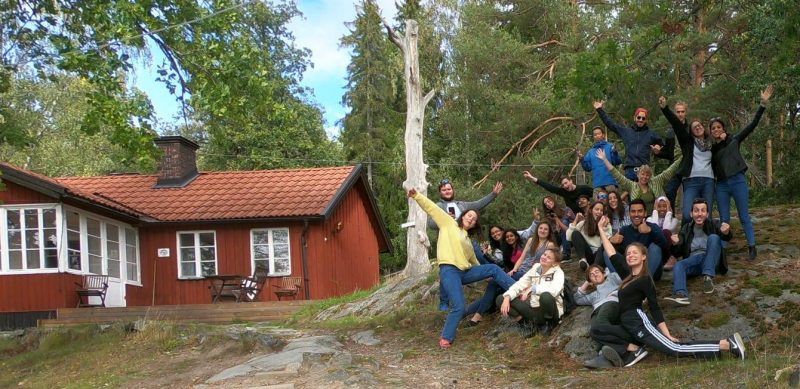 A big giant family: MTLS in Solvik
If there's one tradition in the Molecular Techniques in Life Science Programme (MTLS) it is a short trip to MF's cabin Solvik. Want to know how this was one of my best experiences since I've been living in Stockholm? Keep reading!
First thing first: what is Solvik?
Solvik is a cabin owned by MF (Medicinska Föreningen, the student association at KI) located in Värmdö, just 30 minutes by bus from Slussen. Solvik is a cabin complex located at the lakeside and surrounded by a beautiful Swedish forest. If this doesn't sound appealing enough, Solvik also has a sauna to enjoy a bastu (Swedish word for sauna) session.
My Solvik experience
The MTLS second year students organized for us a night in Solvik, so both years could meet and have fun together. After a short bus ride and a 10 minute walk through a shortcut in the forest (don't expect me to remember where this was, I felt pretty lost by then) we arrived to Solvik. The landscape there is beautiful, so peaceful and relaxing. We played some games to break the ice and learn each other's names, and we had a pre-dinner hike around in the woods. We went up to a hill from where we could see the lake and the sunset and we took beautiful pictures. It's incredible that Solvik is so close from Stockholm city!
After our hike we prepared a family dinner together – shoutout to those who prepared the soymeat for our "Swedified vegetarian tacos", it was sooo good. We then ended our Solvik experience by mingling and dancing to some music, we had a lot of fun!
Wait…did anyone say sauna?
As the saying goes: "if you go to Rome do what the Romans do". So, Solvik wouldn't be Solvik without sauna and jumping into the lake. I'd been in saunas before, but I had never tried the "jumping into the lake" part, especially on a Swedish September day. I have to say now that it was one of the best things in Solvik, and you definitely need to try that if you come to Sweden! The lake water was too cold for me, so whenever I jumped in I immediately needed to get out, but I was very impressed that some of my friends could stay in that water for minutes. Apart from fun, it was a very energizing activity, and we felt great afterwards.
To the future MTLS students
I think I can speak in the name of most of my classmates when I say that we will do our best to keep up with this Solvik tradition. The second years that organized it for us did an awesome job, so it will be hard to keep that level, but we'll try our best!
I think we have a great relationship within my class and with the second-year students, and I hope it will be the same or even better for next year 🙂
I hope this post showed you a bit of MTLS social life and feel free to email me for any other questions about life in Stockholm, academics or the application process at: ines.rivero.garcia@stud.ki.se.
/Ines
P. S. Credit to Gunter Yeagle for comming up with the "Big Giant MTLS Family" name.
---
email: ines.rivero.garcia@stud.ki.se
IG: @inesriverog 
LinkdIn: Ines Rivero Garcia