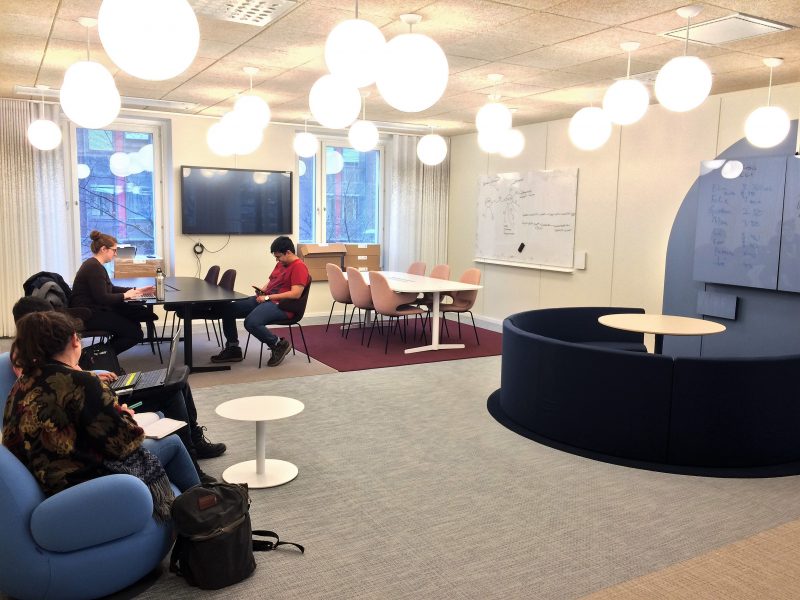 My favourite study spots on KI campus
Hej hej!
Now after the Christmas break we, the KI students, are having our final exams! I thought it could be a good opportunity to show you my favourite study spots on campus – apart from the KI library. The KI library it's a fantastic place to study: there are group rooms, silent rooms, more comfy sofas to relax and have a break with your friends… However, I usually get bored if I study in the same place everyday so I explored the campus and I found these other spots for when you need a change.
As you may know, the KI campus is divided in two: Solna and Fleminsberg. There are many nice places to study in both of them, and I'll divide my top places depending on the campus they are located in.
Campus Solna
Biomedicum ground floor
Biomedicum is one of the nice and brand new research buildings at KI. There are some classrooms in the ground floor, but the other floors are for research only. I love to sit in the Biomedicum entrance hall and write some blog posts or reply emails before class. It can be a bit noisy since there is people going in and out, but it's a great place to get some work done before or in between classes.
Scheelelaboratoriet
The Scheelelaboratoriet building is just behind the KI library. I went there a couple of times to do some lab courses. There are two things I love about this building: it has a lunch room with microwaves in the second floor (so you don't need to queue at Jöns Jakob) and it has many cozy study spots. You can even choose how do you prefer to study: in an individual table, in a group room, sitting in a sofa… It is also the perfect "quiet but not too much", so you can focus and be productive.
Retzius väg 13
This building is just next to the restaurant Jöns Jackob. It has some very nice group rooms to study with your friends, and it's perfect when the group rooms at the library are all booked.
Campus Fleminsberg
The city
You might be wondering where does this name come from. I don't know if this part of KI campus Fleminsberg is really called that way, but at least my friends and I found it similar to a city and hence the name. If you want to understand why go on a visit. This corridor with lecture halls is just behind KI library Fleminsberg and it has many seats and rooms to work both individually and with your study group. It isn't very crowded most times, so it's another place to get your work done.
Alfred Nobels allé 23
And last but not least I want to show you a couple of nice spots that I found in Alfred Nobels allé 23, Huddinge. This building has also lecture halls, and what I specially like about it is that in every floor you have group tables, sofas…so even if there is many people you'll surely find a seat.
My favourite place of this building looks very much like a garden – it even has birds singing in a very low volume, helping you to be focused and relaxed.
The other place that I like in this building is probably more to relax with your friends that to do some serious work. Make sure to check it if you have lectures in this building.
This is all for today! Contact me by email (ines.rivero.garcia@stud.ki.se) if you have any questions about Molecular Techniques in Life Sciences, KI or life in Stockholm. And good luck to those of you who still have exams 🙂
Don't forget that the application for the Global Master's Programmes closes on 15/01/2019 – make sure to send yours through universityadmissions.se!
/Ines
---
Email: ines.rivero.garcia@stud.ki.se
LinkedIn: Ines Rivero Garcia