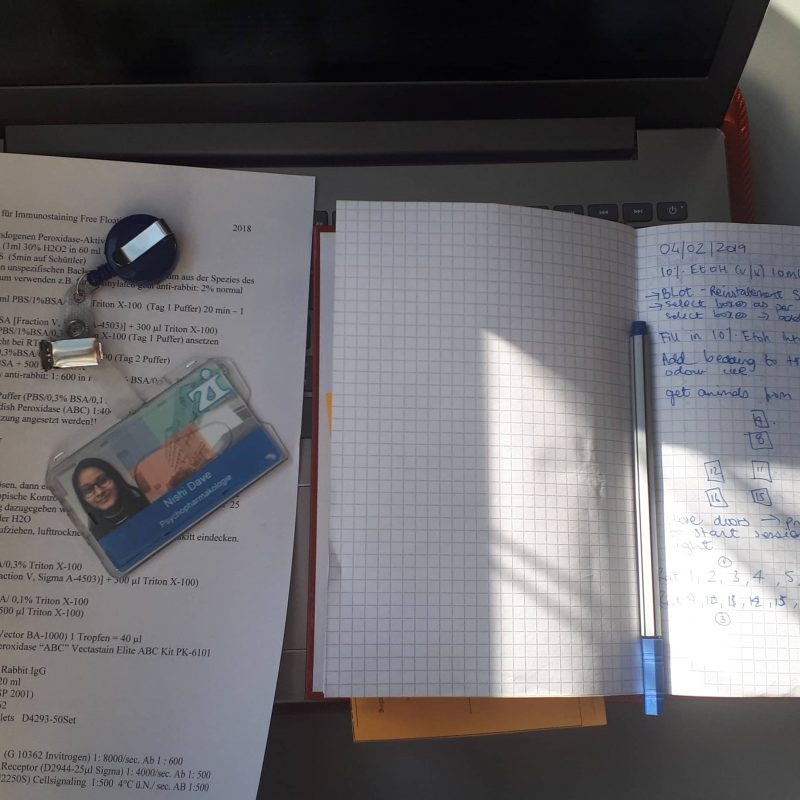 Thesis Diary Vol 1: Starting work at the lab
Hello and welcome!
I decided to make an online diary for my thesis work. As I mentioned in my previous blog, I am conducting my thesis research abroad. Today, I will recap my experience of getting started and the first few weeks of working in the lab.
First Day:
I was super super excited to start working on my thesis project research! I remember waking up early and reaching the lab at 8:00 which in retrospect was not the smartest thing to do considering my supervisor came to work at 9:00 am. However, I was also nervous to find out how my supervisors were. It is important to have supervisors you are comfortable working with.
My supervisor is a post-doc student who has been working in this lab for almost 6 years now and she has a lot of experience with the experimental set up. I felt very welcomed and happy to work with her. I also met my PI who is the main supervisor and the whole lab group. Everyone seemed very nice and work environment was also inviting.
First Week:
During the first week, I had to get a lot of paperwork done. this paperwork enabled me to access the different facilities in the lab building which was essential for me to carry out the research for my thesis. Additionally,  I had to get my access card fixed for the lab building and then separately for the different facilities. Setting up my space in the office and fixing my account to access the servers combined, it was a hectic first week.
I did feel like I wasn't doing much and thought I would be delayed in starting my experiment but on conferring with my classmates everyone had a similar week. So, if you start you thesis expecting to begin work from day one, as I did, you might be a little disappointed. However, things start to take shape after the 1st week which is good! 🙂
First Month:
It has now been 2 months since I started working here. After the first week, the upcoming weeks were more busy with setting up the experiments and running them. (I will blog about the experiments in an upcoming post)
I did notice that it was and is very important to have a plan and try to stick to it as much as possible. This made it easier for me to change the experiment timeline if something went wrong. Luckily, everything was just fine and I managed to stick to my plans. It is also very important when writing a thesis paper to have some time set aside for reading lots and lots of papers and making notes.
I also presented a paper in a journal club meeting during my first month so if you think lab work is all about pipetting, you might be mistaken! There is a lot to do apart from conducting my experiments such as having weekly lab group meetings and department meetings.
Essentially during the small group meetings everyone who is working for the same PI (Principal Investigator) such as post-docs, PhD students, master/bachelor students, lab technicians, administrators all gather and once a week everyone presents a progress report of their work. Otherwise, the meetings are also for discussing logistics  and planning other collaborative experiments. On the contrary, during the department meetings all the PI's and their group members gather for interesting seminars, or listening to guest speakers or if someone wants to present a final report before submitting their paper.
I had never ever presented a paper before so it was quite a challenge for me to study the paper, read up on the methodologies and present it briefly in 15 minutes to my supervisors and fellow lab-mates. Additionally, I had to always make time in my schedule for the meetings and thus the first month was rather exciting.
It feels good to have settled in, of course the way of working here differs from that in labs where I interned during summer in KI. However, working in an international lab setting is definitely teaching me a lot of valuable skills and is a very enlightening experience. I will be back with more updates on my thesis research soon!
That's all for now.
See you around. 🙂
Nishi
nishi.dave@stud.ki.se