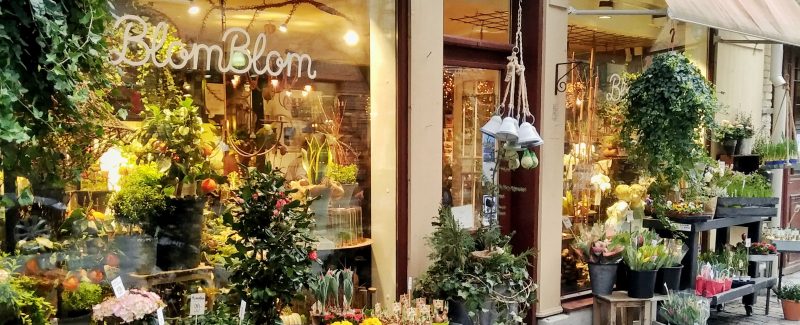 Cheating on Stockholm with Gothenburg: Is it worth it?
Back home we say that it's better to be first in your village rather than second in Rome. So Gothenburg is the second largest city in Sweden. Does size matter? Especially, if it has other attractions and has a great personality?
Even though I always say that my love of Stockholm is uncontrollable and infinite, my visit to Gothenburg was absolutely worth it! A high-speed train delivers you from Stockholm to Gothenburg in about 3 hours and student priced tickets begin at about 160 SEK and that gets you all the way to the other side of Sweden.
Disclaimer: This is my impression from my brief trip to this wonderful city 😉
And this is why:
The Architecture
Stockholm is densely packed with buildings, while Gothenburg doesn't actually have an old town. Gothenburg city center is full of perfectly renovated 3-4 storey buildings, which sometimes leaves you speechless with their original design or maybe reflect their neighbours, like twins.
Haga District
Located in the center of the city, the Haga area was planned in the XVII century and you can see its cute little wooden houses with shops full of hand made souvenirs and traditional Swedish design. I guess February is not the best time to visit Haga, but during the summertime these streets are full of outdoor markets and cafes and a Christmas market in winter. Nearby you can find the Skansen Kronan – fortress, designed by the famous Swedish architect Erik Dahlberg in 1697. Pretty old, right? But how did it survive through the centuries? Simple, It was never attacked…
Feskekôrka aka Fish market
Surprisingly, fish consumption in Sweden is much lower than I had expected. Therefore, if you long for this taste, Feskekôrka will be a good solution! Located in a cathedral looking building, the fish market has an impressive variety of seafood. If you don't want to cook, there are some excellent restaurants on the second floor.
Trädgårdsföreningen aka Garden Society
Located right in front of Central Station, this park looks pretty, even in winter. The garden gives you the impression of a quiet island surrounded by trees. Unfortunately, the Palmhouse was closed because someone was lucky enough to celebrate their wedding there. Couldn't you all have waited until next week?!
Statues
Poseidon
You didn't imagine this God with these coarse features, right? Well, I guess during the summer his fountain will soften his face. But why would you care if you are surrounded by the City Theatre, Gothenburg Museum of Art and the Concert hall. BTW if you don't want to pay for the concert ticket, you can chill at this square and listen to it from outside.
Museums
I am the biggest fan of museums. Luckily, Gothenburg has a lot. I love Swedish policies about fees: if you're under 25, it's free in Gothenburg. Too old =((((( If you're not that young and fresh (like me) I would recommend that you get the annual membership card (100 SEK) to visit the Art museum, the City museum and the Rohsska museum. This card is valid for the whole year in case you want to come back.
R
ö
hsska museum
If you're a fan of design this is your must see place! I find it quite weird but Swedes are big fans of chairs. I mean, yeah, we sit a lot but not to that extent…
After the renovation, Rohsska museum opened its doors to show how different cultures influenced design.
Gothenborgs museum
If you're a history fan, this place is for you. Would you like to see how people pooped in the middle centuries? Or see a viking ship? All sorts of attractions just for you 😉 This museum has some interesting decisions in showing information about daily life throughout the centuries.
Museum of world culture
If you travel with kids this is a perfect place for you! Take off your shoes and come into the world of things from different cultures. Since Gothenburg is a highly international city, this museum aims to bring to life and illustrate different cultural manifestations.
Universeum
Get ready for my overexcitement…
I.AM. IN. LOVE!!!!
If you don't like nature or animals just skip this paragraph.
Becoming a Maugli
Take off your clothes, it's hot in here! No wonder, because we are in a tropical forest! To get inside we had to pass through climate control doors: all plants, birds and animals need fairly high temperatures and humidity. Plopp! Ohhh, what's this drop? Tropical rain?
This section is full of animals and birds! If you loved the "George of the Jungle" movie, you'll find all your childhood friends: Tookie-Tookie will laugh at you, capuchin monkeys will jump in front of you while you walk down the stairs. Despite the fact that there are no educated gorillaz, you can look for a sloth among the trees. The gigantic hut on the top of the tree will make your childhood dreams come true.
Universeum is a great attraction for adults and kids, it includes not only a tropical forest but an oceanarium and a park of reptiles! I'm not a big fan of snakes, however, the ocean part left me speechless. I really love observing giant fishes floating around, that's a very relaxing pastime! Hands down, this was the best 150 krone I've ever spent!
Overall, travelling never leaves you without memories and I'm glad I explored Gothenburg alone, which gave me the chance to focus on what I enjoy more.
Will you make your own impressions?