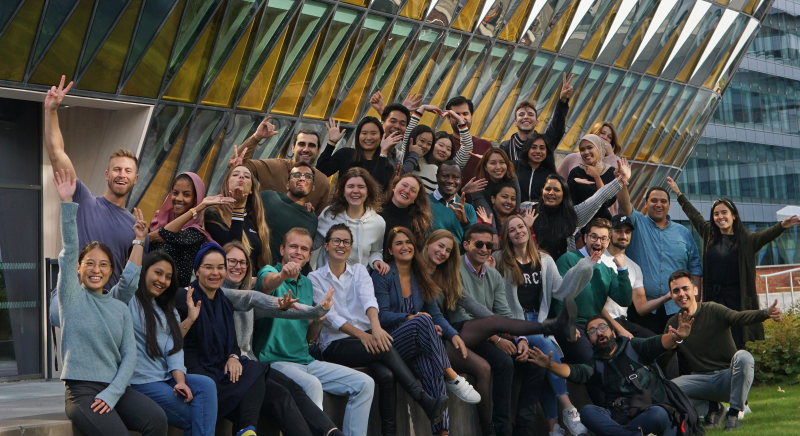 Masters in Bioentrepreneurship 2019. Who got in?
This blogpost introduces the students admitted to the Master's programme in Bioentrepreneurship (MBE) 2019. This master is 1 out of 9 global master programmes KI offers. Get ready for some hard facts and statistics about my classmates and their profiles!
1. Nationalities
My class represents 20 different nationalities. We are also the biggest number of students thus far (38 students!!) compared to previous MBE classes. The image below specifies the nationality and the number of students from each country.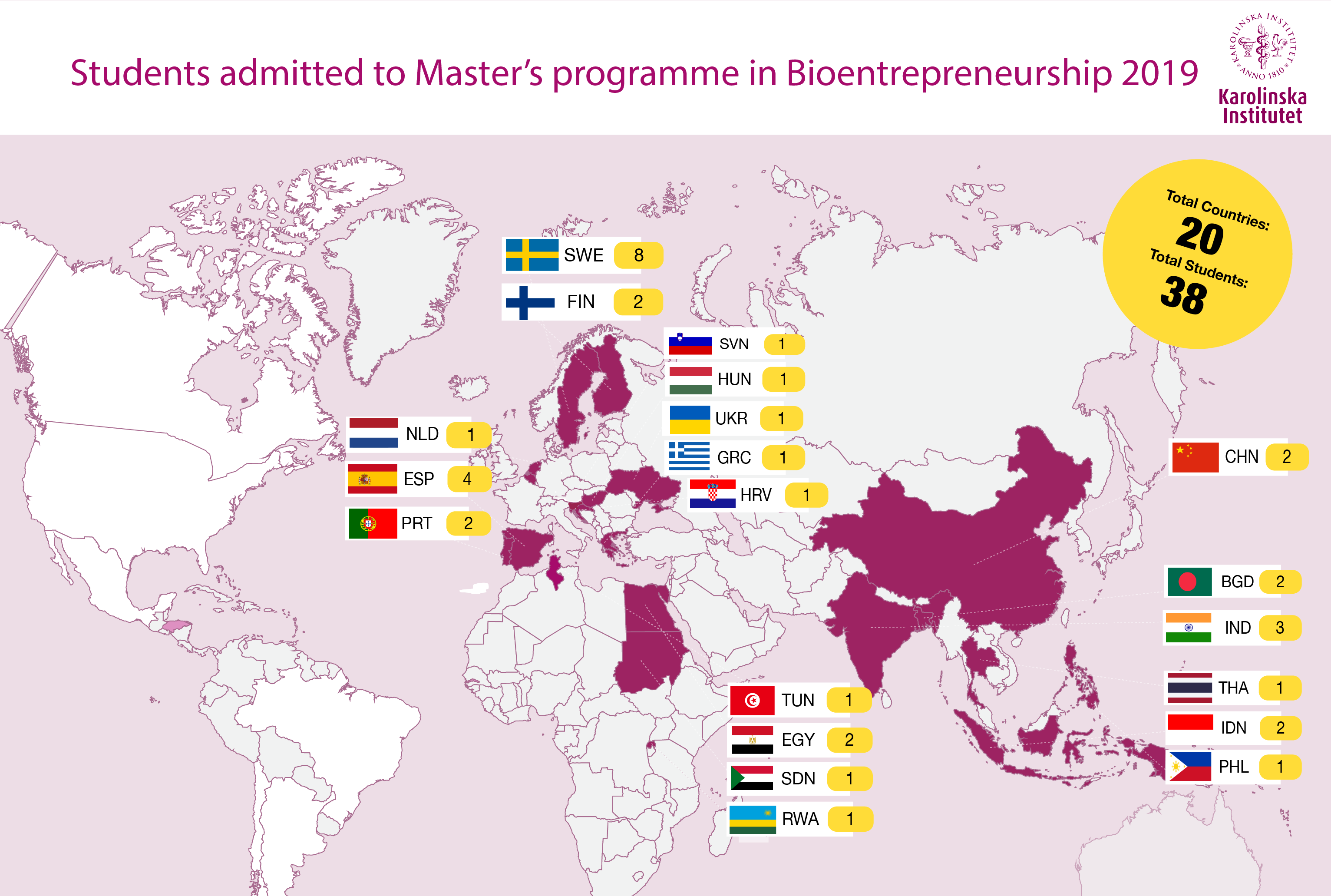 This kind of diversity not only challenges our learning in the classroom, but also encourages learning outside of the classroom as well! We learn so much from each other by sharing knowledge, information (and delicious food) about our country and ourselves.
2. Educational Background
The pie chart below summaries the different study backgrounds of my class. Some have already completed a masters and some have double degree bachelors. Pharmacists and Biomedical scientists are the clear majority!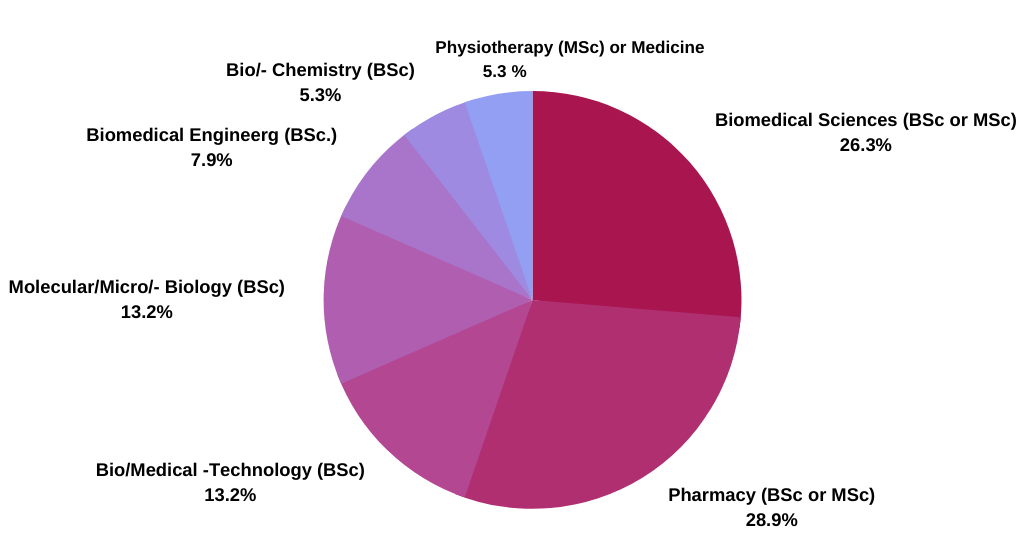 3. Work Experience/Extra curricular
90% (ish) of my classmates did not start this programme directly after their university studies. Many have worked….
For pharmaceutical companies for a few months up to years
As research assistants in research facilities
For start-ups
Clinically at hospitals
….before starting this masters. I'm just naming a few here. Some took some time off and simply travelled the world.
Many of us were also active in various student organisations or non-profit organisations during our studies and gained interdisciplinary skills that are highly valued for this type of masters. The concluding message here is that this masters puts emphasis on needing experience outside of your studies!
4. And lastly…..Age.
It is never too late to learn. Therefore, age does not have any significance in when to begin or stop to learn! Nevertheless, many prospective students still wonder about the "average age" of students attending this programme. The bar graph below shows the age span in our class.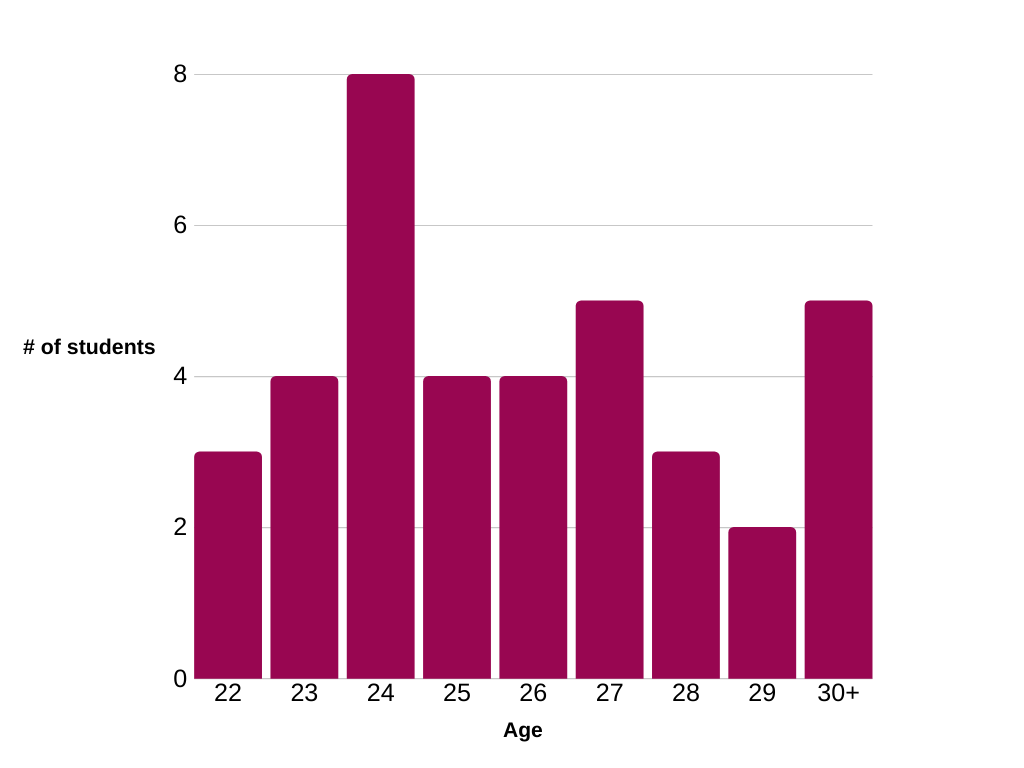 This is it. Hope you found this blogpost useful and informative! Now you can make the right choice of whether this programme is for you or not 🙂
// Tina (i'm the one with brown hair and blue outfit sitting in the middle!!)
"Success isn't about how your life looks to others. It's about how it feels to you".
I am studying the Master's in Bioentrepreneurship and will be writing about my courses, my classmates, and the general satisfaction regarding this masters. Being born & raised in Stockholm and previously doing the Bachelor's in Biomedicine at KI, I know more than the average KI student about living in Sweden and the university :) Feel free to contact me: tina.sayari@stud.ki.se