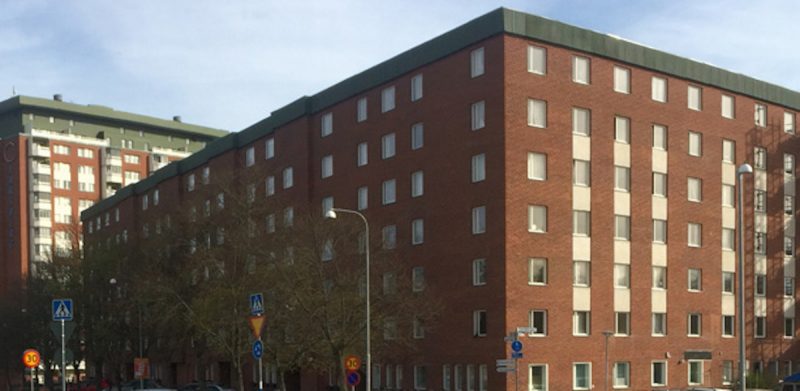 KI Housing: Larsberg/Lidingö
It is well-known that Stockholm is a nightmare when looking for housing, especially if you are international student. For this reason, I will talk about another great KI Housing alternative: The Larsberg Residence in Lidingö. I will provide with everything you need to know about this student accommodation and the reasons why it is a great option to apply for.
For a comparison between different KI Housing options please click here: https://studentblogs.ki.se/2020/04/26/ki-housing-options-compared/
Location
This is an amazing area for living as student. It is very well communicated with other representative parts of the city, such as Östermalm. Besides, it is also a very safe area and it is close to the centre and KI campus Solna. The Lidingö municipality, in which the Larsberg Residence is located, is an island in the inner Stockholm archipelago. It is surrounded by the sea, plenty of green areas, astonishing views, nature walking paths, restaurants and shopping areas.
KI campus Solna
The distance between campus Solna and Larsberg is about 10 km. The time that takes from place to place is between 35 and 45 minutes with any public transport options. There are basically 3 different options to get to KI Solna:
Lidingöbanan (tram) + Bus number 6 from Ropsten towards Karolinska Institutet (you basically do all the stops)
Lidingöbanan + Tunnelbana (metro) from Ropsten to Odenplan. At Odenplan you can either walk 15 minutes or take a bus
Bus number 221 or 206 from Lasrsbergsvägen towards Ropsten + Bus number 6 or Tunnelbana  
KI campus Flemingsberg
The distance between campus Flemingsberg and Larsberg is about 24 km. The time that takes from place to place is around 1 hour and 15 minutes. In order to get to Flemingsberg you need to reach T- Centralen (Stockholm city) and from there take the commuter train (pendeltåg) number 40 towards Södertalje Centrum.
The studio apartment
KI Housing in Larsberg offers fully furnished and very cozy private studio apartments of 19 m2. Indeed, each studio has a very cute kitchenette equipped with two cooking plates, the basic cooking utensils (couple pots, plates and glasses), a small fridge equipped with freezer and a very practical microwave that also has the grilling function. However, an important disadvantage is that these kitchenettes sadly do not have oven ☹.
The studios also have a very nice private bathroom which has double shower!  A single bed of 90 x 200 cm (if you are going to live with someone else you can get a futon, so you can have another bed 😊), a quite wide table, a pair of chairs, a super comfortable loveseat sofa, a multiuse bookshelf, many smart spaces to store all your things, vacuum cleaner, mop and internet.
Each of these study apartments are originally thought for one single person to live in, but in my personal experience I can tell that the apartments are in fact very suitable for living with another person, for instance with your partner. Regarding inviting guests at your place, such as friends or family, it is totally allowed and there is absolutely no problem. This is because housing at Larsberg is composed exclusively of private apartments, which as consequence allows you to have your private space without the need to ask permission to someone else (you would have to do this if you lived in a shared apartment or in a dorm room).
General facts  
Garbage disposal
The rules for disposing garbage are the same as in other apartment accommodations: you must separate the organics from the recyclable garbage. At Larsberg residence, the bins for organic garbage are located outside the building and beside the parking lot. To dispose recycling garbage (not including electronics or furniture), the closest recycling station is in the back part of the building.
Storage and bike rooms
Each one of the studios has its own small storage room and bicycle storage room in the basement of the building.
Laundry
There are two common laundry rooms also located in the basement of the building. Each one of the rooms has 4 wash machines ,3 dryers and a drying rack. In order to do your laundry, you need to understand how the booking system works (all instructions are pasted next to the booking box). Once you have got familiar with the booking system you just need to go on the booked day and wash/dry your clothes within maximum 3 hours.
KI Housing website
Nearby places
Supermarkets
There are 2 supermarkets close by. The first one (ICA Kvantum) is just 300 m away from the residence. The supermarket also has a small post office, a pharmacy and a small coffee shop. The other store (Willys) is 900 m away from the building. Despite of being a little bit far away, it is totally worth to also do some of your shopping there.
Larsberg's Centrum
This is a small shopping area just next to the building which has several shops, restaurants, caffés, a barber shop, a fitness gym and a bank branch.
Walking trails
Lidingö is full of green areas and panoramic walking trails next to the water. These trails are perfect to go for long walks, jogging, making picnics or simply to sit and sight the cruises when they are arriving to the port
In general, the Lidingö area is mostly surrounded by houses and nature, but if you want to visit other nearby areas and try other restaurants, you can take a ferryboat trip (approx. 6 minutes) from Lidingö/Dalénum towards Firhamnen. In this area there are many different restaurant and bar options, as well as more panoramic views.  
In conclusion, Lidingö is an amazing place to live because is safe, quiet, surrounded by nature, well connected to the city and the studios are really cozy and well equipped. However, it is important to keep in mind that according to the KI Housing site this accommodation will be available until June 2021.
For more information regarding this accommodation please follow the next link: https://www.kihousing.se/
If you have any questions don't hesitate and contact me!
Aline Colonnello: gloria.aline.colonnello.montero@stud.ki.se
My name is Aline Colonnello Montero, I am twenty five years old and I come from the wonderful but busy Mexico City. I consider myself to be a perseverant person who works hard to meet all my goals and ambitions. I have a bachelor's degree in Biology and I currently study the Master's programme in Toxicology at Karolinska Institutet. My job as part of the digital ambassadors' team consists on writing blogs