7 Meals fit for the student life
Simple question: what is your go-to fast, cheap, and simple, and great tasting food recipe? This is the question I asked my fellow students, and they delivered. This blog is the result.
Now I'm going to give an apology in advance for the overwhelming lack of quantities and timelines mentioned in these recipes. If you are bothered by this and unsure of how to proceed, I'm going to tell you a something a dear friend told me once.
"Inika, there is no recipe. Feel the quantities in your soul. Summon your ancestors if you must. Make it simmer till it looks RIGHT: time means nothing if the flavours do not seep into every shred of meat."
While I admit that this quote is a bit more dramatic than what was really said, the essence remains the same, and so does the message.
Now, without further ado, enjoy!
1. Coconut Peanut Curry
Recipe courtesy my classmate Marlene (she's one of the Instagram DAs!)
Fry spring onions
Add slow cooking vegetables
Add a bit of water
Add faster cooking vegetables
At the end you add coconut milk, peanut butter, some soy sauce, some curry paste/spices, fresh coriander/parsley, and little cherry tomatoes
Add some roasted peanuts on top for that extra oomph
Enjoy! Eat it with or without rice or noodles
2. A super simple fish dish
"A super simple fish dish , never failed", says Timm, about this exuberantly presented recipe for Sea Bream cooked in crazy water. What is crazy water, you ask? Well, watch the recipe to find out~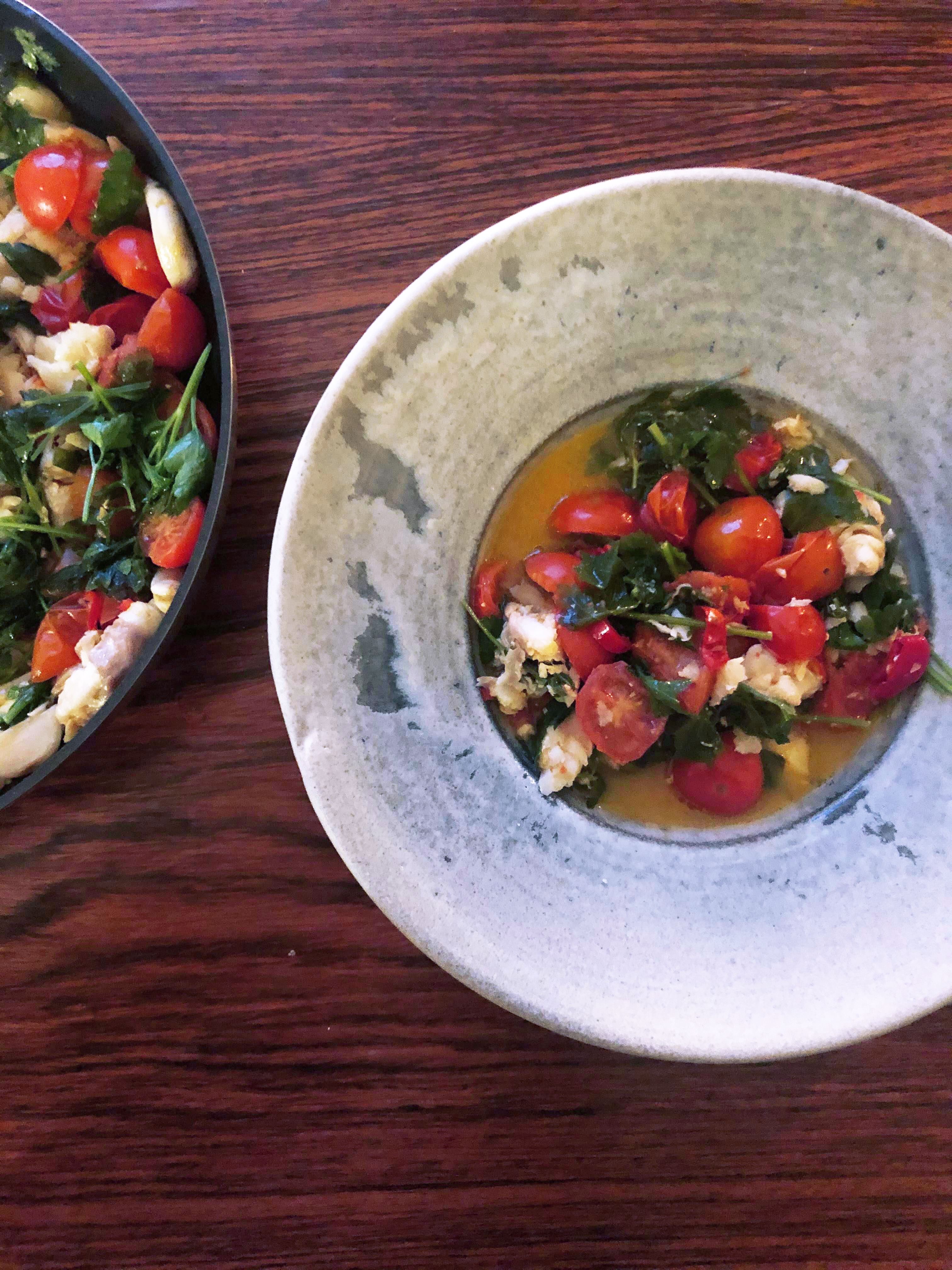 While Sea Bream may not be super easily available, you can probably do this with any type of fish.
And speaking of fish dishes, here is a favourite of mine:
Oven. 160°C fan setting. Salmon in a dish, squeeze some lemon, throw in chopped garlic, add a little bit of butter. Sprinkle brown sugar, salt, and pepper. 12 minutes.
And boom. Done. Amazing, fast, and nutritious. Eat with whatever carbs and vegetables you like.
3. Ramen
Ramen comes in many forms. Here is what Hanna says…
Make a broth of garlic, soy, stock (buljong) & some ginger
Boil your ramen noodles in the broth
Meanwhile, fry some pork with a tiiny bit of syrup. Hanna claims that this is the "most important!" ingredient. Add this to your noodle broth
Add spring onion and bean sprouts to top it off
Ta-daaa
4. Fried rice
This is one of my personal favourites. What will you need? Rice that was cooked the day before, soy sauce, and any vegetables you like. This is my favourite version.
Cook your desired vegetables in a pan. I do onions, garlic, paprika, chilli, and broccoli.
Optional: add in chopped up sausage/meatballs/chicken/etc.
Once they're done, crack in some eggs and scramble them. Wait for the eggs to cook
Add in your rice, and mix. Make sure to have your rice to vegetable proportion as you like.
Add some soy sauce, sweet chili sauce, coriander, and sesame seeds. And peanuts or cashews are always a plus!
Enjoy :
5. Soup, soup, and more soup
A fantastic lentil soup recommended by my history student friend Josefin:
Fry some onions and garlic
Add ginger, coriander, and cumin
Add in a tomato and absolutely crush it with a fork or something
Add in lentils, coconut milk, and a stock cube.
Cook until soupy (about 10-15 min)
Om nom nom drink the soup
6. Cashew Chicken
Lukas recommend this amazing looking recipe for cashew chicken. They also say:
"Chicken can be replaced with breaded tofu (works really well) and I always customize the absolute hell out of the sauce"
You've been given culinary liberty. Enjoy!
7. Garlic Parmesan Fettuccine
Lidija says…
Fry 4 cloves of garlic in a pot.
Add 2 cups of milk, 1 cup of water, and 1 broth cube (I prefer chicken broth cubes)
Heat, mix.
Add fetucinni pasta, boil as directed on the packet.
Once done, add one packet of parmesan cheese into the pot and stir well.
Enjoy 😀
The simplicity, the creaminess, the bravissimo factor <3
8. A bonus: The Simplest of them all
When I asked my amazing fellow biomedicine students for suggestions for this blog, I got some answers that really made my day. Here are some of them:
"Water" said Xinhe, who understands the importance of hydration and acknowledges that sometimes, you just might be broke.
"Microwave some cheese with toasted bread and maybe one tomato. This thing hits hard at 3am" said Mark, who really knows what's up. Sometimes, student life do be like that. My favourite? A grilled cheese sandwich. 2 slices of bread with butter on both sides and cheese in between. Put it on a pan and toast it, and sprinkle on some salt. It tastes like heaven.
"Just eat a paprika. A whole paprika. You can eat it like an apple", said a friend of mine once. He revolutionized my life. Who knew consuming a vegetable could be so simple? Baby carrots can be consumed similarly. So can cucumbers, if you're brave enough to destroy societal norms and just bite into them.
Well then…
I hope you enjoy these recipes! If you make something and want to share it with us in the digital ambassador team, tag us in a post #kistudents and check out the Instagram page!
Happy Cooking!
Cheers,
Inika <3
Featured image by Marion Botella on Unsplash
Hello, Inika here. I'm a third-year Biomedicine bachelor's student at KI. I'm from India and a little bit from Sweden. As a Digital Ambassador Blogger, I'll be writing about my programme, things happening in and around KI, and giving insights into university life.