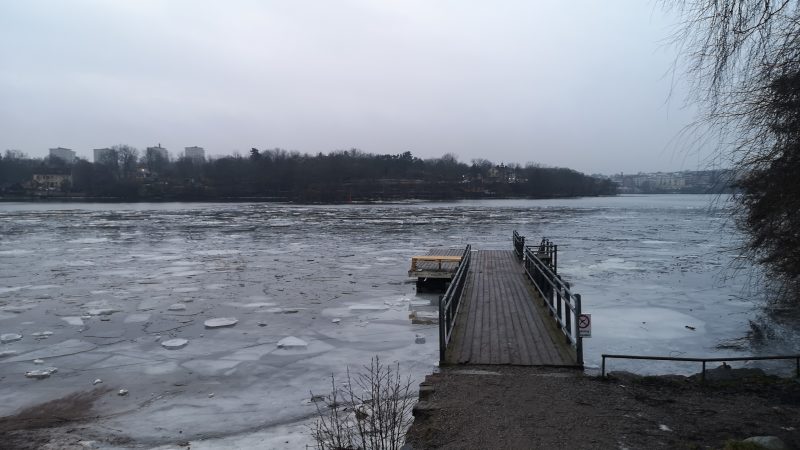 How to winter bathe in Stockholm
It's 7:30am and 2 degrees outside, perfect for a dip into the sea! The sun's rays are pushing its way through the grey clouds and the cool, fresh breeze gently caresses my face. I wait in stillness for a friend, with 3 sweet buns (cinnamon, cardamon, vanilla, if you're curious) and tea.
4 months into a snowy, Stockholm winter and for an Australian, it's been romantic and magical. Just like the movies. Why not go all the way, and take that winter dip.
So, how long did it take?
0.5 – 1 hour.
Any longer and my toes would have fallen off.
Where did we go?
We went to smedsuddsbadet because it was close to home and had steps that lead us into the water. Otherwise, I'd recommend a beach with a ladder/steps into the water. And somewhere close to home.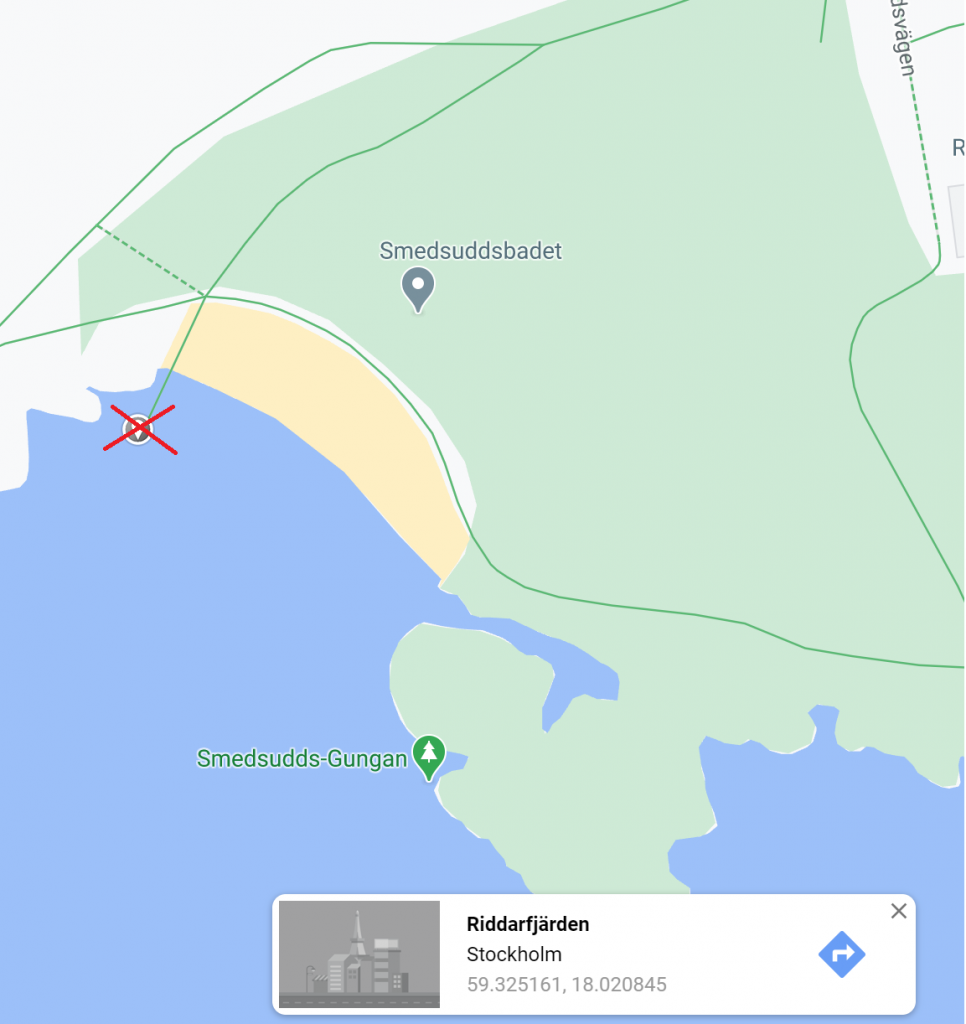 What did we bring?
Togs (aka bathers aka swimwear) or you can go nude!
Towels
Thermal top & thermal pants
Normal clothes to wear over your thermals
Change of underwear
Thermal socks
Sweet buns & tea (optional but highly recommended)
Something to sit on & stand on. I brought stacks of newspapers. I'm sure you can do better than me here with towels, cardboard box etc.
A friend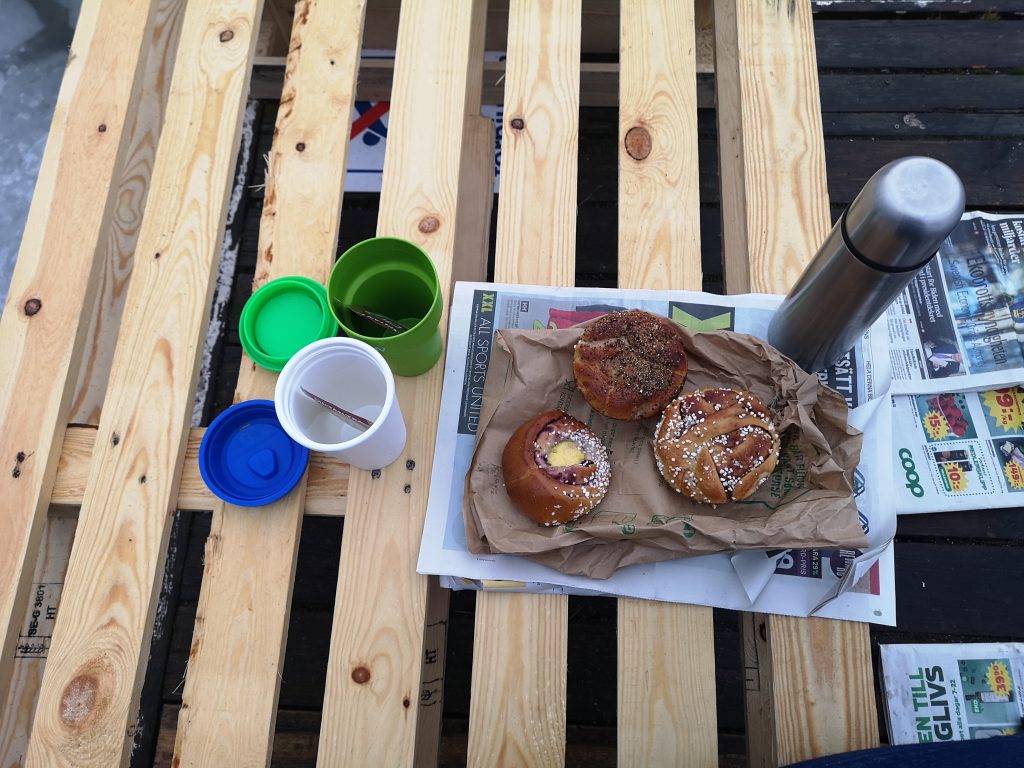 This is how we did it
Take off clothes.
Hold onto the rails and walk in or run into the iced cold water.
Dip your body in, up to just above your shoulders.
Run out while holding onto the rails tight.  
Get your feet off the cold ground.
Dry body immediately, paying careful attention to warming up your feet. My friend was a star wrapping my winter jacket around me & my towel.
Take off swimwear and get into those warm clothes.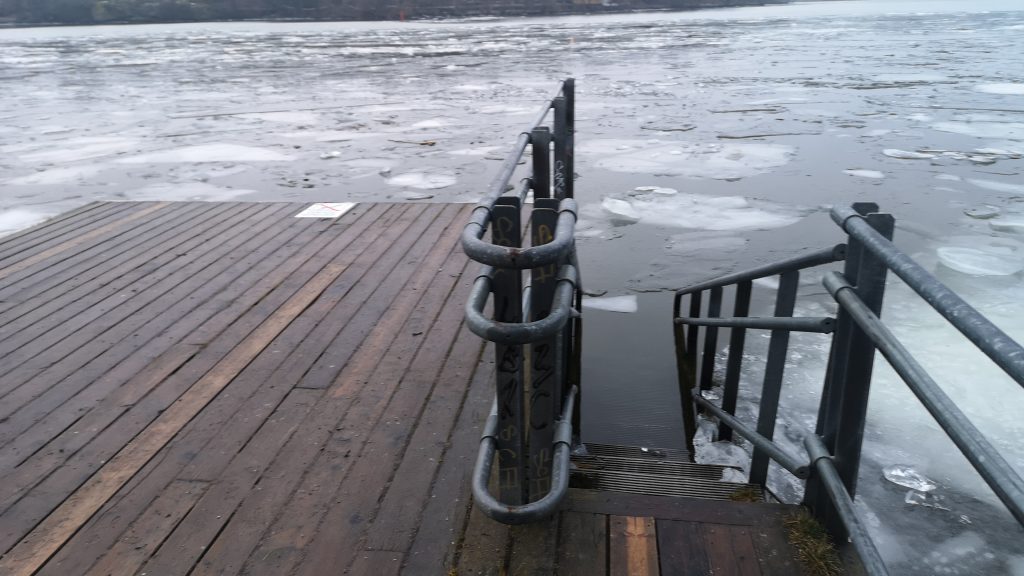 Tips:
If you have the time & energy, it doesn't hurt to warm up the body beforehand. Do some star jumps or run on the spot!
Prepare the stage before you run in. Take out that makeshift seat, all your clothes & underwear and leave your towel on top.
When you get out, your feet will get VERY cold. For me, it was painful and numb, as if I had heavy ice blocks instead of feet. As soon as you get out of the water, the aim of the game is to warm up your feet. Find something to stand on e.g. newspapers, towel etc and wear your thermal socks and shoes as soon as possible.
Don't put your head in, especially if it's your first time.
If it's your first time, do it with a friend and walk in one at a time.
Try to get home within the hour to warm up.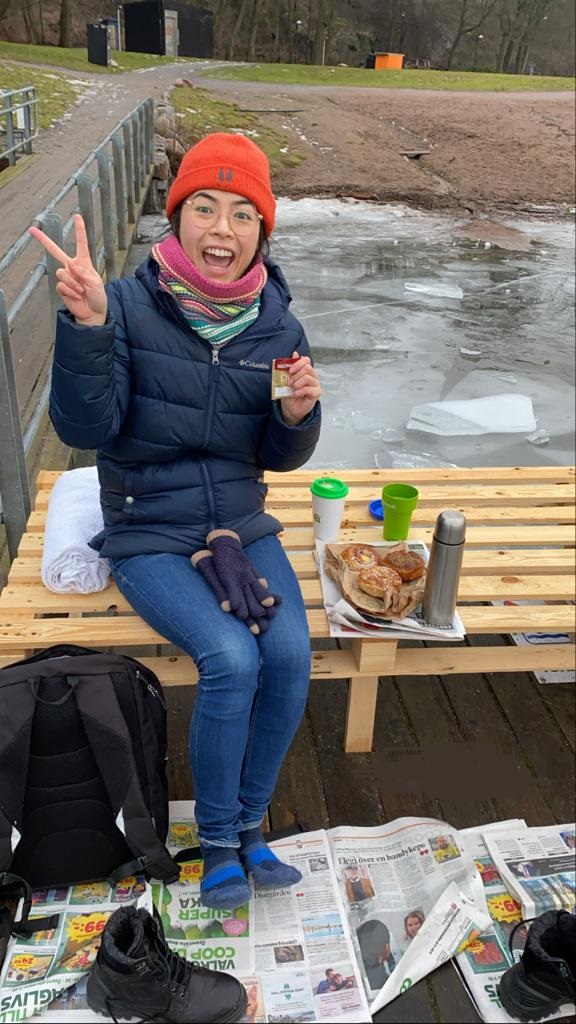 All-in-all?
It was cold and it all went by very quickly! Maybe I should have stayed in the water for longer. But that seemed impossible at the time seeing as my feet began to feel as heavy as the ice floating around me.
My favourite part was actually after the dip! I was sitting and chatting with a friend while enjoying some tea and sweet buns in the early morning breeze and overlooking the sea!
If you have any questions, please feel free to contact me at helen.nguyen@stud.ki.se or https://www.linkedin.com/in/helen-nguyen-539782aa/
Hi! I'm Helen from Australia here, currently living and loving life in Stockholm. I'm studying a Master's in Health Informatics at Karolinska Institutet. I love walking in nature, dancing and cycling around town. I love a good chat and enjoy a good hearty laugh. We can talk about nothing and discuss absolutely everything. I enjoy cooking food, falling asleep to movies and going for long walks in the forest.