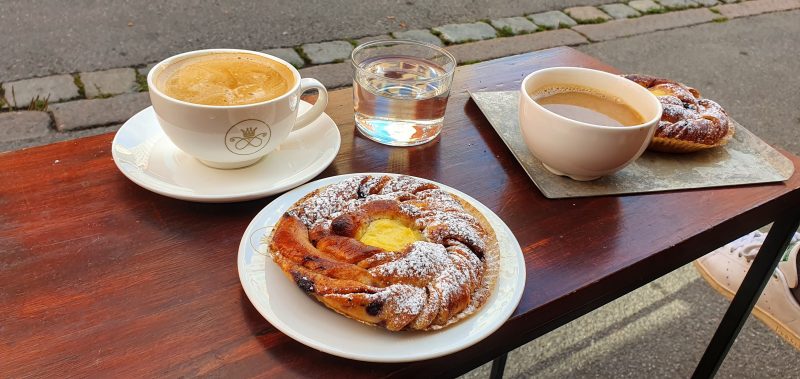 My favourite fika spots in Stockholm
Hello again!
For those of you who know me, you'll realise how obsessed I have become with 'fika' since living in Sweden.

But what is fika?
According to sweden.se, fika is "a phenomenon". It is usually coffee with a bun or a cake, and socialising with family, friends or colleagues is definitely involved too!
So… here are my favourite fika spots in Stockholm!
1. Lillebrors Bageri
Located on Rörstrandsgatan 12, this has to be my favourite bakery in Stockholm!
They serve the freshest bullar (buns). Every time I visit I always end up with a warm kardemummabullar straight off the baking tray!
2. Cafe Pascal
This is the first cafe I ever visited in Stockholm!
Cafe Pascal has 2 locations, one at Norrtullsgatan 4 and one at Skånegatan 76. There is always a lovely variety of different pastries and bullar to try here!
3. Vete-Katten
I would describe Vete-Katten as a more 'traditional' cafe. There are several Vete-Katten cafes inside shopping centres, train stations, and hospitals, but the main cafe is at Kungsgatan 55. I really like the vibes in this cafe, and their prinsesstårta is amazing!
4. Gunnarsons Specialkonditori
Located at Götgatan 92, this cafe sells so many different types of pastries, cakes and bullar. I have been here a few times and everything that I've tried has been lovely!
5. Älskade traditioner
In the heart of Södermalm, at Södermannagatan 42, lies this retro-cafe. I would say it has the feel of Swedish fika mixed with an American diner! They serve swedish-inspired waffles, fika and milkshakes. The fika-shake (below) was certainly worth it!
6. Fern and Fika
Something unique about this cafe is that it is entirely plant-based! It is located at Långholmsgatan 11 in Hornstull, and serves a lovely variety of sweet and savoury treats.
This is just a small selection of some of the many fika places that you can visit! Of course, there are many more lovely places in Stockholm too, but these are just a few that I like best. I am always trying new fika, and I share my experiences on Instagram if you want to see more places for a good fika in Sweden!
Hey! I'm Katie, a blogger for the master's programme in global health. I'm from England, and I've currently studied half of my medical degree in the UK, and after this year I will return to the UK to complete my degree and qualify as a doctor. If you have any questions about the programme feel free to contact me!