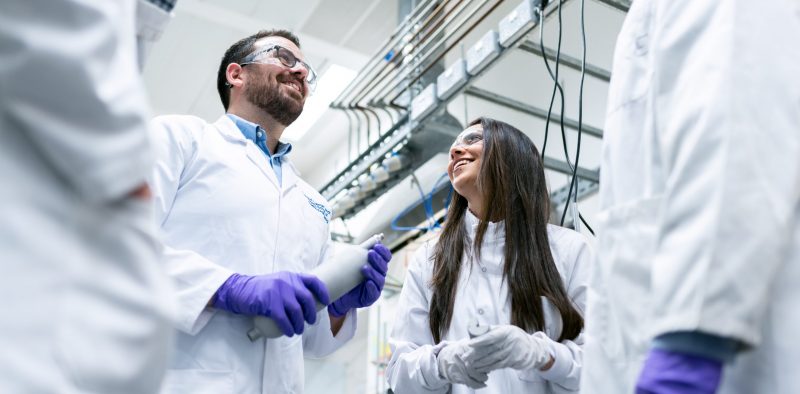 Battle of the white coats: 5 FAQs about biomedicine and medicine
One of the most common emails I get is asking for information about the medical and biomedical programs at Karolinska Institutet. Finding information, considering language challenges, comparing programmes, and choosing the right programme for you are all important steps in your university application journey!
I thought that this would be a brilliant (and efficient) way to answer questions that many prospective students (evidently) have.
If you are interested and confused, PLEASE read the FAQ page for the medical programme. I promise that it will answer most of your questions. If it doesn't, then you may proceed.
Q1. Why can't I find any information about the medical programme?
Well, it's only available in Swedish. The Medical programme (Läkarprogrammet) is only offered in Swedish so this makes sense. I once heard from the Läkarprogrammet's digital ambassador that their most frequently asked question was whether one could do the medical programme without knowing Swedish. Unfortunately, the answer is no.
Q2. Well, is there a medical programme at KI in English?
KI does not offer a medical programme in English, and the existing medical programme is entirely taught in Swedish (Source: FAQ page)
Q3. What is Biomedicine anyway?
People are familiar with medicine, but biomedicine as a field has become prominent only in the last century. You can find the official description of the Bachelor's Programme in Biomedicine on the programme webpage, and the constituent courses of the programme can be found in the syllabus (scroll to the very bottom).
Here is a lay-person explanation I like to use to explain what I study:
You can think of medicine as the art of diagnosing and treating people right? Well, biomedicine is more behind the scenes. We try to figure why the body works the way it does. How our organs, tissues, cells, and our very molecules function.
Q4. What's the difference between the Biomedicine and Medicine programmes?
Here's a handy little table to help you out! If you're on your phone, it would probably be best to look at this in landscape mode.
| | | |
| --- | --- | --- |
| | The Bachelor's Programme in Biomedicine | Medical Programme |
| Language of instruction | English | Swedish |
| Duration | 3 years | 6 years |
| A crucial difference | Not qualified to treat people and their ailments | Qualified to treat people and their ailments |
| Resources | programme website and student blogs | programme website and student blogs |
| Degree | Bachelor of Medical Science with a Major in Biomedicine | Läkarexamen |
| Job prospects | Research, management, marketing, clinical testing, media/information | Practicing doctor, healthcare provider, researcher, digital medical services, international medical aid, etc. |
Q5. What should I pick? Biomedicine or Medicine?
First, we need to confirm that you like biology/chemistry. These are the highschool/senior school courses that match these university programmes most closely.
Second: do you know Swedish? If no, then you can't study the medical programme even if you wanted to. If yes, continue.
Third: I don't really know what the medical programme entails, but I can tell you some overarching themes in the Bachelor's Programme in Biomedicine to help you decide whether you want to pursue it. No matter which course you're doing in the programme, you will always find a combination of….
lab work
scientific articles and literature searches
how to handle and interpret data (biostatistics)
molecular mechanisms (organic chemistry)
molecular structures (chemical biology)
pathways in cells (biochemistry)
proteins & genes (cell biology, genetics & genomics)
microscopy (tissue biology, pathology)
understanding how the body works (physiology, neuroscience, immunology)
pathogens and germs (immunology, oncology)
the basis of disease (oncology, cardiometabolic & infectious disease)
Finally
I hope this helps you on your journey of deciding your study programme! If you feel like you have burning questions that this blog did not answer then you are welcome to reach out to the current digital ambassadors!
<3 Inika
Featured image by ThisisEngineering RAEng on Unsplash
Hello, Inika here. I'm a third-year Biomedicine bachelor's student at KI. I'm from India and a little bit from Sweden. As a Digital Ambassador Blogger, I'll be writing about my programme, things happening in and around KI, and giving insights into university life.