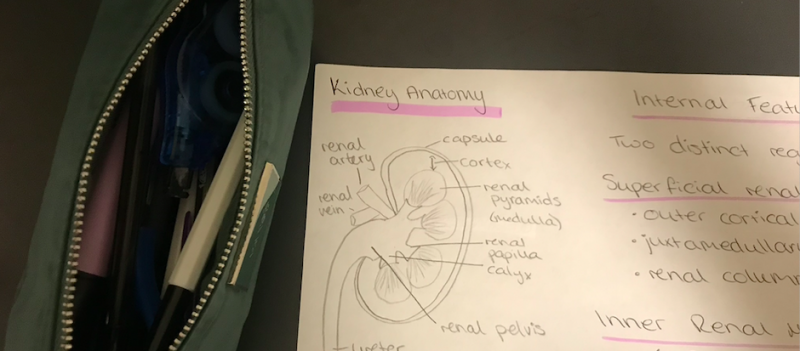 Target Organ Toxicology: a review
Target Organ Toxicology (TOT) aims to teach you about kinetics and dynamics for toxicity of hazardous chemical substances. This includes ADME, mechanisms of action and clinical aspects related to different organs and organ systems.
Each module exam was pass (60%) or fail, as were the assignments and presentations. The final exam was the only time you could get pass with distinction (80%).
Schedule
You can see the course schedule with each module below. Aside from lectures, we had problem-based learning exercises (PBL) and literature assignments. Each PBL required us to write both a report and presentation, whereas the literature assignments were usually one or the other. In total we had 6 exams (7 including the second day of the final exam), 5 reports and 5 graded presentations.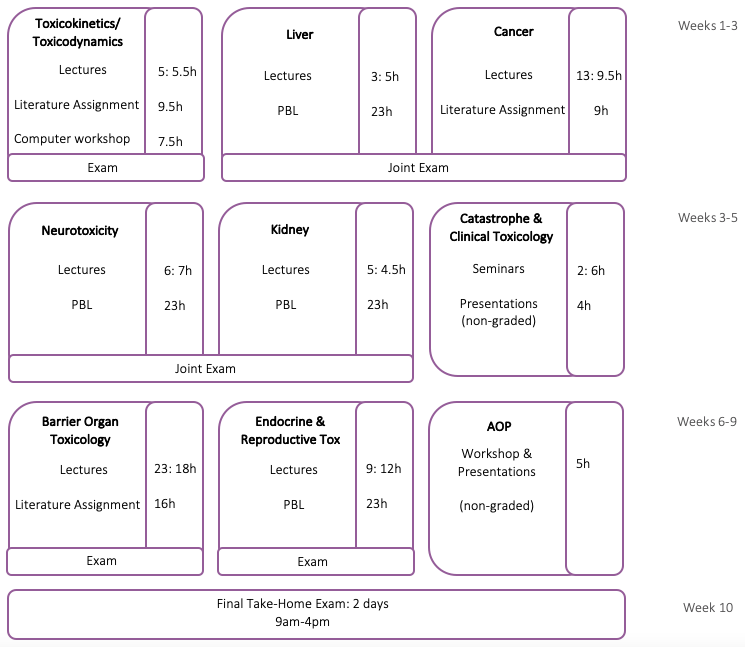 Module Structure
Each module usually covered:
the anatomy and physiology of the target organ
the types of chemicals that can alter physiology and pathways
in vivo/in vitro models or epidemiological studies to investigate disease
recommended test guidelines
Group Work
The PBL and literature assignments were mostly done in groups of 7. These groups occasionally stayed the same, but also changed throughout the course. The time to do the group work was planned in the schedule, so we would usually finish the work during those assigned hours and not have to work more in evenings or weekends.
(The same could not be said for exams where weekends were crucial for studying.)
Overall Thoughts
This is an extremely tough course, with very little free time. We often had to submit reports and presentations just days before a module exam. Due to the high turnover of deadlines, missing lectures is not a good idea! You will most likely not have the time or energy to catch up on them because within a week or two you'll be onto the next module. Knowing how to use a referencing software like Endnote (provided by KI) will also help you immensely. Referencing correctly is important not only for the reports but also for the exam since you have access to the internet!
The course coordinator listens to students' feedback, so hopefully the course will have a lower workload for all you new students next year! I hope this gives you an idea of what to expect when coming to KI to study Toxicology. As usual, feel free to reach out in the comments if you have any questions!
Hi! I'm Lianne from Ireland and England, currently studying a Master's in Toxicology at Karolinska Institutet (KI). Before coming to Sweden I was living in The Netherlands where I completed my bachelor's degree. I looked forward to coming to Sweden for the nature and happened to stumble across Karolinska Institutet! It sounded appealing since the university is focused on human health and I'm happy to be studying here now. Learning Swedish is on the top of my list of things to do in Sweden, but I'm also excited to explore the archipelago of Stockholm and go bouldering outdoors.