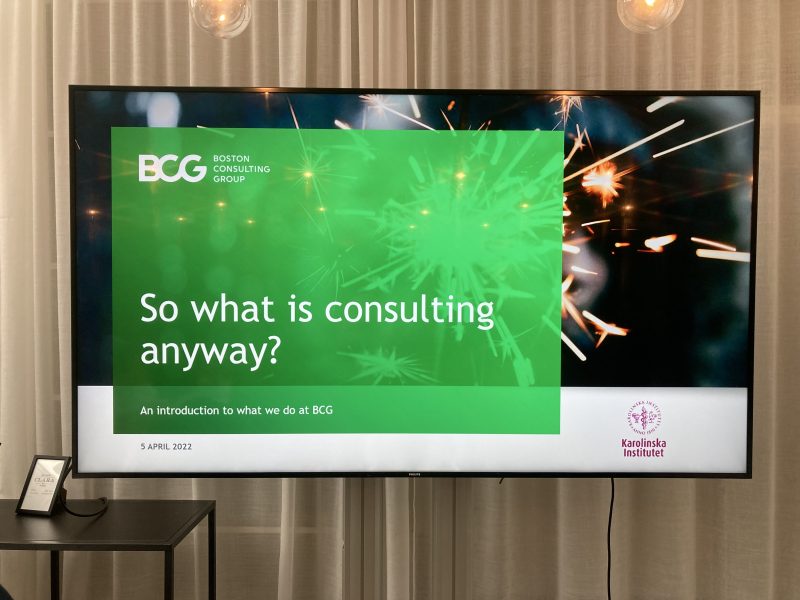 Breakfast with the Boston Consulting Group
In early April, students of the Master's Programme in Bioentrepreneurship (MBE) had a breakfast meeting with some staff of the Sweden offices of Boston Consulting Group (BCG). For some readers who have never heard of BCG, it is one of the most renowned management consulting firms in the world.
If you are then wondering what the connection between the MBE, management consulting, and BCG might possibly be, please read on!
What is management consulting, to begin with?
A quick Google search will tell you that it is the practice of helping businesses solve their problems, improve their performances, and maximize growth. Consultants (as people who work in this sector are called) are usually people with subject matter expertise, who understand businesses, and are driven to create value. Consulting firms such as BCG constantly strive to recruit this sort of individuals who can contribute to the impact that they are driving not just for clients but society in general.
So what was the MBE/BCG breakfast all about?
The simple answer is human capital.
On one hand, the life sciences and healthcare sectors are incredibly complex. Management consulting firms help different stakeholders within the life sciences to solve complex business challenges, help them overcome strategic dilemmas, and provide them with innovation management solutions. BCG is a leader in the life sciences and the firm attracts experts who can continue to drive value.
Consequently, BCG recognizes the unique skill set that students of the MBE gain during their masters programme and the firm is tapping into this to enrich its talent pool. By layering business leadership training on students' science backgrounds, the MBE is developing professionals that can analyze the complex problems in life sciences/healthcare and synthesize innovative solutions.
The goal of this meeting was to introduce the MBEs to the company, its core values, and the career opportunities for MBEs. MBEs also got the chance to meet the amazing people within the Stockholm offices – from associates to partners with quite a number of the speakers being alumni of Karolinska Institutet.
The MBE/BCG Relationship...
Currently, 2 students (Jorge and Praveen) from the MBE programme are rounding off their internships at BCG. And what is more important is that the firm is committed to continuing to recruit from the rich pool of MBE talent.
During the breakfast, MBEs also got to hear about the amazing work culture at BCG from Jorge and Praveen and got tips on how best to position themselves during the recruitment process.
So, if you are a current or prospective student of the MBE….
….and you imagine yourself working for a leading management consulting firm, this programme will give you the best academic foundation you need to excel in the field. Feel free to reach out if you have any questions regarding the programme and I will try to assist as best as I can!
Hi! I am Umar from Nigeria, currently studying for a master's in bioentrepreneurship. I like science and business, and my programme is right at the intersection of both. I also like football, Formula 1, cats, and hot chocolate. And here's a random fact - I can name the capital city of nearly all the countries on the planet. Feel free to put this to test if we run into each other. Please do not hesitate to contact me if you have any questions. My email address is umar.adegoke@stud.ki.se.