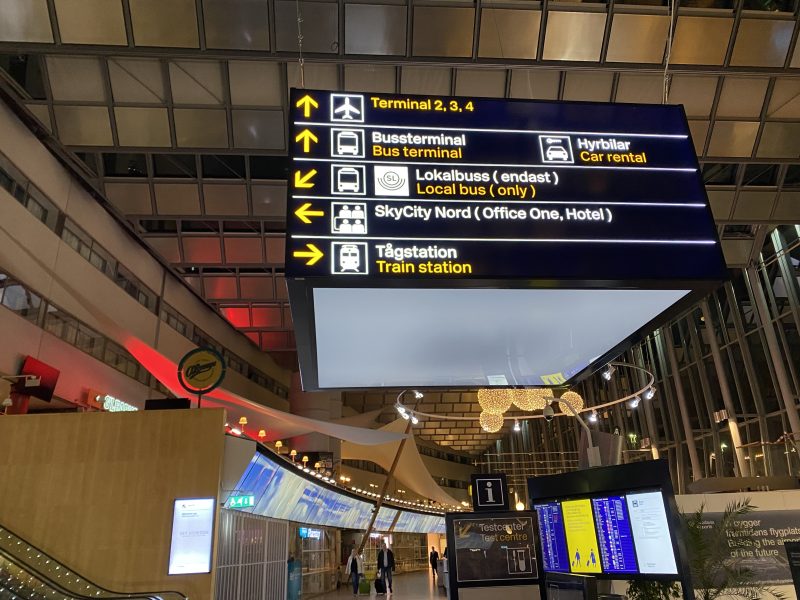 Transport to and from Arlanda Airport
In next month, August, a lot of new international students will be arriving to Stockholm for the first time. As for those who never visited to Sweden before, understanding the transport options available at Arlanda airport may save some headache and also a few hundreds Krona. Read all options and then make decision that suited you most.
Taking Taxi – Expensive but most convenience
You may grab airport Taxi parked just outside of the Terminal but they are slightly more expensive. When I first arrived to Sweden in 2021, I called Uber ride since I am used to with this app in my home country. It costed me around 550 Kr from Arlanda Airport to Solna residence. Time taken was around 35 minutes. Later I found out, Uber is not the most popular ride in Sweden. There are many other local private Taxi options such as "Taxi Stockholm", "Svea Taxi", "Sverigetaxi", etc.
Author Remark: When with luggages that was packed and prepared for a year or two years of study, carrying those would be quite a bit of burdensome since having to go to the residence place never been before. Taking a taxi would give you convenience of carrying as well as reaching straight to the doorstep of your destination. The only downside is the cost which is high but if you are sharing with one or two other students, this would work out quite cheap.
Taking Flygbussarna Coaches – Arlanda airport bus express – Semi-convenience and less expensive
This transport option is great if your destination is close to the stops it offer. Make sure you check their website for the available stop locations and make the booking in advance. Due to its being the express bus, the stops are very limited. Hence you are more likely have to carry your luggages from Express bus stops to your destination doorsteps. Make a judgement depend on your case. The cost is around 120 Kr per person for one way.
Author Remark: These express buses are quite comfy and have plenty space for luggage storages. The time taken (40 minutes) is a lot less than taking the normal public transport as it stops much less places. The only downside is the drop off location may not be ideal for your destination. Moreover, if traveling in a group of two or more people, Taxi may work out cheaper. Please do simple maths check.
Taking normal Public Transport – Cheapest but long route, multiple changes and inconvenience
This public transport costed me as little as 25 Kr (student rate) from Arlanda airport to Solna (Need to pre-plan and can not afford to miss any changes). Total travel time from Solna to the airport is close to 75 minutes (Which is maximum time limit for one time SL ticket). If I did miss out or any delays in between, I will have to buy an additional ticket of 25 Kr.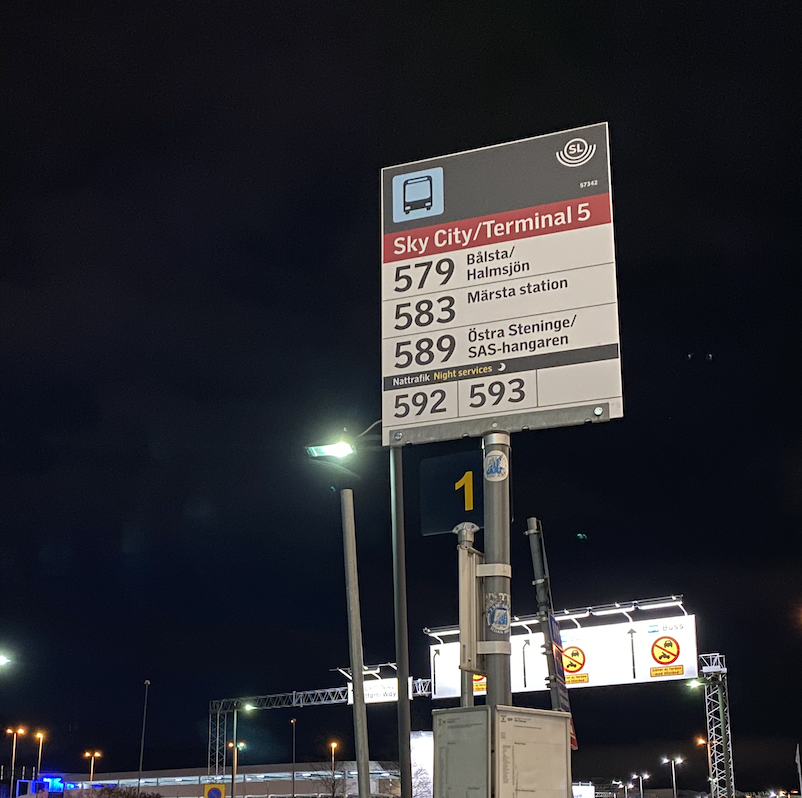 First take Bus583 from Arlanda aiport to Märsta station.
Take Train41 (toward Södertälje centrum) and drop off at Stockholm Odenplan station.
Take Bus6 or Bus507 from outside of Stockholm Odenplan station.
Drop off at KI campus or your destination.
Author Remark: Saving money is quite important for most students. Hence this option is the best in normal circumstance. However, if you are in rush or for your very first arrival to Sweden, I would not recommend you since it involves a lot of transits and make you very tiring especially if you are with heavy luggages.
Taking Arlanda Express Train – Expensive and very fast but only take you to Stockholm Central station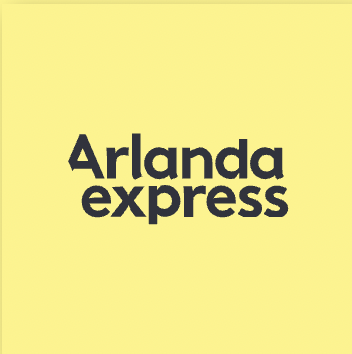 Arlanda Express train is very fast transport option if your final destination is close to city centre as it takes only 18 minutes from Arlanda airport to Stockholm Central Station (City centre). It costed me around 250 Kr for one way ticket.
Author Remark: Unless you are traveling with light carry and are in rush to reach airport, I would not recommend of using this. Although it is quick, you would have to travel to Stockholm Central station first. It departs every 15 minutes.
Finally….
Choose your airport transport option wisely to reduce hassle based on your needs, personal & financial circumstances. Regardless of the options you chose, Stockholm is quite a safe city. So do not worry. In case of any problem, you can dial 112 for police help.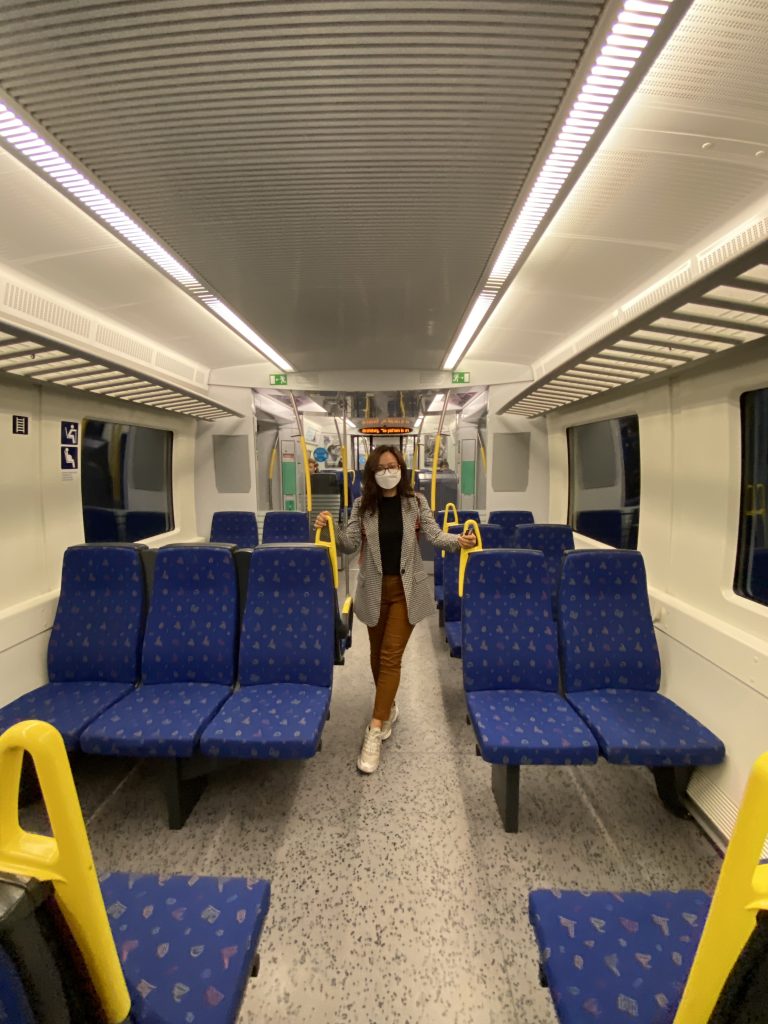 Hej! I am Naw, currently attending MSc Health Economics, Policy and Management. Originally from Myanmar (aka Burma), one of the South-East Asia countries. Before joining KI, I completed my first degree in Medicine and then attained MSc in Clinical Dermatology from University of Hertfordshire, UK. Recently I also completed an executive learning program known as "SouthEast Asia Leadership in Medicine- SEAL" at Harvard Medical School. I love international traveling and learning different cultures. Follow me to see lot of blogs related to Asian students, personal experience on my course and exciting traveling experience. ;)