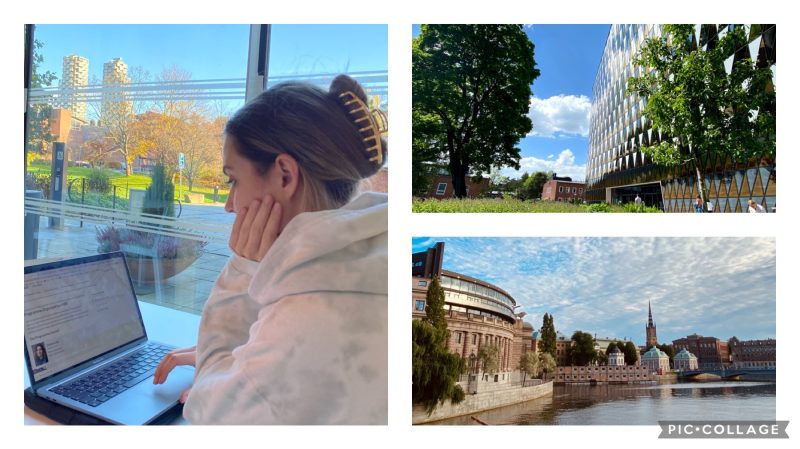 3 Reasons I applied to the Master's in Bioentrepreneurship programme
This time last year, I was uncertain about what next steps I should take in my life. I was in the final year of my degree in life sciences, and the only thing I knew for sure was that I didn't want to work in a lab for the rest of my life. I knew I wanted to do a master's and had thought about many paths, but here I will list the 3 main reasons I landed on the Master's in Bioentrepreneurship (MBE) programme at KI.
The university
It is no secret that Karolinska Institutet is consistently ranked amongst the top medical universities in the world. In addition to its attractive medical reputation, KI offers a variety of English-taught Global Master's Programmes that are in one way or another related to the science and/or healthcare industries. That was one of the most important features to me because I knew I wanted the programme to relate to my previous field of studies (unlike an MBA, for example).
I had learned about the Master's Programme in Bioentrepreneurship specifically from one of my colleagues in a pharmaceutical manufacturing company I worked at during the summer. He knew I wanted to shift away from lab work and had demonstrated an interest in business. To me, that seemed like the perfect way to combine my scientific background with gaining entrepreneurial knowledge.
Exposure to industry
I was immediately intrigued by the courses and structure of the MBE programme. One of the specific things that immediately piqued my interest was the exposure to industry the programme has to offer. Essentially, there are a total of 3 practical placements (internships) throughout the studies. The first one is at the end of the second semester and is around 2 months, the second one is in the third semester and is around 3 months, and the last one is the degree project conducted within a company. The university has many links to industry and the internships can be tailored to personal preference. To me, this was one of the main reasons for applying to the programme – it provides opportunities to experience both a start-up and big pharma setting.
The place
After completing my bachelor's in Canada, I knew I wanted to come back to live in Europe. I am originally from Lithuania, and Sweden is just across the Baltic Sea! But that was not the only reason. I had missed the comparatively short distances between cities (and countries) and the overall European vibe. I also wanted to choose a place that has ties to the pharmaceutical industry and offers a nice balance between city life and nature. I had never been to Scandinavia before, and never thought of looking that far up north haha! But the more I thought about it, the more I realised that Stockholm checked all the boxes for me. I still have a bunch of cafés, museums and national parks to explore – and I'll be sharing the best of my adventures here with you!
Everyone had different reasons for applying to the MBE programme, but almost each one of us doubted whether we would be admitted. The most important thing is to APPLY and stay positive! 🙂

My name is Fausta. I am originally from Lithuania, but spent most of my life in Canada, so the Swedish winters do not scare me! I'm the blogger for the Master's Programme in Bioentrepreneurship here at Karolinska Institutet. I am also a camping enthusiast and a huge fan of exploring new hidden cafés to visit in Stockholm. I am excited to share my experiences and adventures in Sweden and hopefully provide some useful tips and tricks!