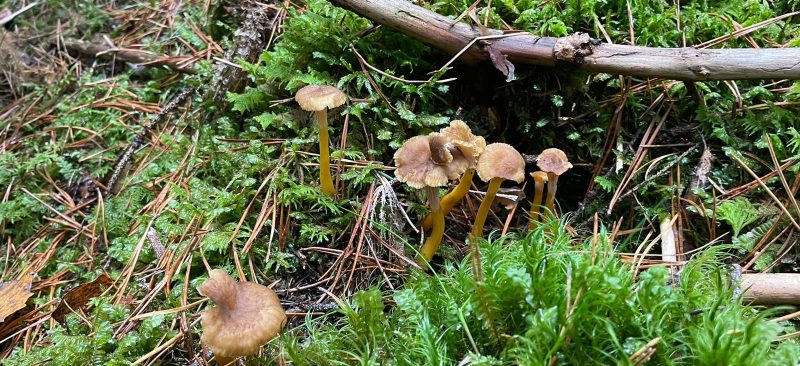 Mushroom picking experience
Sweden's Right to Roam laws (allemansrätten) give everyone access private lands and lakes, including the right to forage on those lands. This means you're allowed to pick the ripe Swedish berries or earthy wild mushrooms you discover during your forays into public forests.
It is notable that 63% of Sweden land area is covered by forest. It is therefore very easy to find beautiful woods in Sweden. Large part of these trees are monotonous and endlessly lie in the forest. As the nature lover, myself, it does give me peaceful and cosy feelings every time I set foot in Woods. In autumn time (October) is best time for mushrooms. With two of my classmates, we spent over 3 hours searching for mushroom in a nearby Tyresta nationalpark och naturreservat in Stockholm.
After going, I understand how this can be addictive family activity for nature lovers. It was exciting and so much fun. I will certainly do it again next year.
Our picnic day
We picked Sunday afternoon (at 11AM) which was unfortunately a cloudy day. There seems to had rain over the night and hence the ground was not dry but also not muddy. We parked our car for free by the roadside and wander into the forest.
Essentials tips!
Water proof boot is highly recommended instead of walking shoes. It helps you with going through slippery places.
Do wear the clothes covered full body. As we go around the forest, at times, we push through bushes and wearing the full clothes help you protect from dusts and tree scratches.
Bring snacks and drink. We also did bring the hot-chocolate (warm) and snacks.
Do make sure, you have fully charged mobile phone and the place you go has good internet reception. When you want to return to the original place, you can easily get lost of direction inside the forest. With GPS on your phone, you can get help with direction.
Basket or bag to put the mushroom you have collected.
Mushroom cutter and knife. At times, you may require these items to cut the mushroom you found.
Do the prior study of which mushroom types you can eat and which toxic mushroom types you must avoid. If you are not comfortable, please take a local friend who knows.
Snack break in the forest
We had 30 minutes break inside the forest where we had our snack and hot drinks. It is truly amazing experience where we sit on the solid rocks surrounded by endless trees. So peaceful and very cosy.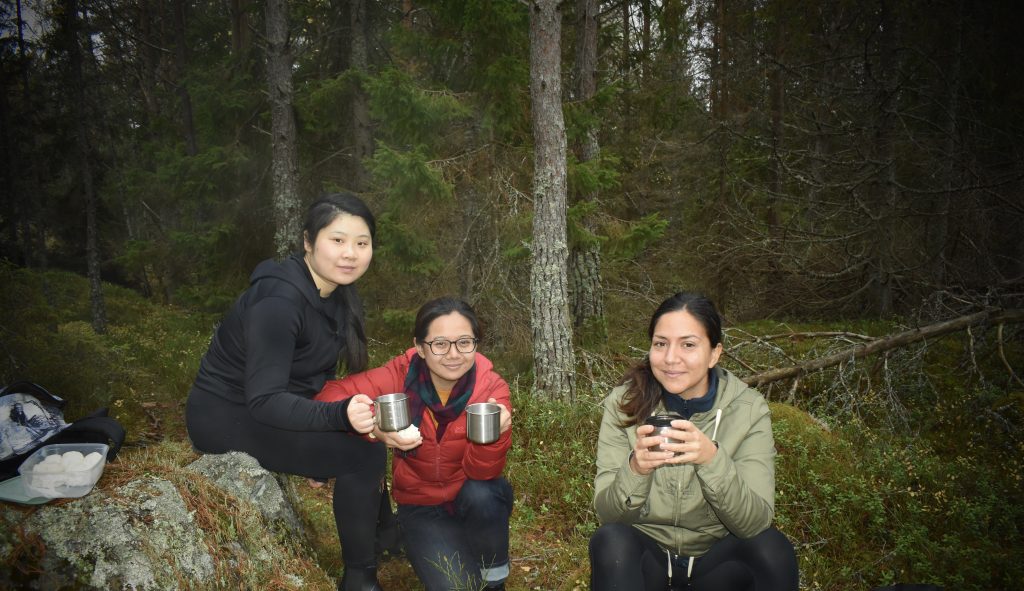 Mushroom types
One of us is local Swedish and she teaches us which one we need to pick and which one to avoid. The golden rule that my friend said is:
Don't pick the mushroom you don't know or you are not sure!!!!
At first, we rarely can spot the mushroom on the floor which was also packed with fallen leaves. However as the longer time we spent, the more we get used to with our eyes and we were able to spot the mushroom much easier.
What we found!
A few mushroom types we found that are okay to eat…..
Recommend to try this experience. Hope you enjoy mushroom picking!! 🙂
Hej! I am Naw, currently attending MSc Health Economics, Policy and Management. Originally from Myanmar (aka Burma), one of the South-East Asia countries. Before joining KI, I completed my first degree in Medicine and then attained MSc in Clinical Dermatology from University of Hertfordshire, UK. Recently I also completed an executive learning program known as "SouthEast Asia Leadership in Medicine- SEAL" at Harvard Medical School. I love international traveling and learning different cultures. Follow me to see lot of blogs related to Asian students, personal experience on my course and exciting traveling experience. ;)