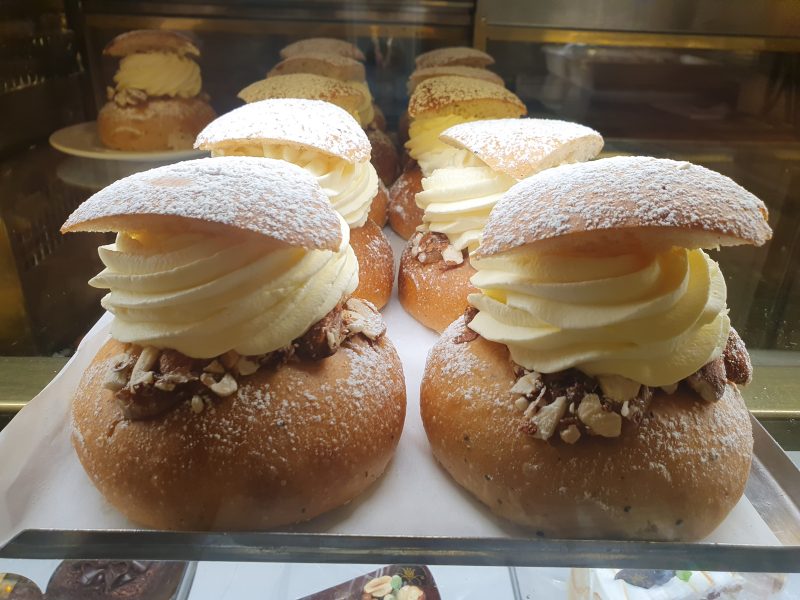 Semla, the iconic Swedish pastry & great places to try it near KI
Semla (or as I call it in Estonian vastlakukkel) is another must-have pastry when you come to Sweden or any other Nordic country in January and February. You'll only find this delicious bun with whipped cream and almond filling at the beginning of the year up until Fettisdagen or Fat Tuesday (a moving holiday that is always a Tuesday and usually in February). So where to try this amazing treat? Here's a list of some of my recommendations and personal favourites.
Why I'm excited to try all the semlas this year
For the last 5 years when I was living in the United Kingdom, if I wanted to celebrate this day, I had to make my own semlas. This is not to say that I didn't enjoy making my own, it was always quite fun and I made the most of it. But now living in Sweden I'm so glad that all I need to do is walk to the closest bakery or grocery store and I have shelves full of semlas to pick from. Minimal effort required!
So to compensate for all these years, I decided to try as many semlas as I could from different cafés to find my favourites. I picked some cafés and bakeries closest to KI which I'd recommend you check out when you find yourself in the area. Of course, as scientists we took it upon ourselves to properly evaluate these with an official taste test. So last Saturday I headed out at 8 am to get a fresh patch of semlas and gathered some friends to rank these from looks to cream-to-bun ration and everything in between.
P.S. They were all delicious, some just a little more than others! 😉😁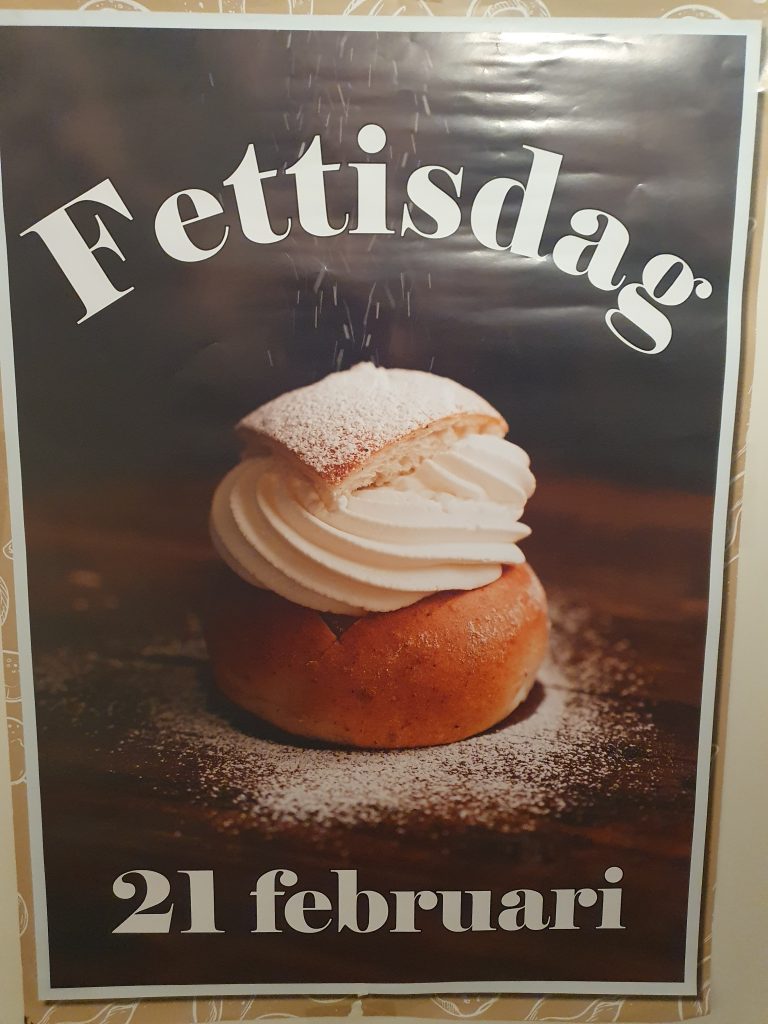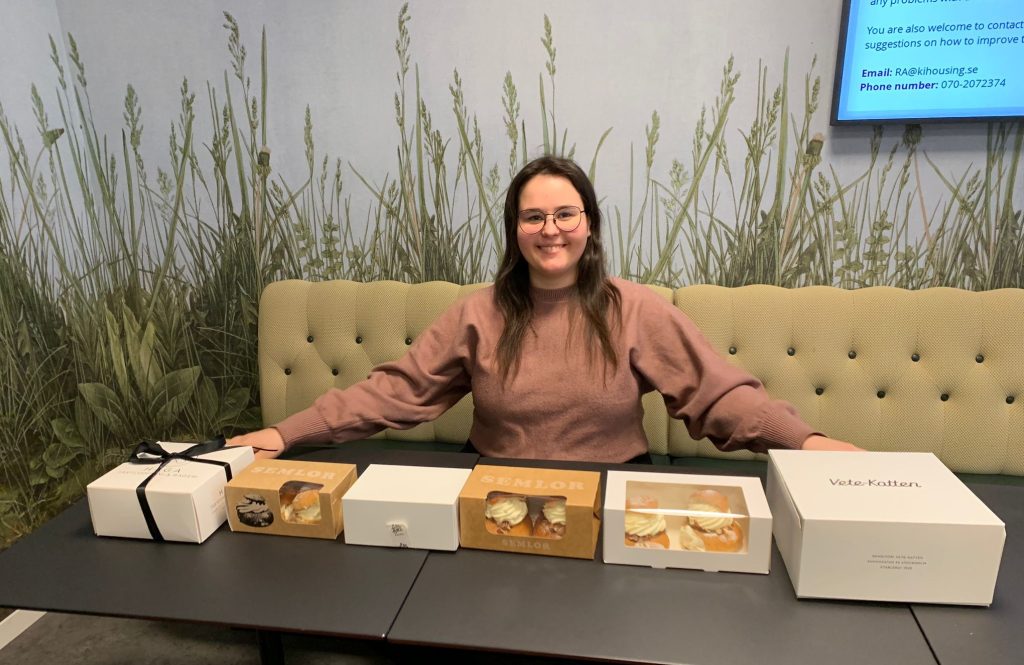 Tied for #1: Ritorno Konditori & Lillebrors Bageri
Our "committee" of 7 agreed that these two bakeries had our absolute favourite semlas. Both were super good in terms of all the essential components: the bun, the whipped cream and the almond mass. Depending on personal preferences one or the other ranked a little higher on the list. The main difference was that Ritorno's had almost a salty caramel quality to its almonds, compared to the more classical ones from Lillebrors. Overall all seven of us thought that these two semlas were a league above the rest.
Another thing worth mentioning is that I have yet to visit Lillebrors without a queue, so it really is popular among the locals as well as students. Ritorno's is similarly highly rated, but on Saturday I was lucky enough to get there just when their semlas were delivered for the day, so I really got the freshest of the fresh.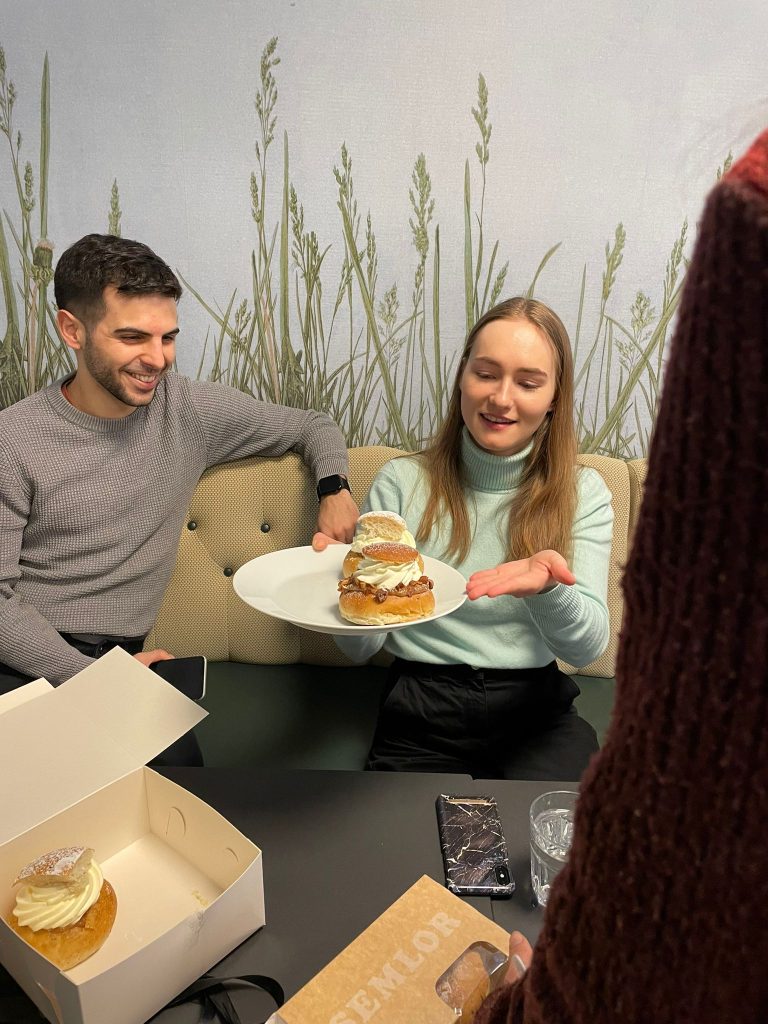 #3: Bergstrands Bageri
This is a cute little bakery on the way to Odenplan that has everything from fresh bread to pastries and, of course, semlas. Everyone quite liked this one, it had a nice ratio of cream-to-bun with a rich cardamom flavour to top it all off. Definitely a good place to try your first semla!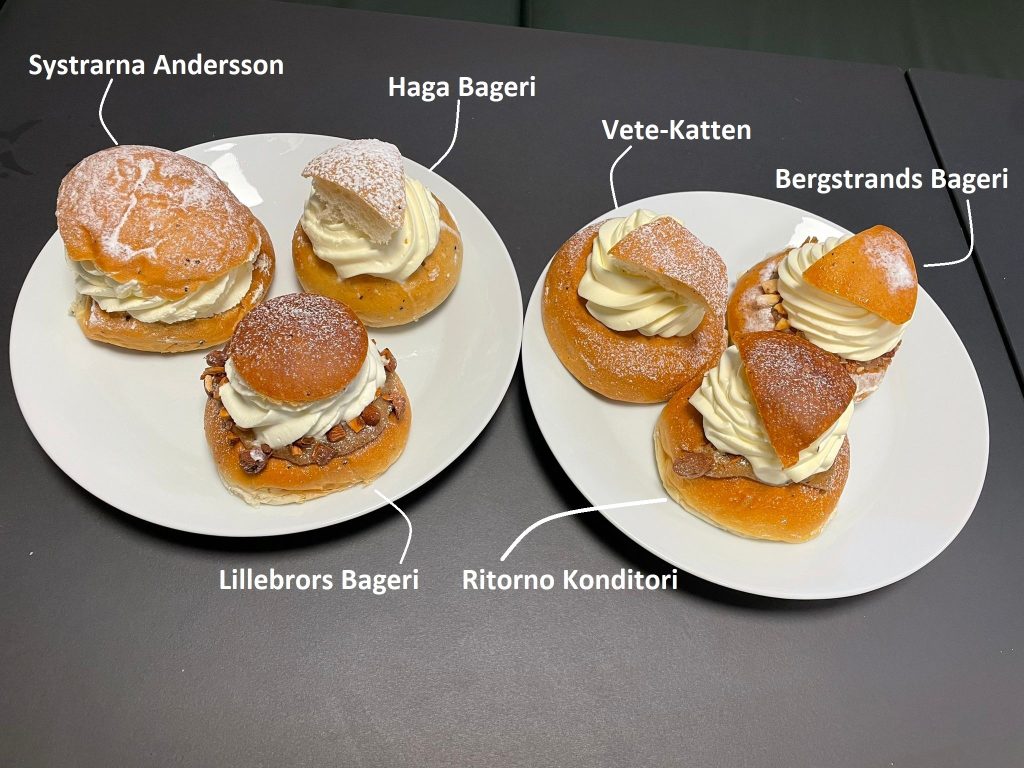 #4: Haga Bageri
This bakery is quite close to KI and as such it's one of the most visited ones by students. The semlas here are with the crunchy almonds and quite a good cream-to-bun ratio. The cream itself was very fluffy and had a good height, which is always impressive to see. When I was making my own, I never managed to pipe it out quite so beautifully. 😅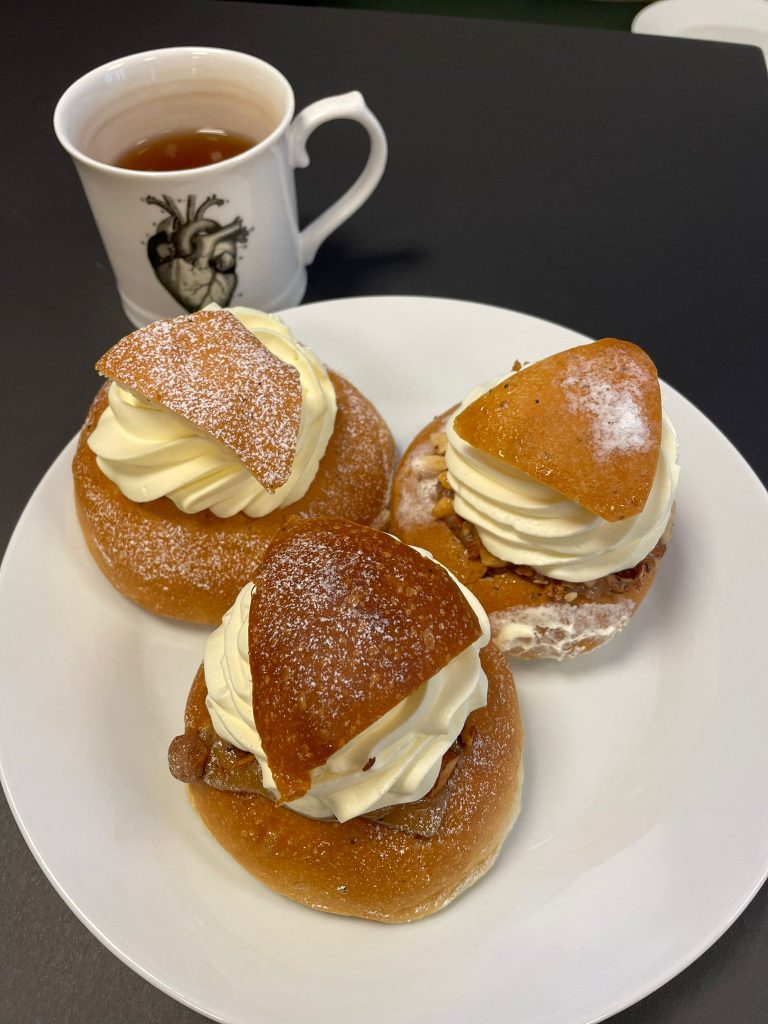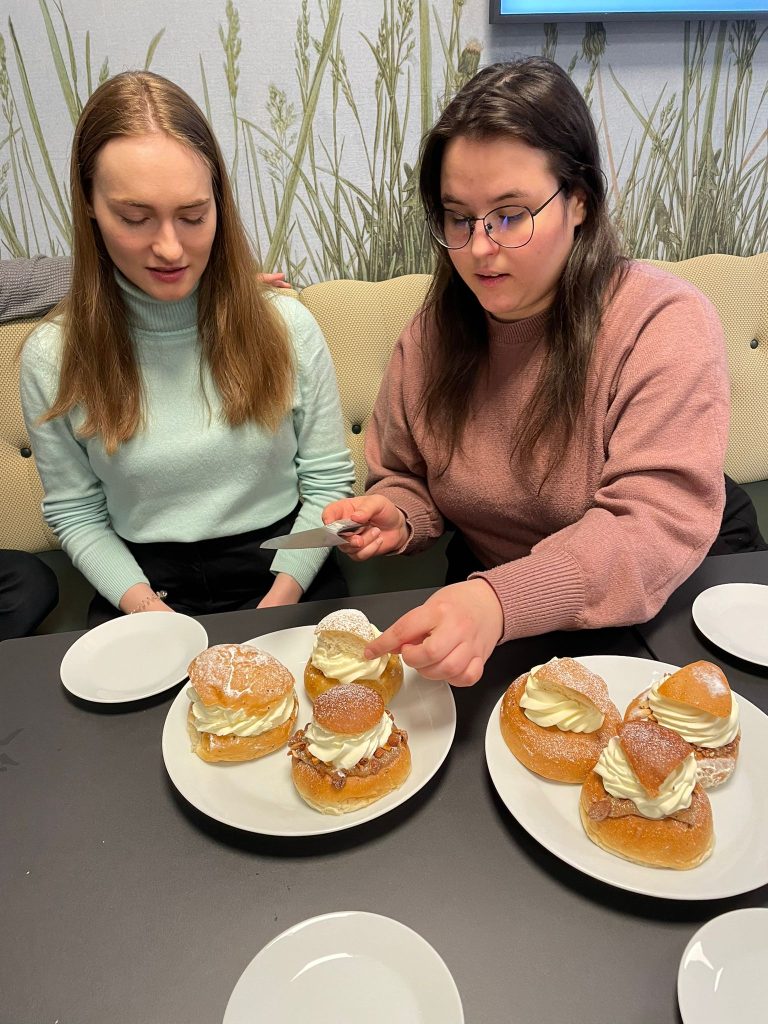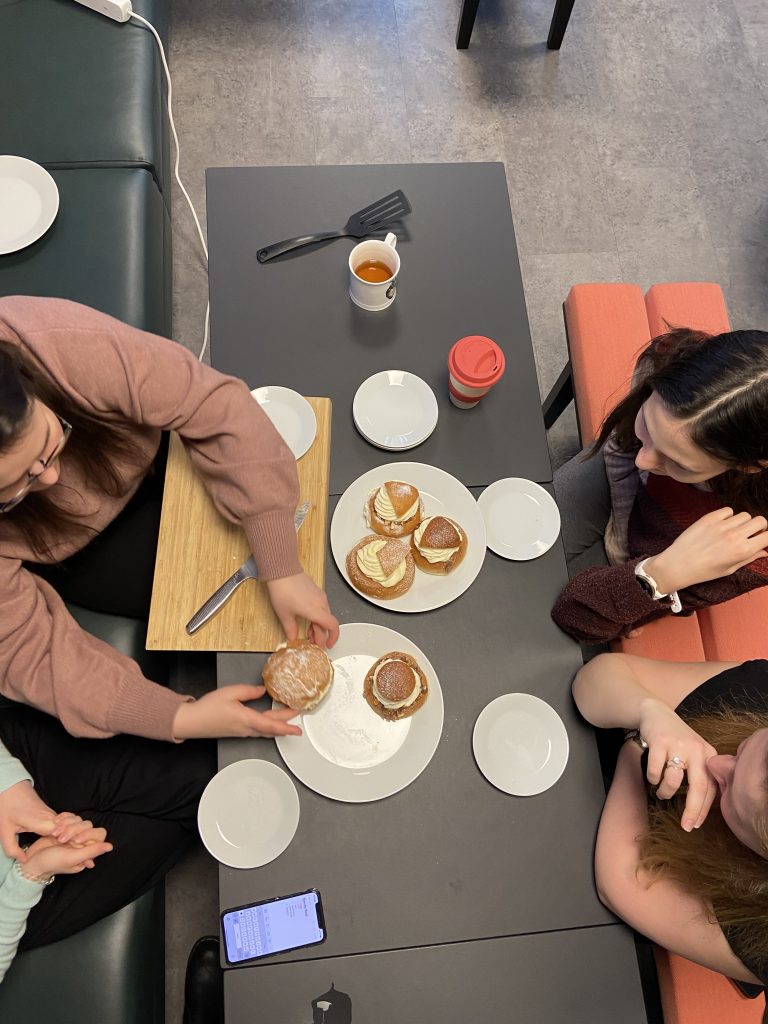 #5: Systrarna Andersson
This café is located near St Eriksplan and just a short walk from Haga Bageri. The atmosphere there is very homey and I think that also reflects in their semlas, which look more home-made compared to the others on this list. They are also quite a bit bigger than the others we tried, so you get a good value for money.
#6: Vete-Katten
Vete-Katten is actually one of the oldest cafés in Stockholm and a must-visit in my opinion for their cakes. Its actually also the closest café to KI as it is located in the Karolinska Hospital just across from Aula Medica. So it's very easy to hop over there and grab a semla with classmates during the lunch break. The semla there is not a personal favourite, as it lacks the nice crunchy almond filling, but if you prefer a more marzipan-like filling, then give this one a try.
Honourable mention – Café Pascal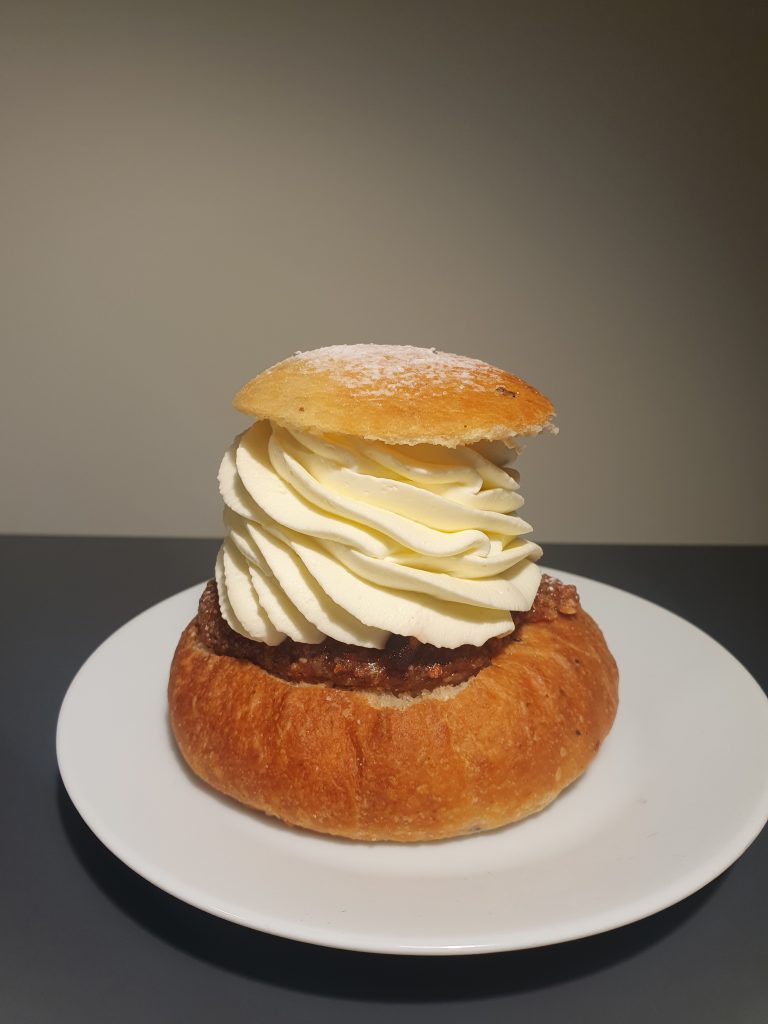 The day we were doing the tasting I wasn't able to get any of their semlas, but I had one a week before. Just the pure height of it was impressive, not to mention the caramelly almonds and cardamon-rich bun. Personally I really liked this one and some of my friends consider it even the best of all so I couldn't not mention it!
Price-wise these options were all between 44 – 54 SEK, which means these cost slightly more than the ones from grocery stores, but in my opinion the small price difference is worth it when it comes to taste.
Hopefully this post has inspired you to try out some of these and pick your own favourites for the next Fettisdagen!

I am Karolina and I am a digital ambassador and a blogger for the Master's Programme in Translational Physiology and Pharmacology here at KI. I was born and raised in Estonia, but for the past five years I have lived in the UK where I studied biomedical sciences with a focus on pharmacology. Outside of school I like baking with friends as well as doing water sports. When the weather starts to get warmer, I look forward to kayaking through Stockholm's world-famous archipelago.