Degree project review_ Master of Health Economics, Policy and Management course
About Thesis!!
During our first semester, it was a great opportunity to explore the basic economics , policy and management. It was also the good time to figure out which area we go deep into for our thesis and also the supervisor I may need to chase afterwards.
Some of our classmates managed to secure the thesis supervisors since the summer of first year and had been conducting some relevant research since then. If you do not bother about early preparation, don't you worry about it. Some good research topics/ projects will be published around the start of the thesis timeline in second year where you still can explore/choose the projects from and approach the respective potential supervisor.
Among our classmates, some were doing own research ideas on their native country and topic of their interest. For those cases, they have to approach the supervisor from the relevant field and proceed upon agreement. And, there is also the chance of pairing with another classmate for the thesis rather than working on it individually. The workload would then be shared with the thesis partner and the grading will be the same for both in that case.
All these process are not happening over a night, so don't worry much and just enjoy every steps.
Then overall timeline of the thesis took officially about 4 months (For us, from Jan 16 to May 8) and you will have some time to prepare for final examination seminar (For us, it is on May 22 to May 24). For us, there were some overlapping days of schedule with the ethics course.
The mandatory dates to participation were Thesis proposal presentation, project plan seminar, half-time seminar and Final examination seminar. I strongly suggest and recommend to attend each and every sessions (mostly online) which are only meant to help us writing the project.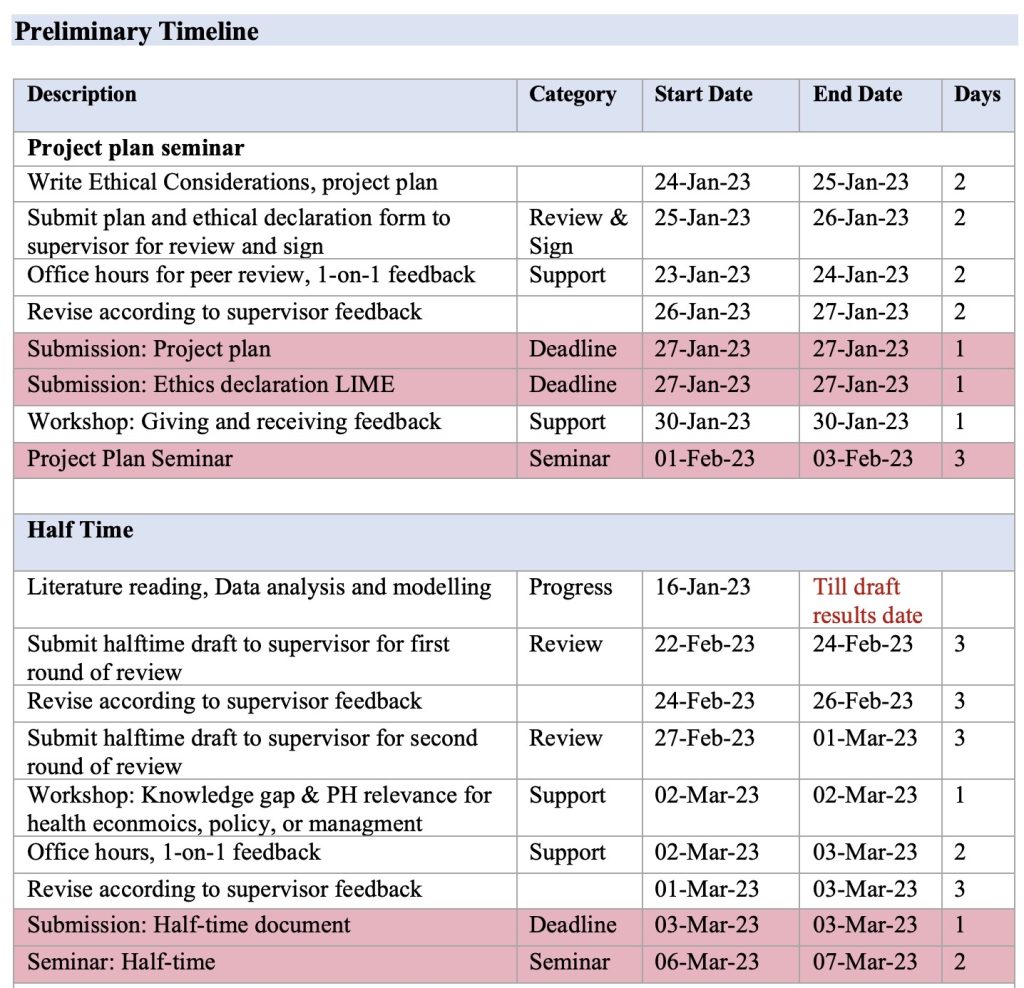 For these mandatory participations, we meant to submit the paper first and will present on our assigned date and time. If there is any conflicts on the assigned date and time, could discuss with the colleague who could switch and inform the course leader. For every presentations, we are meant to do not only our own presentation but also peer review which is meant to understand from the other stand point which indeed also helps me a lot in improving my thesis.
Thesis Proposal is mainly focusing on the area of interest, topic, research question, aim and short background and methods. Project plan is mostly the same structure but modified based on the previous feedback and the added parts are ethical consideration and project plan timeline which is meant to follow during our thesis journey. Half time seminar is meant to follow the Karolinska thesis template which is provided via canvas and the above parts are meant to put into the provided template with full version. At this point, most of us still not have the results session yet. So, during our presentation session, we could provide the dummy results and do practice with the intention for the final seminar.
Here is the timetable of thesis for this year.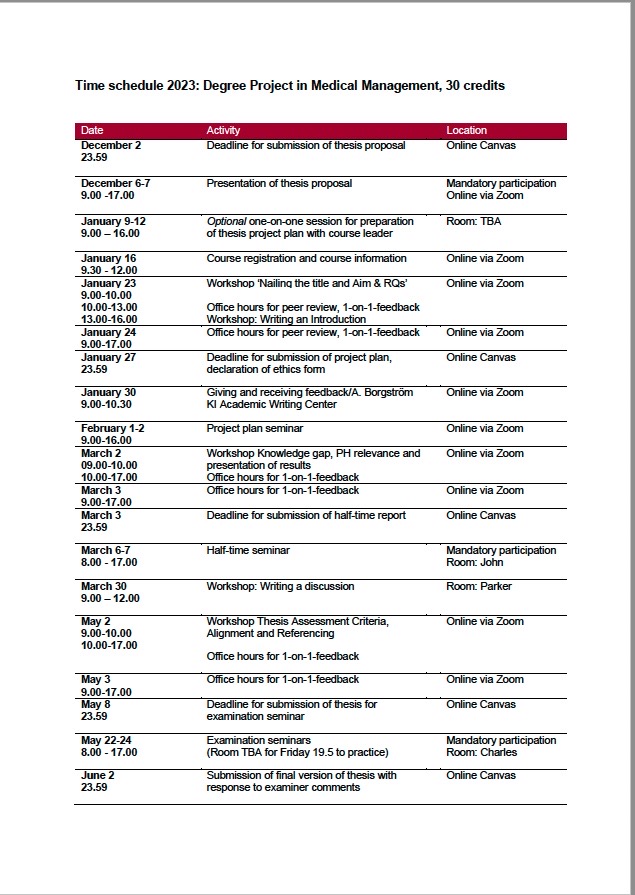 Along doing thesis, it would be a lonely journey as we had to do almost on our own and very little engagement with other classmates. So, will share some tips about how to manage stress related so far I tried in the coming blog. 🙂
As usual, please don't hesitate if you have any related enquires at naw.hlaing.oo@stud.ki.se.
Hej! I am Naw, currently attending MSc Health Economics, Policy and Management. Originally from Myanmar (aka Burma), one of the South-East Asia countries. Before joining KI, I completed my first degree in Medicine and then attained MSc in Clinical Dermatology from University of Hertfordshire, UK. Recently I also completed an executive learning program known as "SouthEast Asia Leadership in Medicine- SEAL" at Harvard Medical School. I love international traveling and learning different cultures. Follow me to see lot of blogs related to Asian students, personal experience on my course and exciting traveling experience. ;)