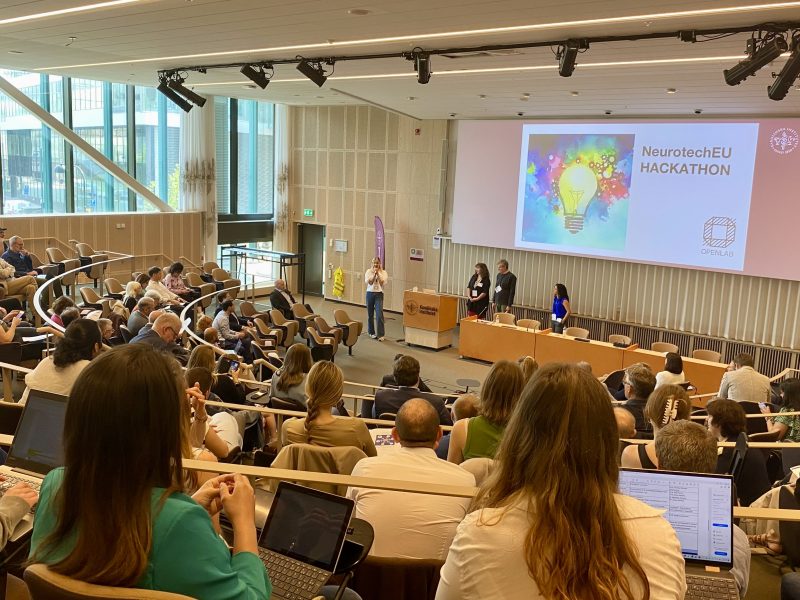 NeurotechEU Hackathon at Karolinska Institutet: Exploring mental health solutions
Students and researchers from various European universities gathered at the NeurotechEU Hackathon event hosted at Karolinska Institutet to collaborate and address a complex and multifaceted challenge in the field of mental health. Organised in collaboration with Openlab Stockholm, an innovation centre with a focus on social innovation, the event proved to be a unique opportunity for participants to harness their expertise and creativity to find innovative solutions for challenges in mental health.
Day 1: Igniting brilliance
The NeurotechEU Hackathon spanned two days and took off with an exciting introduction venue at the Nobel Prize Museum nestled in the historic Old Town of Stockholm. The following morning was started with a warm welcome from Dr. Annika Östman Wernerson, the rector of Karolinska Institutet, and multiple other distinguished keynote speakers. The afternoon featured parallel sessions tailored for specific groups, setting the stage for collaboration, knowledge-sharing, and innovation in the overlapping fields of neuroscience and technology.
This year's hackathon challenge was finding a way to support young adults with early stage mental illness to self-assess and/or adopt tech-driven health tools and services in a long-term and sustainable way. The hackathon comprised a brainstorming session followed by an ideation process that was guided by specialised coaches and industry professionals. The teams engaged in principles of design thinking to accelerate innovative ideas and potential paths forward. Participants filtered their ideas through an iterative process to prepare for their final pitch at the end of the hackathon.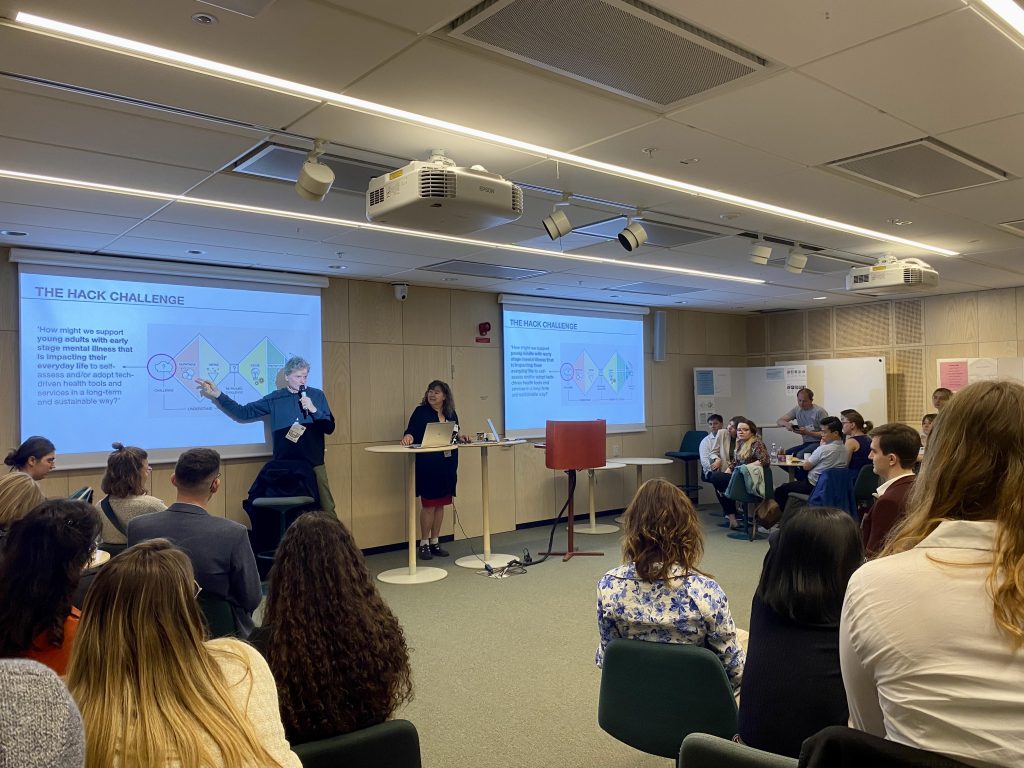 The end of an exhilarating day was celebrated with a memorable cruise dinner in the Stockholm archipelagos. The dinner created the perfect atmosphere for reflection and inspiration, fostering a shared purpose among the participants. Conversations flowed freely, fostering a vibrant exchange and experiences. This enchanting evening served as a reminder for the importance of collaboration and community in driving forward innovation in neurotech and mental health solutions.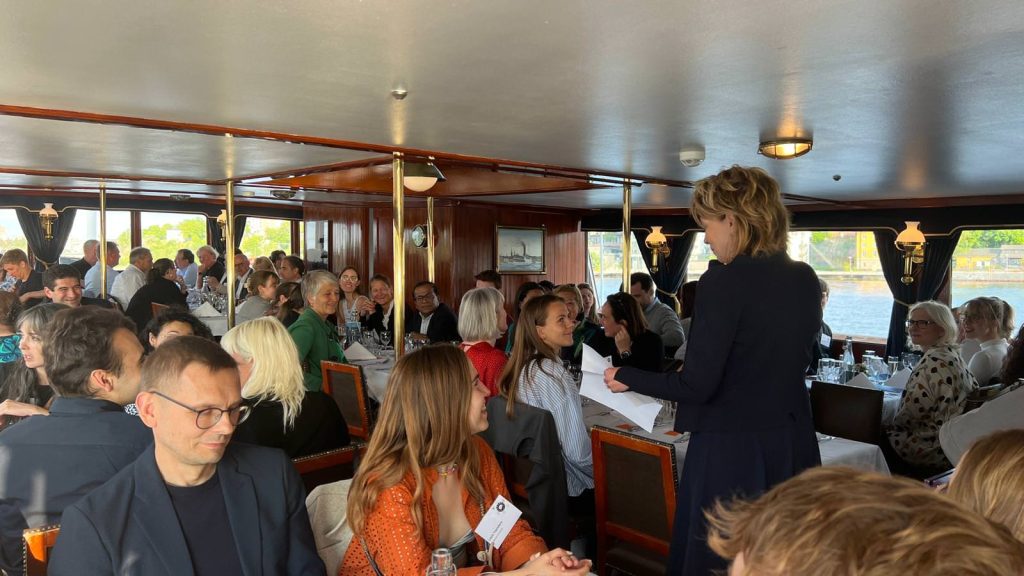 Day 2: Fostering innovation
The second day of the NeurotechEU Hackathon was all about getting down to business and refining the finishing touches on the ideas, pitches, and presentations. With a collective sense of determination, participants dove headfirst into finalising their concepts, making them shine brighter than ever. It was a day filled with intense discussions, bursts of creativity, and lots of practice. The teams laughed, debated, and pushed themselves to bring out the best in their projects. Each team pitched their ideas to the jury who then selected the winning presentation. The pitching session ended with a closing ceremony where participants gathered to reflect on their accomplishments and celebrate new friendships.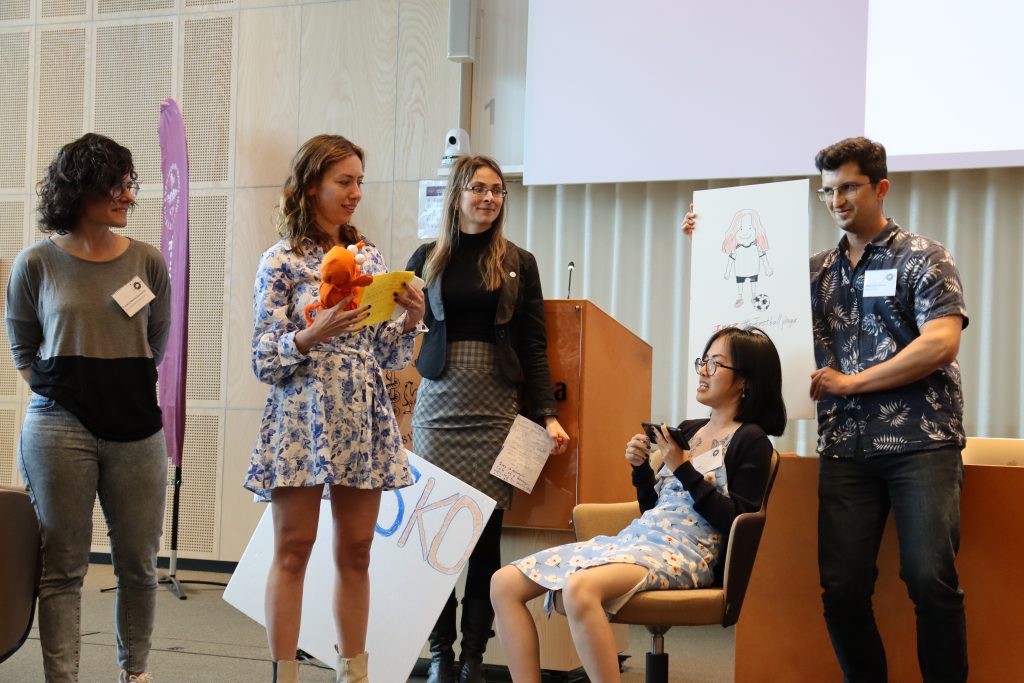 The NeurotechEU Hackathon demonstrated the transformative power of interdisciplinary collaboration in revolutionising mental healthcare. Embracing the convergence of neuroscience and technology can lead to a future where compassion, innovation, and innovative solutions empower individuals on their path to better mental well-being. Together, we can shape a world where mental health takes the centre stage.

My name is Fausta. I am originally from Lithuania, but spent most of my life in Canada, so the Swedish winters do not scare me! I'm the blogger for the Master's Programme in Bioentrepreneurship here at Karolinska Institutet. I am also a camping enthusiast and a huge fan of exploring new hidden cafés to visit in Stockholm. I am excited to share my experiences and adventures in Sweden and hopefully provide some useful tips and tricks!