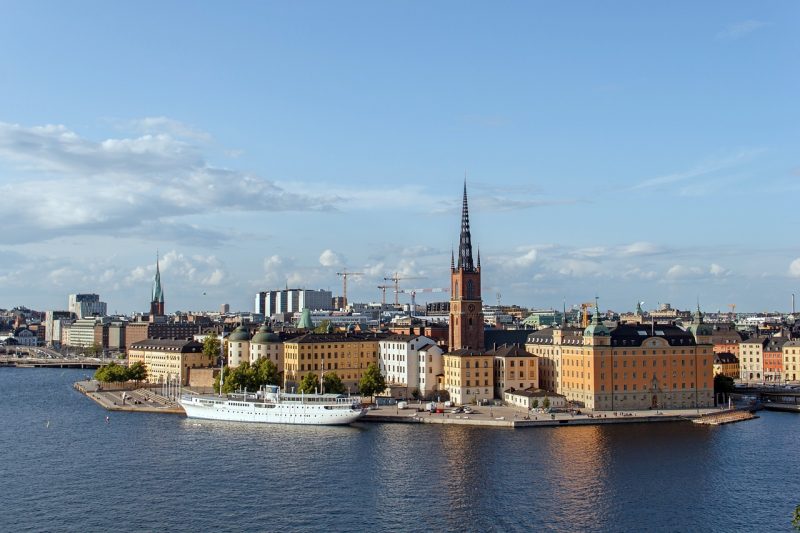 Where to celebrate cultural events in Sweden
Okay guys, I have something to admit. So what I did not do in Sweden was celebrate Swedish holidays or events. I wanted to believe me. But 1.) I was studying. 2.) That's the excuse I give myself for not realising that I could have easily joined these celebrations. I honestly thought that you needed to have family to participate in events like Midsommar. I had no idea that there were public celebrations in Vaxholm or Skansen.
So I have decided that this will not happen to you! I will publish a list of all the Swedish holidays that I can find through research. Then compile a list of where you can go to fully immerse yourself in the Swedish culture for your year here. If I am wrong. Then forgive me because most likely I did none of these myself. Let's go!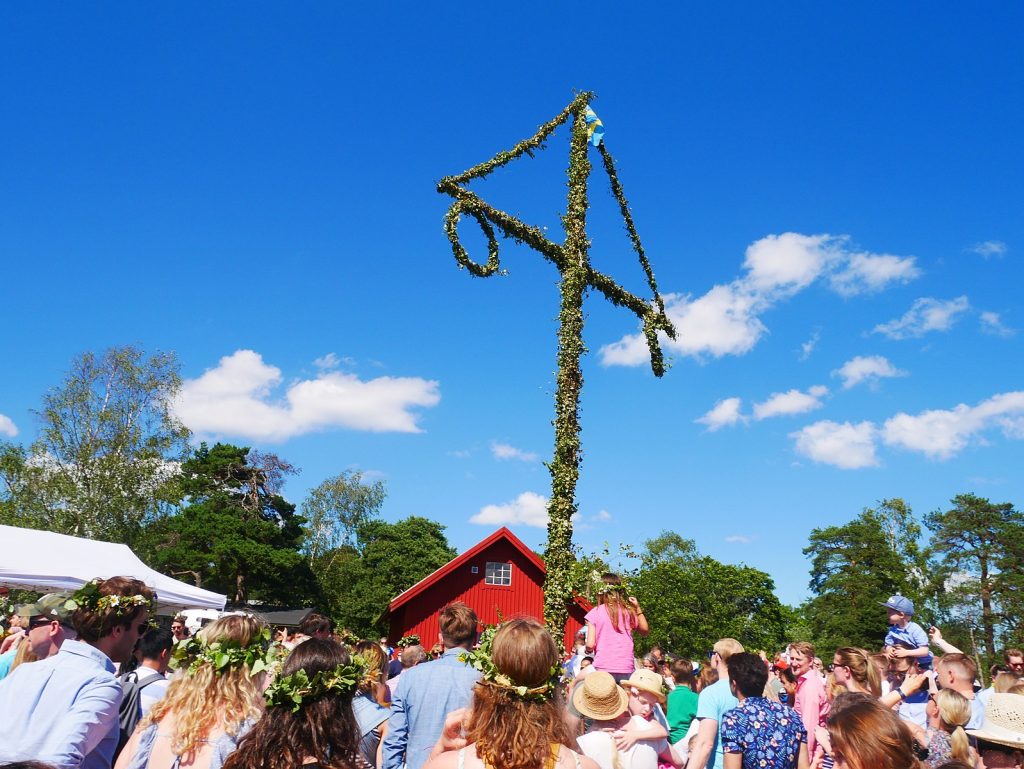 August
This is when you arrive. There are no holidays at this time but there is the amusement park called Gröna Lund. It is open in August but closed in the winter. You can also do picnics in Haga Park which is a public park. People usually go here to go to exercise or swim and of course you can go hiking. One of my favourite outdoor activities in August was to go to one of those self-picking vegetable farms linked here. It isn't a vast field, but last year I got a bunch of blackberries, zucchini, and some lovely flowers. There were potatoes too but I was not about to dig around in soil.
September
Foraging for berries and mushrooms- This isn't a public holiday-related event but rather something most Swedish people do in Autumn. I really wanted to do this but I had no idea where to go or how to look. Because of Sweden's law of allemansrätten which basically means, every person has the freedom to wander and forage on any land, it is possible to go into any forest or wooded area and pick mushrooms and berries as long as you do not overconsume or damage anything.
So I did some research and found these places. In the guides, it is said that the best place to go is a nature reserve. Grimnsta Nature Reserve is in Stockholm and accessible by either bus or train. Haga Park also has forests however, there are so many people there. Therefore, I highly doubt that any mushrooms would be left. Djurgården is also a forested area within the city however, since it is a garden that is cared for you may have to ask for permission first. I actually see blueberries in the little woods close to where I live so they can be found anywhere. But Nackareservatet which is close to Slussen is known to have blueberries and sometimes other types of berries. If you do not mind going on the islands, Vaxholm, Sandhamn and Möja are fairly forested.
If you do not know how to forage for mushrooms and berries please do not pick and consume any but rather find them and leave them alone.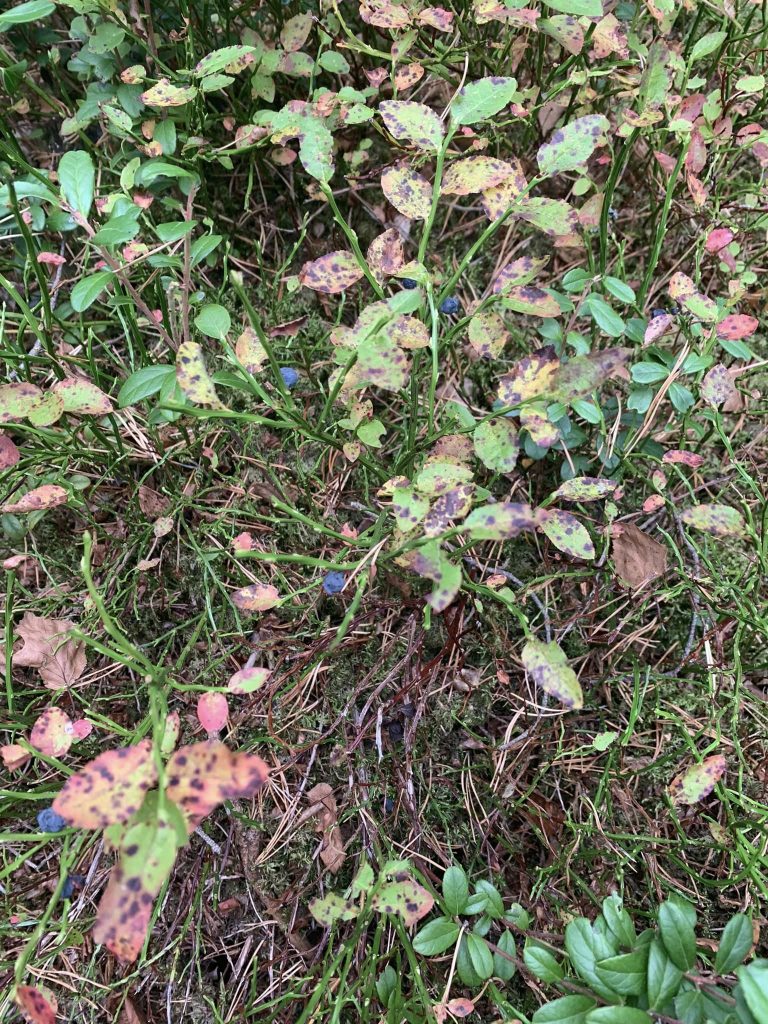 October
Halloween- My friends had a Halloween party, and I even got a couple of trick-or-treaters at the door. However, if you would rather not do a party and just want an activity that you can join as a solo person without having to find someone to go with then the best place to go is Gröna Lund. The amusement park will be decorated like a haunted house and most people will be dressed in costumes to go on the rides. If you would prefer to do an event, then Skansen hosts a Halloween week every year where there are mystery-solving games and horse jumping. Some of these activities you do have to pay for though. There is also the Stockholm Ghost Walk which is a tour that takes you through Old Town, where they tell you all of the buildings that are haunted.
November
All Saints Day- In my country All Saints Day is observed on November 01st, where we clean the cemetery and light candles for the souls to follow. In Sweden however, it is held on the first Saturday of November every year, and the same traditions of cleaning the graves and remembering lost family are followed. If you would like to observe the lanterns and lights left at the tombs and commemorate the day, the best place to go to is Skogskyrkogården.
Skogskyrkogården also known as Stockholm Woodland Cemetery is a UNESCO World Heritage site and is always open to the public for free and so no one would think it is strange if you simply go and take a walk through. Just be aware that it is a commemoration not a celebration. I have also read that Berthåga cemetery in Uppsala is also a good place to go because there are burial grounds for other faiths there too.
Halloween parade- the Halloween celebrations do not end in October for Sweden. In November there is the Shockholm parade which starts in Kungsträdgården and goes through Gamla Stan (the Old Town) before circling back. People dress in scary outfits and walk through the town as part of the parade. This year (2023) it will be on November 05th, but just search in Google for "Shockholm parade, Stockholm" and the dates for the following years will pop up.
December
Saint Lucia Day- This is on December 13th. I don't know if you have ever read about this Swedish tradition where girls wear candles on a wreath in their hair and walk in a procession with a choir singing. The best place to observe this is in KI. The university has a choir come in with one person dressed as Saint Lucia and they sing some songs while walking through the building. We also get free glögg (mulled wine) and saffransbullar (saffron buns). However, if you have family visiting and would like to take them to see the same thing, Skansen and the Grand Church also has a parade. This isn't free however, so you will have to purchase tickets to watch the procession. In school it is free.
Christmas markets- The Christmas markets usually begin in November around the 20th until December 23rd. There are some markets in Gamla Stan, Färgfabriken and a Farmer's Market in Tessinpark. I haven't been to any personally, but I have heard that the Stortoget Christmas Market in Gamla Stan is the easiest to get to and there are a lot of small shops and places to buy glögg (mulled wine that can be alcoholic or non-alcoholic).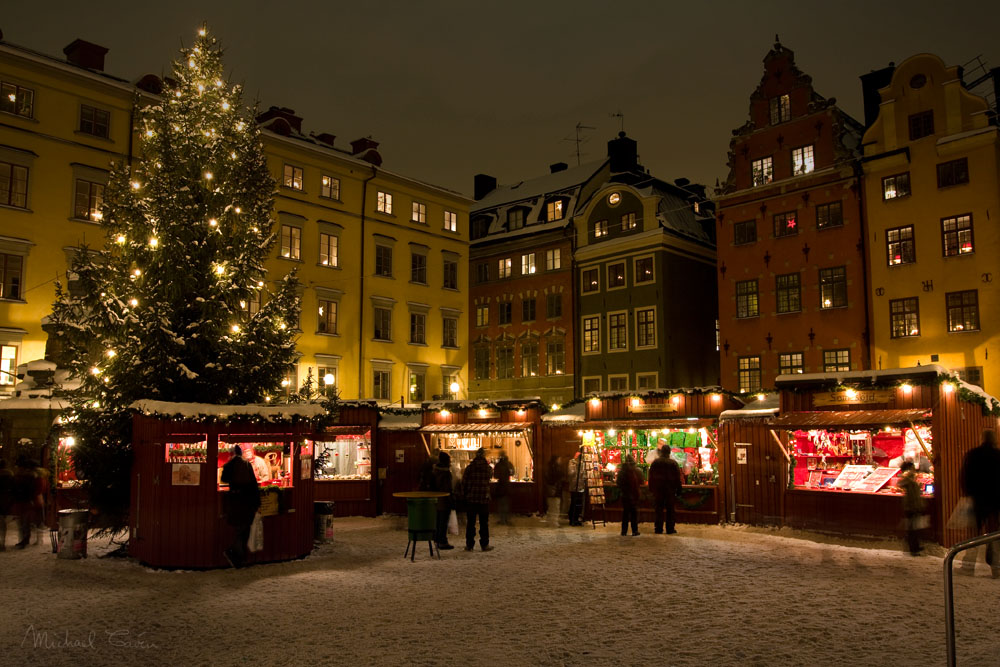 Christmas sightseeing- Okay, I have done this one. Stockholm goes absolutely wild with Christmas lights from the end of November into the beginning of January. My recommendation is, to go into T-centralen and walk to the NK department store. This is your starting point. They put on a really nice Christmas display that you can take pictures for Instagram. Then walk through the streets which will have beautiful light until you get to Kungsträdgården. This is where they have the trees and the reindeer lights. Well, they did last year maybe it changes every year who knows? Then walk from here to Gamla Stan which will again be super lit up. From there if you are early enough, the Christmas market will still be open.
The sun usually sets around 3pm around this time, so don't worry about having to go out too late to see the lights. The markets also close at 5pm so you can do this walk in the opposite direction if you'd like to go after class instead.
Winter wonderland- I also did this one. Gröna Lund has a winter wonderland thing with a few of the ride attractions open. It was really beautiful and the tickets weren't too expensive. However, you must book them in advance. Some advice though. This is an amusement park, so you will be outside. And although the displays are beautiful so you will want to dress up in really nice clothes and take cute pictures. It will be cold. There are a ton of coffee shops and hot chocolate places inside the park. But it will be cold. It is freezing and there are barely any places to hide inside. So to enjoy it to the fullest, please, please dress warmly.
Christmas Day and related events- For this one I have to say stick to KI. MF has a Christmas dinner that you can buy tickets to attend and there are many dinners that the dorms and different programmes host. So keep the school activity calendar in mind.
January
New Year's– For the two New Year's Eve days that I have spent in Sweden I did not go anywhere, because the fireworks were visible from everywhere. However, if you are looking for a free solo activity or with a couple of people there are good places with really clear views to watch the fireworks. Some recommendations are Skansen, Skeppsbron inlet in the Old Town, and Strömkajen near Kungsträdgården. All of these places are in the same general area so it's safe to say that there will definitely be fireworks there. As for New Year's Day, I searched for some solo, free activities but did not find any, unfortunately.
There were no public holiday events that I could find in February and March beyond maybe Valentine's and Easter.
April- May
Valborgsmässoafton- Known as Walpurgis Night in English, this day is an observance for the feast of St. Walpurga. It begins on the evening of April 30th and continues into May 01st. In Sweden, they celebrate by lighting a huge bonfire meant to ward off the spirits and listening to songs. For this day a classmate of mine recommends spending the day in Uppsala, where they have a huge outdoor party in the university town of Valborg.
If you'd like to stay in Stockholm, the GH class for this year went to Skansen. There is singing and of course the bonfire. However, make plans to meet at a certain spot since the crowds will be huge. If you go by yourself it should be easy enough to spot the bonfire and take a seat in an area where you can see the singing and dancing too. It is also the Swedish King's birthday so there are a lot of parades and festivals to look forward to during the day.
The following day is just a day of rest and demonstrations in the city.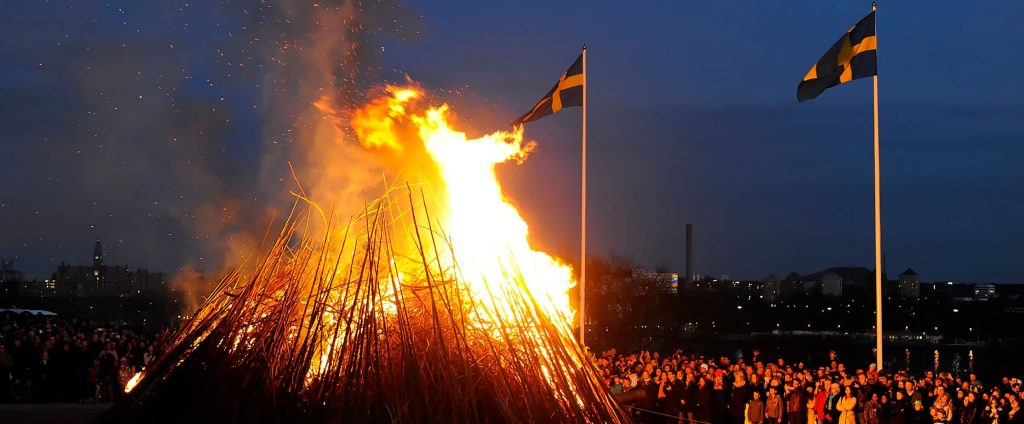 June
National Day- June 06th. This is celebrated in Skansen where little children line up with bouquets for the King and Queen of Sweden who make an appearance. If you'd like to watch this happen then Skansen is the place you should go to.
Midsommar- This is the summer solstice which falls on a Friday between the 19th and 25th of June. Stockholm typically becomes empty on those few days as people go to the countryside to celebrate with family. From what I read, people raise a huge maypole from the ground and hop around it singing songs. They also make flower crowns using the wildflowers. But also sleep with flowers under their pillows to dream about their soulmates and make traditional food with strawberries.
I was under the assumption that without a family, one could not celebrate midsommar but I was wrong. There are apparently huge public celebrations in Vaxholm (one of the Swedish islands), Skansen, and Vitabergsparken. The celebration in Skansen is said to be the biggest of all and is celebrated over 3 days with the maypole being raised on midsommar's eve. My advice however, is to book tickets far in advance to reserve a spot here. It is free to observe midsommar in Vitabergsparken in Södermalm. A little further from the city there are also celebrations in Akalla By, Akalla.
Here is a table that you can print and use to remember the dates and where to go: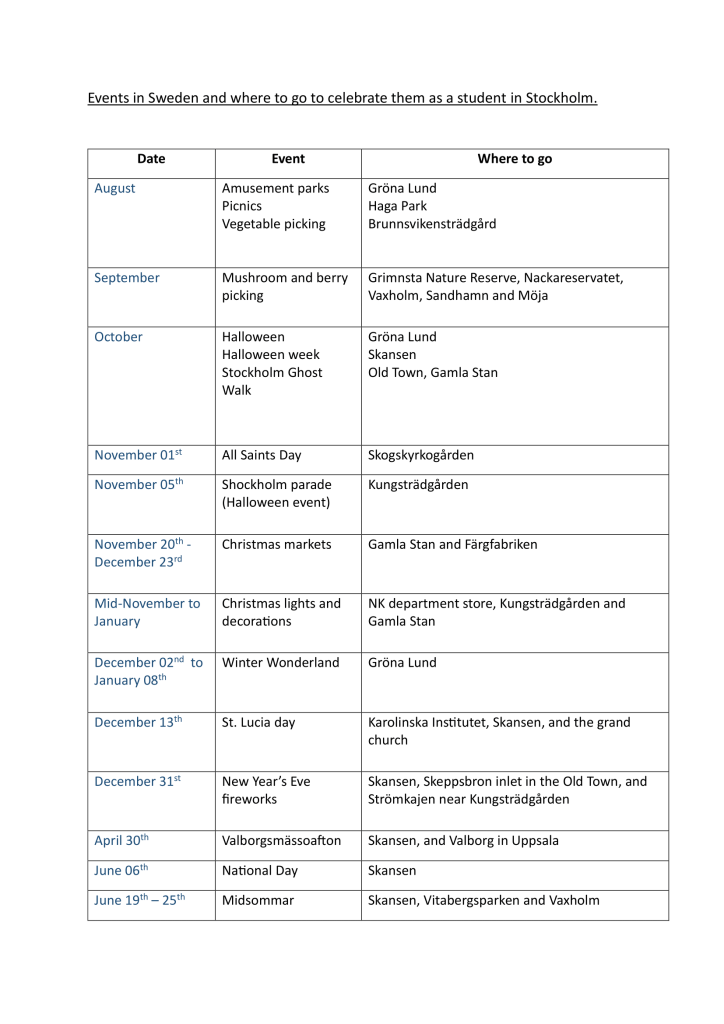 Of course this is by no means an exhaustive list. You should still go look for the autumn leaves in Djurgården which is open to everyone. Eat semlas for Semla day in February (my favourite bakeries are in in St. Eriksplan) and go cherry blossom viewing in Kungsträdgården. What I am saying is that you do not need to wait for anyone to go out there and experience the Swedish culture. The country is pretty open to sharing its events. So go out there and have fun!
Hi, my name is Zaynab and I am from Trinidad and Tobago, a country in the Caribbean. I am currently studying a Master's in Global Health here at KI and am a blogger for the DA team. I look forward to sharing my experiences at KI and I also hope to expose students from the Caribbean to university life here in Sweden.