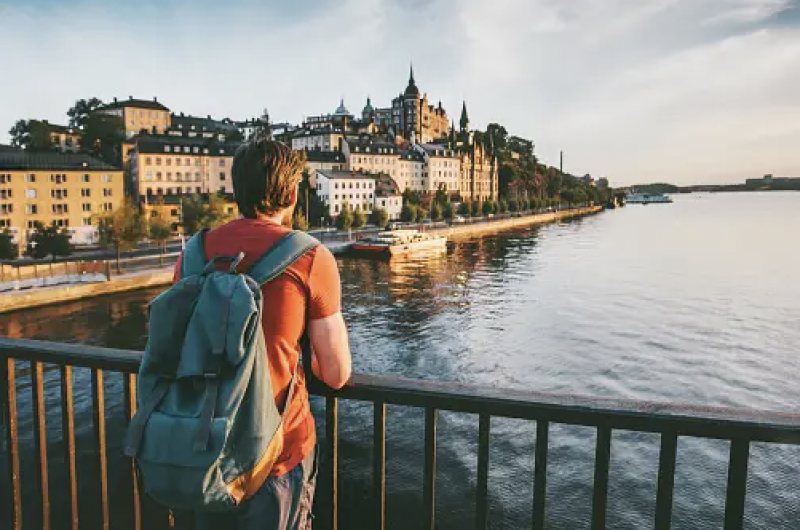 Post-arrival guide: What now?
At this point you are probably wondering: what now? You have applied to the university, you have been admitted to your program, you have booked your tickets to Sweden. Congratulations!🥳 Now it's time to start creating your life in Stockholm. In order to make things as clear as possible, I have divided the blog into three parts that outline your to-do list before, during, and after you get your Swedish personnummer (personal number).
So, Here is your 3-part post-arrival guide for graduating from student to Swede 👩🏽‍🎓🇸🇪
Part I: Before the personnummer
KI Student card 🪪
The first thing you should do on campus is get your KI student card. You can do this in two easy steps. First, go to the university library, enter your given student number in the photobooth on your left, and get your picture taken there. Then, go to the Aula Medica building to pick up your printed student card at the reception desk. And voila! You are now a proper KI student haha!
MF Membership 📲
After you have your KI student card, go to the Medicinska Föreningen (MF) building to register for your student membership at the reception desk. Please note that the membership allows you to continue collecting SSSB points in order to help you find student housing in the future. Once you have registered, you should download the Mecenat app. The Mecenat app is used to confirm your student status in public places and provides many student discounts.
SL Transportation card/app 🚎
Once you have registered for the MF student union and downloaded the Mecenat app, you can get the transportation card or app in order to be able to use public transport in Stockholm as a student. This is called the SL card or the SL app. You can go to the nearest kiosk and fill your transportation card up with a student discount. Note that a lot of people in Stockholm love to use bikes up until November, you might be interested in this option as well!
Part II: Getting the personnummer
The personnummer (personal number) is essential in Sweden. It allows you to do basic things such as open a bank account, apply for grants or loans from the Swedish government, and book medical appointments. You can read more about the Swedish personnummerr here. There are different requirements for the documents EU and non-EU students should bring to their appointments. The documents for EU students can be found here and those for non-EU students can be found here. You can search for the nearest skatteverket (Swedish Tax Agency) and go there without needing to make an appointment. The process will take you no longer than 30 minutes, but it can take anywhere from 3 weeks to 3 months to receive your personnummer, so it's important to get to it as soon as possible. Once you receive your personnummer, you should make another appointment to get your photo taken for your Swedish ID card here. This will take you no longer than 15 minutes, and you should receive your Swedish ID card with your personnummer within a few weekdays.
Part III: After the personnummer
Bank account, BankID and Swish 🏦
Once you have your Swedish ID, you can really start creating your life in Stockholm. The first thing you should do is open a bank account. This is done through booking an appointment with a Swedish bank. The most popular banks include Swedbank, SEB bank, and Nordea. During the appointment, make sure you set up your BankID and Swish accounts. The BankID is used as an electronic identification method, and Swish is a convenient payment method similar to PayPal that is used all across Sweden.
CSN Financial student support 💰
Now you can use your BankID as a verification method to create an account and apply for financial study support from the Swedish government through a website called CSN. International students can apply for a monthly grant or loan on the condition that they have a job in Sweden and work at least 15 hours/week. You can apply for financial aid each semester and the calculations on the amount you are entitled to receive are outlined in the CSN website.
Free Swedish language courses 🇸🇪
Your personnumber allows you to apply for free Swedish language courses. The most common way to do this is through SFI (Swedish for immigrants) where you can choose your most convenient class times. The options are usually either twice per week for 2-3 hour sessions during the week, or once per week for a 5 hour session during the weekend. More rigorous language courses are offered through SIFA (Swedish for academics).
Medical appointments 🏥
Your personnumber allows you to book non-emergency medical appointments electronically. Apps such as Kry (private provider) and 1177 (public access) enable you to do so at your convenience. It is also good to know that once you are registered in the public system and have your Swedish ID, you are entitled to STI check-ups for free.
Phone plan 📱
There are many different phone plan options in Stockholm. The price of the phone plan largely depends on the amount of data usage per month. Before getting my Swedish personal number, I used LycaMobile services and paid around 200 SEK/month for 10GB of data. Now my friend and I use Telia and share a family phone plan with unlimited data usage for 600 SEK/month each. Student discounts can apply with the Mecenat app. It is also useful to keep in mind that you might not need to change your number if you have an EU phone plan from the beginning.
I really hope this post did not overwhelm you too much😅It may seem daunting, but it really is not that difficult. I have a really bad habit of procrastinating necessary bureaucratic stuff and avoiding them until the very last minute, but adapting to Sweden was quite straightforward. Perhaps this is because Sweden has a very well-developed digital system and they love simple apps😄. I hope this blog helps you graduate from student to Swede!👩🏽‍🎓🇸🇪

My name is Fausta. I am originally from Lithuania, but spent most of my life in Canada, so the Swedish winters do not scare me! I'm the blogger for the Master's Programme in Bioentrepreneurship here at Karolinska Institutet. I am also a camping enthusiast and a huge fan of exploring new hidden cafés to visit in Stockholm. I am excited to share my experiences and adventures in Sweden and hopefully provide some useful tips and tricks!