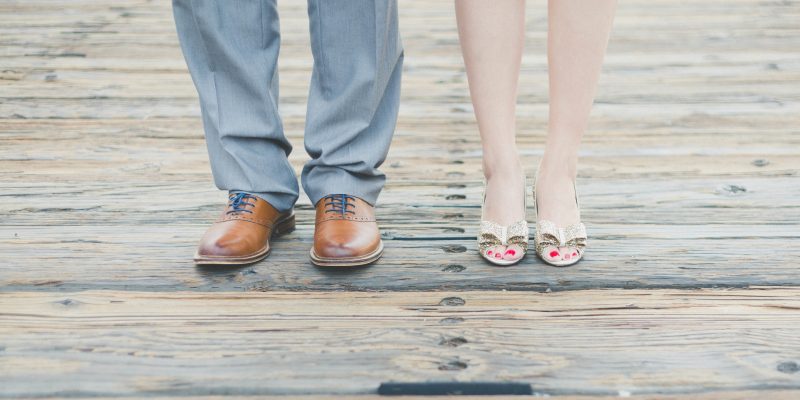 What if I bring my spouse during my study at KI?
The decision of moving abroad to Stockholm with my spouse is definitely one of the biggest decisions I have ever made in my life (other than the decision of marrying her, of course :p). To be clear, actually it was not just MY decision, but OUR decision together as each other's life companions. It was a difficult yet a challenging thing. On the one side, it was better for me not to be alone in a foreign country. But on the other side, while we knew what I would do here (studying for my master, of course), we were still not sure about what she could do.
A glimpse about me and my spouse
Before I share some opinions and tips about the things your spouse can do while accompanying you for studying in Sweden, I would like to share a glimpse about ourselves to you, just so you know the context.
We are from Indonesia, one of the countries in South East Asia.  Both of us are medical doctors. Then I focused myself in healthcare management, while she studied clinical epidemiology and became a consultant for data analysis in several medical research institutions. We have two children, a five-year-old daughter and a three-year-old son. So even though this blog title is about moving abroad with a spouse, actually I moved here not only with my wife but also with our children. I will share about my children's life here in another post.
Since my studies would last for more than one year, I did not only apply for a residence permit but also for a Personnummer from the Swedish Tax Agency and so did my wife and my children. If your spouse gets the Personnummer, things will be easier here. I will tell you later about this.  (And for your information: in Sweden, as long as you provide all the documents required by the Migrationsverket and Skatteverket, getting the residence permit and Personnummer for your whole family is not that hard).
What My Spouse Can Do While Accompanying Me Here?
There are several activities that your spouse can do here in Sweden. Actually, the activities are vastly various, depending on the educational background, previous jobs, personality, and hobbies that one might have.
In general, there are 6 things that your spouse can do while accompanying you:
1. Finding a job in Sweden (or Stockholm, in particular)
I am sure that this is the first thing that most people would think about when moving abroad. But, I have to tell you, do not expect too much for finding a job quickly and easily, especially when your spouse does not speak Swedish.
Here, in Sweden, almost all Swedish people speak English, but when talking about finding a job, being able to speak Swedish is not a merit, but it is often considered as a must, especially if your spouse applies for a job which need him/her to interact with people. I know some people lucky enough, had a job from their colleagues or relatives, but luck is not always on everybody's side, right?
However, don't lose heart! There are always good news =)
The Swedish government puts great efforts to make people (who has a Personnummer) be productive. If your spouse wants to find a job here and find it to be difficult, try getting in touch with Arbetsformedlingen (Swedish Public Employment Service).
According to my wife's experience, Arbetsformedlingen scheduled a time for the meeting (it could be a face-to-face meeting or a-phone-meeting). At the meeting, they asked for my spouse's skill and what job she was looking for. Then my spouse, helped by the staff, made strategies for achieving the goal, which is to find a job. In the process, she was required to submit an activity report every month so they know what she has been doing and can provide suggestions when necessary. One of the strategies suggested is to take the Swedish language course, and it leads us into the second point in our lists.
2. Taking a Swedish language course (for free)
Taking a Swedish language course is a great opportunity. Aside from adding a new language skill, it can also open many gates of job opportunities. The other thing is, if you have a Personnummer, learning Swedish is free.
There are several types of Swedish language courses. In my wife case, she is taking SFX for medical staff, called sfa medicin, which is intended for medical doctors, dentists, nurses, physiotherapists, and pharmacists. Although the course could be very intensive and stressful for some people, it has a good structure and target (perhaps because those five professions are really needed in Sweden, so they give great support for people with those professions).
3. Taking a course or a degree (for free also?)
Again, if your spouse has a Personnummer, he/she is able to take a course or master's program available at universityadmission.se. Should she/he pay? It is stated in the website that if your spouse has citizenship in a European Union (EU) country, European Economic Area (EEA) country, or Switzerland, he/she does not need to pay anything. Other than those criteria, if your spouse has a temporary Swedish residence permit that was granted on the basis of something other than studies, he/she is also not required to pay any tuition fees under certain condition.
So, here is the most possible schema: if you are admitted to KI on autumn 2019 for a more-than-1-year programme and you bring your spouse here, both of you will probably arrive in Stockholm in August 2019. Both of you should get a Personnummer in September 2019. At that time, if you are lucky enough, then your spouse may have the opportunity to apply for a course or master programme for the Spring 2020 term. But in that term, usually, there are only a few available courses and programmes which are held in English. Chances are better if your spouse apply for the Autumn 2020 term which should be available for registration by October 2019.
The other alternative is to look at the doctoral position openings, if your spouse is interested in a doctoral degree. You can try to take a look at it here.
4. Working remotely
Not every job can be done remotely. But in my case, it is possible. Because my spouse mostly just can face her laptop while working, 6 months before moving, she contacted all of her clients and asked for the possibility whether she could do all of the data analysis remotely and to do online conference calls whenever a meeting is needed. Fortunately, those things were possible in this era of technology. So, she did not need to lose some of her projects in Indonesia.
Alternatively, your spouse can also register to several websites that advertise job opportunities and then he/she could filter them to projects that could be done remotely.
5. Joining a community
You and your spouse can find numerous communities, including some expatriate communities in Stockholm. Usually, they have some programs and have a schedule for meet ups. My spouse have joined a community named Stockholm Dual Career Network (SCDN), a community for expat partners facilitating career development and social networking. But you can find many others.
I think, joining that community is a good thing to broaden my spouse's view (and mine too), to build some connections, also to realize that she is not struggling alone. The communities usually have time for språkcafé (Swedish language café) when the members gather and speak of various things using Swedish language. This is also a good opportunity to practice your Swedish language skill.
6. Taking (an art) course
In Stockholm, there are many places providing art courses. It can be singing, playing a musical instrument, theatrical, sculpturing, photography, etc. If your spouse is an art person, taking an (or several) art course might be a good option. Unlike the other things which I have mentioned before, this one might costs you some money. My wife has not tried it but based on the testimonies from our colleagues, the price is mostly reasonable.
So, those are six ideas that I could share with you about what your spouse can do while accompanying you in Stockholm. Last but not least, moving abroad with your spouse either can strengthen your relationship or can damage it. That's why both of you should really consider all of the alternatives and also always be prepared for the worst if none of your plans went accordingly. For us, we doubtlessly agree that moving here together is a decision that we don't and won't regret =)
If you are considering to bring along your spouse during your time of study and need more personalized information, do not hesitate to contact me.
You can also read another experience shared from a previous KI's Digital Ambassador here.
Related blog:
What If I Bring My Children During My Study at KI?
Contact me at:
email: winner.ng@stud.ki.se
LinkedIn: Winner Ng