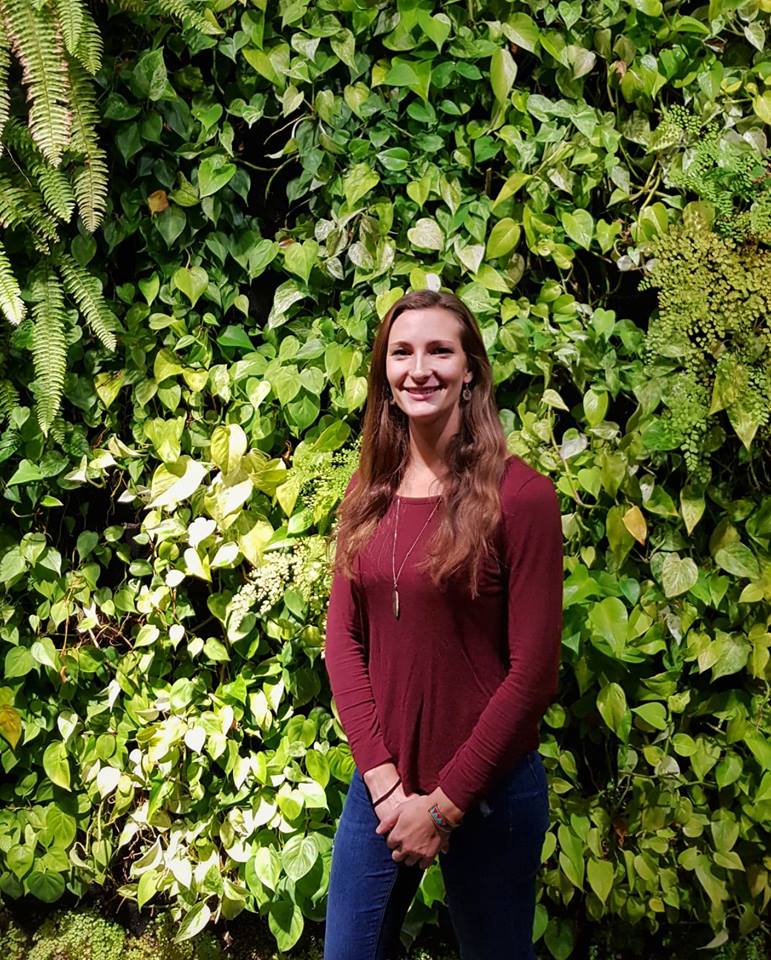 Anna Hagström, President of Global Friends – #HumansOfKI
As a fourth-semester medical student and the president of KI's Global Friends committee, Anna is clearly not a woman with an overabundance of time on her hands. Even so, she found a spare half-hour between a full day at the hospital and an evening event for arriving international students to talk to me about her KI experience and the work the Global Friends do to make KI a welcoming environment for all students.
Why did you choose to come to KI?
Actually, KI was a dream of mine, almost – I studied biology and French at the University of Wisconsin in Madison and I really enjoyed it, but I knew I wanted to go to medical school, and after having lived in Sweden when I was a child and being raised as a half-Swede half-American I always wanted to go back to Sweden. So, I started doing some research and it became more and more clear that KI was such a fantastic university, especially in terms of research and their program. I decided to apply, which was quite a process since I was in the States, but then I got in, and I couldn't be happier really.
So it's lived up to those expectations that you had?
Yes! I'm now a fourth semester medical student, so I've had almost 2 full years here and I've been really happy with the opportunities I've had. I think the program's been great for giving us a well-rounded education, we've had a lot of good seminars, lots of lectures, we've already been out in the primary clinics, we've gotten to do a lot of anatomy labs and be at the hospital – I feel like we've really got to hit the ground running and try a lot of things already.
And what about the Global Friends? Who are you and what are you trying to achieve?
Global Friends is a branch of the international committee, a part of MF (Editor's note: Medicinska Föreningen, the medical student union), and our goal is to integrate the international and Swedish students at KI. KI is very much an international university – we get hundreds of international students every year – and unfortunately there seems to be a disconnect between the Swedish students and all these international students that arrive every year. We aim to create a bunch of events that are aimed at everybody, everything from hiking to laser tag to big dinners for hundreds of people, to big cruises and from there hopefully we get both Swedish students and international students and they can meet each other. I just think it adds to the international experience abroad. When I was studying in the States as a Bachelor's student I did a semester abroad in the south of France and they had a similar program there were you had a buddy and an association there that took care of you and created events and that made all the difference for me, so I think it's great that we have that here too.
You're an international student, but taking a program taught in Swedish – has this affected your outlook at all?
I guess I see the Swedish side and the international side. But I also see that unfortunately a lot of my medical student colleagues aren't aware of Global Friends and don't know very much about the international events that happen at the university. I think it would be really great to get more of them involved and sort of seal the gap in that way.
How did you end up with the Global Friends, and how can other people get involved?
At first, it was just that I started seeing the events pop up on my Facebook feed in my fist semester here. I went to the spring dinner, and I thought this is really fun – I loved getting to talk to international students because until then I hadn't really been involved in that sort of thing. I had some friends who were getting involved and becoming buddies, so I became one too, which basically means that I was assigned an international student and met them three times a semester. You receive merit for it, but it's also such a great experience to get to know somebody and get to be an asset for an international student. It's one thing to look up on a map "where's a good place to get coffee," but it's another thing to ask a real person who's lived here, and I think it's a real win-win situation. I realized I wanted to get even more involved last semester and I saw they were going to have an open election meeting. I went to that and stood for the role of secretary and I got the job and a semester later I was voted in as president! I think if people want to get involved the way is really just to start coming to our events – like our Facebook page Global Friends KI, come to our events – make sure you sign up ahead of time! – and if you're interested in becoming a board member, come to our open meetings and just say a few words about why you want to get involved and we'll hopefully have a spot for you!
And how can an international student just arriving at KI get involved in the buddy system on the other side, and get someone to help show them around?
At the start of the semester, international students should receive an email from our student coordinators asking if they're interested in having a Swedish buddy, and if they are then we'll find an equal number of Swedish students who are interested in having a buddy. They'll be notified and there will be a lot of follow-up emails – how's it going with your buddy, have you met a certain number of times, etc. We even have special events just for buddies – actually, tonight we're having a buddy dinner where you can come with your buddy and everyone brings something to share from their own country!
What achievement of yours with the Global Friends are you proudest of?
I know it sounds so cliché, but it is a team effort! I think one thing that we're really happy about this semester is that we've had a lot of events already. Sometimes you have a lull period where you don't see a lot of events and I think that's unfortunate because people can sort of forget that Global Friends exists! But this semester we have a really great team of event managers who got that Fall Dinner ready in two weeks! (Editor's note: It was excellent) We've had tours of Stockholm, tours of Gamla Stan, we had a reception event, we had our first buddy event, a coffee hour, a hiking event, and some other fun ones planned already. I'm just happy that we're doing all this and really reaching out! We're also reaching out to more event helpers, people who can come and greet some guests or help with the decorations, and I have to say that our student coordinators have done a really good job with the buddy system this semester – we had lots of people sign up on both the Swedish and international side, which is really exciting.
Is there anything in particular you're looking forward to in the coming year?
We have some exciting events coming up! We have a cruise to Helsinki, which is a tradition but it's been a while since we've done one, so I'm excited for that. We also have laser tag, and we're going to do some fun Christmas events too, like the Christmas market in Gamla Stan – it'll be really fun and cosy, and we might even have some ice skating.
And people should sign up quickly! I know that the places for the Fall Dinner filled up within 5 minutes.
I know! Which was great, it's a sign of good things! And hopefully, the more people continue to show an interest, the more capacity we'll be able to have, and we'll be able to have bigger events more frequently so that more people can become involved. That really is the goal – we want to have as many people included as possible. So it's great to see that it is that way, although unfortunately it does mean a lot of people aren't able to come – but we try to make sure everyone is aware of when the time goes up, so everyone can have a timer ready!
Our final question, for you personally – as someone who's half Swedish, but has arrived here as an international student as well – what would be your one tip for someone arriving here for the first time?
For me, whenever I arrive in a new city, the first thing I want to do is really get a feel for that city – what is it like to be a person living in this country? That's from trying to discover different parts of the city – going for long walks, going to the islands, going to the places that aren't really the touristy destinations – and then get to know the people. You know, I think it can be very scary when you come to a new country to approach someone from that country, especially if you don't know what the customs here are – is it ok to say hi or to comment on someone's cute top or something like that – but I think just taking that chance and saying hi to people, trying to reach people on that level can really work. I've made some amazing friends here in Sweden and in other countries I've visited, and I wouldn't have done that if I hadn't taken the chance to get to know them.