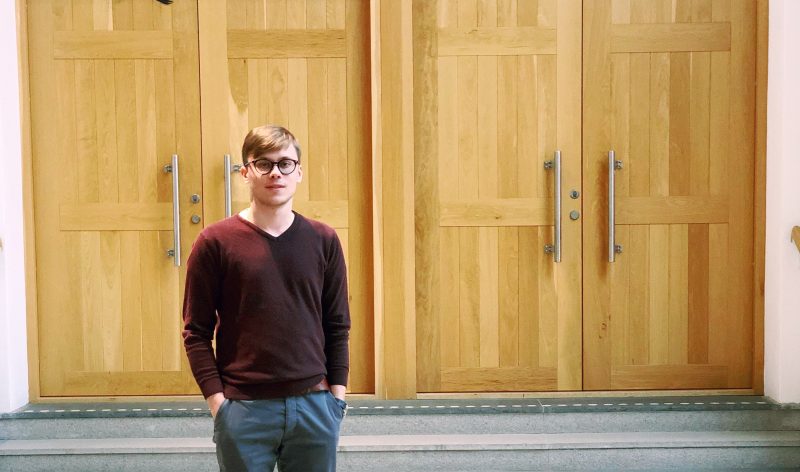 Lassi Koski, Medical Student – #HumansofKI
Do you want to learn what Swedish word can be used to best describe the environment at Karolinska Institutet? If so, read the interview of Lassi Koski, a second semester medical student from Finland!
Why did you choose Sweden and KI?
I was very interested in studying abroad earlier, and I was considering some countries in Europe mainly. Here, at Karolinska Institutet, we have excellent research. Since I was interested in research, it was the main reason I applied here. And because in Finland Swedish is the second national language and I learnt it in school, it was quite natural for me to apply here. I also hoped I could learn Swedish better and be better employed in either Sweden or Finland.
Are you enjoying KI so far?
Yeah, it is wonderful, a dream come true!
What is your inspiration behind becoming a doctor?
Well, I am very interested in the science behind medical field as well as helping the people and improving the life quality.
Do you find these values being fulfilled at Karolinska?
Yes! For example, I quite like the fact that we already have the clinical experience. The pre-clinical part even through we are still studying physiology and anatomy. We have a chance to observe the work of general practitioners and see the insights of examining and treating the patients.
Where do you see yourself in the future?
I am very interested in doing research. I was actually in the Department of Medical Biochemistry and Biophysics laboratory at KI with Roman Zubarev last summer and got involved with research a little bit. We were working on exploring the isotopic resonance phenomenon
What is your most memorable moment at KI?
It has been very nice to be involved in the student life as well. Actually, the most memorable moment was the Introgasque sittning about few weeks ago. Our class organized this welcoming event for first year medical students, and I worked the event.
How are your classmates?
There are very nice. I really like the Swedish people because they are more social compared to people in Finland.
How do you find the environment at Karolinska?
To describe the environment here I would use the Swedish word "mysigt", which means cozy and home-like.
What is one tip you would give to a prospective student?
Word hard in the secondary school to increase your chances when applying. And once you arrive here I find it is very good to go to lectures all the time just to get the rhythm going so you don't fall out of the studies.