7 ways studying in Sweden is different
Now that I'm halfway through my first semester here, it's the perfect time to look back and reflect on a few differences I've come across in the classroom here at KI (and potentially Sweden). I could comment and walk you through each module, but that's been done before.
Instead, here are 7 things that you'd only find in a Swedish classroom, at KI:
1. Group work
There is a silent groan every time a lecturer mentions these two words. At least twice a month you have to learn to juggle individual assignments, revising for an exam or a group assignment that you'll most likely be graded on. It can be challenging working with new people every 2 weeks. But the sound reasoning is that, group work especially in Global Health is a reflection of the real working environment. The constant exchange and interaction between cultures, genders, experts and personalities.
I've definitely become deft at cobbling together for instance, a report and presentation on Stakeholder analysis in policy development, within 3 hours.
2. Break times
Every hour and on the hour, there'll be a break. If you've left a job to become a student, this is definitely an alien concept. The day will start with a negotiation on how long each break should last. This is applied research at some would say its best.
Like clockwork my attention wanes after 50 minutes. If it appears a lecturer might have forgotten our hallowed break, be rest assured one of your Scandinavian classmates – will pipe up with, "Can we have a break now?". It's a right that they will exercise.
I now can't remember a time when I couldn't grab a hot beverage or head to the bathroom at my convenience; and dread going back to only having a lunch break, if that.
3. Exams are not to be taken once but six times
Exams are a learning tool and this is reflected in the fact that should you fail you can retake them up to six times. Retaking any exam six times is unusual, so if you're sitting one for a fourth time then you'll most likely be invited to see the programme study counsellor. All meetings are confidential under Swedish Law, and they're there to provide support in all aspects related to student life.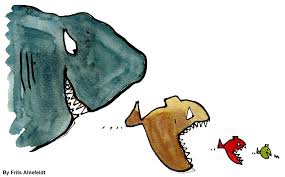 4. Flat Hierarchy
One thing that stands out from many other cultures is the fact that you're actively encouraged to address everyone by first name, from the University President to Professors. Rumour has it, it's even possible to offend if you're too formal. This is something probably unheard of where you might be coming from.
Everyone, is approachable and KI expects its students to develop relationships with experts in their field of interest. This is aimed to remove barriers and create a more relaxed working environment. It works!
5. Grades
You can only receive a fail, pass or pass with distinction.
6. Bring your own lunch
A student meal on campus costs about 85SEK. Whilst this isn't expensive, it is by no means affordable to buy lunch on a daily basis!
Every provision is made for you to be able to bring your own food to uni. KI provides microwaves, fridges, dishwashers, crockery and a large common room for those not purchasing food on campus.
7. You're made to feel very welcome
Last but not least, I must say no place has ever tried so hard and succeeded in making its new students feel so welcome. Every department makes it a point of introducing themselves to the class. The introductory week, lasted for 2 weeks and almost every day there's fika* and a mingle. On occasion lunch is provided.
Word of advice, don't get used it! You will have to start buying and bringing your own food soon enough!
KI has a spirit of openness, warmth and genuineness that isn't rivalled anywhere else.
*Fika: the most Swedish of things. It's the time for a pastry and hot beverage usually coffee either alone or with someone. It's usually the latter. It can happen at any time of the day. Fika allows you to get to know someone new a little better, they could be a date, colleague or a good friend with whom a catch up is long overdue. This all happens in a bubble of Scandi warmth and aesthetic whilst being bathed in some form of alluring candle light.
Email: rahel-ochido.odonde@stud.ki.se