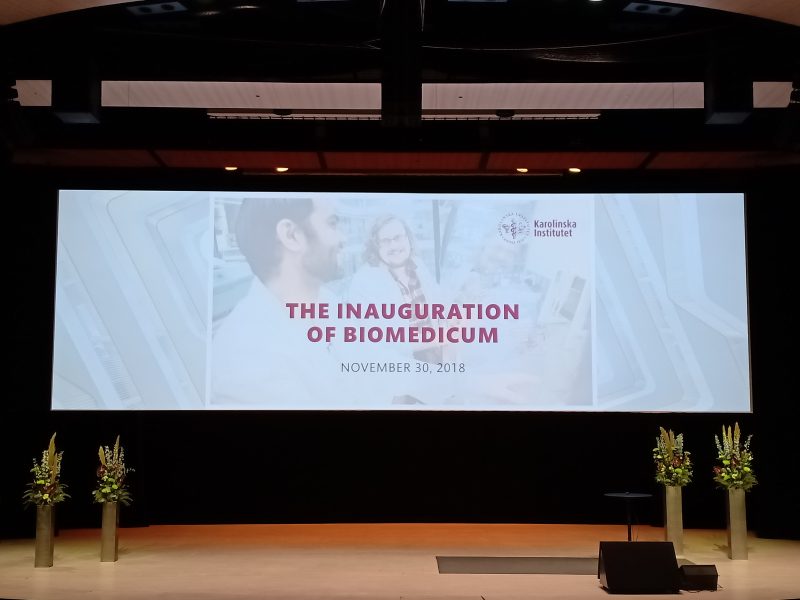 Biomedicum, the new research hub at KI
On November 30th, 2018, I attended the inauguration of the newest building located in the KI Solna complex, called Biomedicum. Home to five departments of KI that exceled in the field of research, this new building represents the hope and vision that KI will be the hub for for scientific research, education, and innovation that will benefit globally. It is also aligned with the vision of Stockholm city to be the leader in life sciences by 2025.
The Biomedicum project were started at 2010 with conceptual development first, then continued by construction phase since 2013. The project challenged the team to worked out on how to put the 44,000 sqm building into the already densed building complex and also how to address the safety concern during the construction phase while the surrounding buildings keep operating business as usual. You can read more about Biomedicum here.
The inauguration event took place in Aula Medica, yet also another astonishing building at KI Solna. Opening speeches by Professor Gilberto Fisone, chair of Department of Neuroscience, continued by Professor Ole Petter Ottersen, President of Karolinska Institutetet and Kerstin Lindberg Göransson, CEO of Akademiska Hus, gave the audiences a perspective of the importance and the impact of Biomedicum in the field of research and its impact in humanity.
The five departments which will be housing the Biomedicum, filled the scientific session. Department of Medical Biochemistry and Biophysics, Department of Cell and Molecular Biology, Department of Microbiology, Tumor, and Cell Biology, Department of Physiology and Pharmacology, and Department of Neuroscience, each presented their most current and interesting research and how they plan for the future research projects at Biomedicum.
The inauguration process itself was held in the Biomedicum. The audiences had moved from Aula Medica to Biomedicum and then were entertained by the band and the choir. Professor Karin Dahlman-Wright, vice-president of Karolinska Institutet then officially inaugurated Biomedicum which were responded enthusiastically by the audiences.
Personally, I was overwhelmed by the vision of KI in the field of research. Attending this event was further strengthen my confidence that I had made the correct decision to pursue further study at KI. For you who are still considering whether to apply at KI or other university, remember that you still have time until January 16th, 2019 before the application period closes. But, maybe you want to take into consideration that you would be a part of an organization that had envision itself to become the global leader in the field of research. You might also find this video helpful for you to consider KI as your first choice.
Until next post then…
Contact me at: