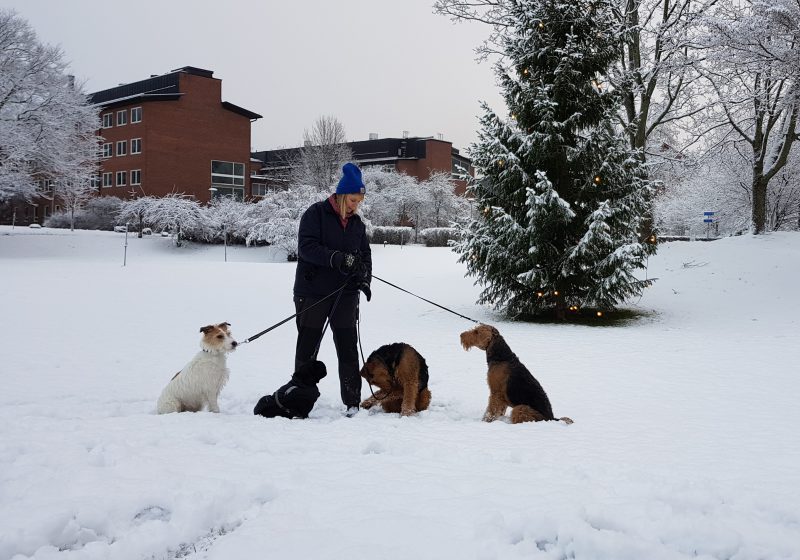 What is a Hunddagis?
Heaven greats us with loud barking and the smell of wet dog. Let me tell you the story of how this solved one of my personal mysteries at KI.
Walking over campus, sitting at the library or at Jöns Jakob, I had always seen people walking with a heap of dogs around them. Small dogs, big dogs, basically my dream job. Some days, when I had lots of studying to do or group meetings would not end, seeing those dogs on campus was a big highlight of my day. Was I the only one wondering and thinking about these dogs on campus? My goal was set: I had to meet them.
Together with my fellow DA (Digital Ambassador) Patrick, we set out to ask the woman who was walking the dogs for an interview. Weeks past and we did not see the dogs on campus again. Until one fortunate day in the beginning of December last year. I met Kerstin Ekegren, owner of Birka Hunddagis, on campus. She had several dogs around her and I blasted out, how we all loved seeing her at KI and if she would agree letting me interview her. A few days later – together with my DA colleagues Patrick, Rahul and Mariam – we sat down to talk about her job.
You might have heard of the Swedish term "dagis" – the word for kindergarten. Turns out there are also day cares for dogs and it is a very common thing in Sweden.  At Kerstin's hunddagis (doggy day care), there is room for about 30 dogs. We met her on the first real snow days of the winter and all dogs had just been dropped off by their owner. Thus, the smell of wet dog. We did not mind a at all, we were overjoyed meeting each and everyone of them.
Kerstin herself is a major dog lover – I guess that comes with the job. Since 1971, she has owned several Airdale terriers, her current ones being Julius and Hjalmar. During our interview, Julius – the younger one of the two –  and I basically became best friends. Kerstin has competed with her terriers at dog exhibitions and they have won the title for "Best Obedience" six times. After having been greeted with loud barking of 30 dogs – we were four strangers nonetheless – all of them we're listening to her. It seemed like a miracle when they all stopped barking when Kerstin told them so.
The dogs at Birka Hunddagis spend about 8 hours each day at the place and play with their buddies. The hunddagis has several rooms with sofas and toys, where groups of three to six dogs hang out. The dogs are grouped by gender, age and size. When a new dog first comes to the day care, Kerstin gives them a try out period where she sees if the new one is accepted by the existing friend group and if it behaves. Afterwards, the newbie might have found friends for life as Kerstin has had dogs staying at her dagis for more than 10 years.
After previously having worked at a kennel and dog pension, Kerstin took over the Birka Hunddagis in 2000.  Since then, she got to know many dogs and their owners. Each day, the dogs go on two long walks through Vasastan where the dagis is located. Kerstin told us that a few of KI'S employees drop their dogs off at her day care. Being so close to the campus in Solna, she crosses the campus each day while walking the dogs. Thus, KI is as much of a regular sight to the dogs as it is to us students. KI campus is a space for everyone. As enclosed as it might seem from time to time, there's more to campus life than we might know. And I love that Kerstin and her dogs are part of it.
So here's a final thank you to Kerstin! We had such a wonderful time. And to all of you reading this – go and say hi to Julius, Hjalmar, Sherlock, Milou and their friends when you see them.
Be sure to also check out the Youtube Video on our time at the Hunddagis.
Have you seen the happy doggos on campus?
Hej! I am Anne. I am a second year student of the Health Informatics programme. I love data science in the medical field and exploring Stockholm!