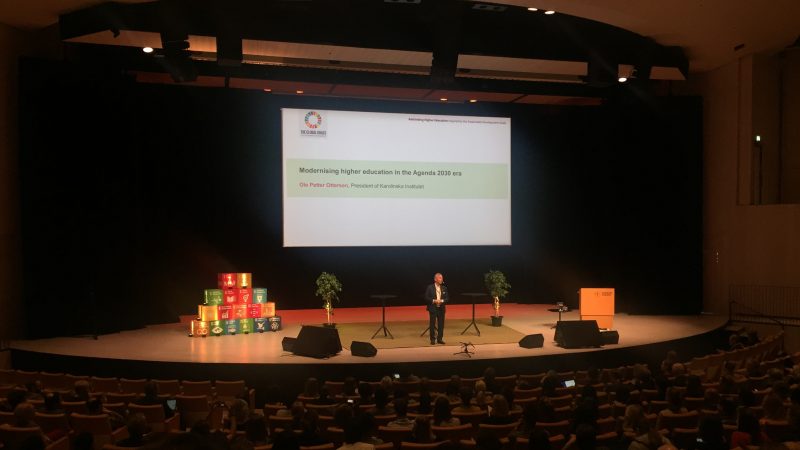 Rethinking Higher Education: Inspired by the Sustainable Development Goals
This past weekend, three of us attended the "Rethinking Higher Education" conference hosted at Karolinska Institutet (KI) in collaboration with the University of Gothenburg, Chalmers University of Technology, and the Royal Swedish Academy of Sciences.  Here's a short review on the workshops we attended and what inspirations and messages we took home with us.
All workshops were organised into three rounds of related questions:
a) Given the impact this topic has on society at large, what is the role, if any, that higher education should take in addressing this challenge?
b) What difference should higher education strive for making?
a) To be able to make this desired difference, how should our core work in universities (higher education programs) be revised and integrated?
b) How should we collaborate with each other & other actors in the society?
What next steps are needed by all of us here today and other relevant actors (from policy making to course development)?
Before they let us loose brainstorming our ideas, we were asked to find out about the other attendees around the tables, forming our groups. At certain points the groups were mixed so that we were able to exchange ideas with a new set of individuals. All the ideas were written on flip charts. Then the room was split into three and each group summarised the ideas that each round of questions had inspired.
The purpose
This workshop set out to observe and discuss how governing institutions, such as universities, should use their power to increase the likelihood of meeting the Sustainable Development Goals (SDG). Thus, working to meet the common good that is – Agenda 2030. They can only be met, if all actors realize that our biggest obstacles are not medical or technical, but rather organizational and political.
Did the workshop achieve what it set out to do?
In the short amount of time we had to discuss this important – and nonetheless very broad – topic, the workshop did a good job in sparking ideas. I think a lot of people go to a conference and expect to get at least five concrete take home points. In my experience, this is never the case and I rather take it as a challenge to think about what actions I can take to change how I act today. Of course, there was a lot of what I would call "buzzwording" going on, such as "students becoming change agents", "walk the talk" etcetera, but the workshop left me inspired to further investigate how I can make a change.
My take home message
Being a student at KI myself, one of the messages that stuck with me was the question of how one sees the education they receive. This may not be completely on topic per se, but it was something we discussed in my workshop group. Is it an investment in yourself or rather an investment of society in you? How does university, or at least the university I'm attending, communicate the value and goals of its education? I do believe that this is an institutional issue. Does KI for example allow room for us students to reflect on our education or are we too stuck in our day-to-day tasks, busy completing our degree? Are there meeting points or time slots in our curriculum that give real opportunity for collaboration? These are only a few questions that stuck with me. I'm excited to discuss this further with my classmates, fellow digital ambassadors and friends!
I was fortunate enough to be able to attend the "Inequity and Health" workshop; as it was so popular that the workshop was divided into two groups.
The purpose
As with the other workshops and the day in general, the purpose was to see how we as a community of like-minded individuals with a vested interested in reducing the health inequalities that we see in our societies, can change the delivery of higher education to reach these lofty but essential goals.
One or more, actually two of the highlights were having Rt Hon Helen Clark and Sir Michael Marmot join us during our session!
Did the workshop achieve what it set out to?
I believe the workshop managed to get students, policy makers and academics all in one place (well actually that was the entire conference); and allowed a safe and open space for everyone to communicate their opinions.
There was a full range of ideas from: contextualisation of research, "thinking globally and acting locally", challenging conservatism by revising the curricula and being an advocate for the community whilst not fearing politics and engaging with policy makers. This was all done in the true spirit of collaboration.
My take home message
I took away a multitude of messages. However, the lesson that I want to impart here is that each of us, be that alone or as part of an institution has the responsibility of being a green citizen as per UNESCO to ensure a sustainable future. This means quality education, with universities teaching future decision makers that inequities are a result of both decision and indecision.
Bra gjort – a job well done!
The purpose
This particular workshop brought together students, teachers and various professionals to discuss the role of Higher Education (HE) in capacity-building for action and transformation towards systemic societal change. The emphasis of the workshop was put on the importance of cross-disciplinary learning, which is essential to better understand and find the solutions to some of the most pressing yet very complex problems of today. These include: food insecurity, environmental degradation and biodiversity loss, or climate change. The workshop was also set to, "explore the kinds of qualities and competencies students and staff need to develop in order to contribute in this type of learning, and, ultimately, to contribute to a more sustainable world".
Did the workshop achieve what it set out to do?
In my opinion, the exchange of ideas and opinions on the role of HE was fruitful and enriching, since everybody – the students, researchers, academics and experts could express their views and ideas. These ideas centred a lot on how to really make our education, transformative and how to equip the "future leaders for change", with all the necessary tools to turn this much needed societal change into a reality.
My take home message
I left the room even more convinced than before that we do need more interdisciplinary subjects in our current education system. This is critical for the transition to more sustainable forms of human development. We – students – must go beyond our "normal" school curricula to be able to fully understand the complexity of our common global challenges. As young researchers, we should learn to look outside of our blinkered "bubble". We need to make the effort to communicate our scientific efforts with society.
Lastly, we must all fight for these changes in our current tertiary education system, whether that be more cross-disciplinary courses, collaboration between different departments or bringing together students from different disciplines. The possibilities to conduct projects outside our institutions (e.g. with the community, NGOs or sustainable businesses), or simply more lectures on sustainable development are already there. Let's be ready for all this not to be the exception but the norm!
If you are interested in reading more about the conference's topics, be sure to check out their website. There you can find more materials and links to relevant research papers.
Hej! I am Anne. I am a second year student of the Health Informatics programme. I love data science in the medical field and exploring Stockholm!