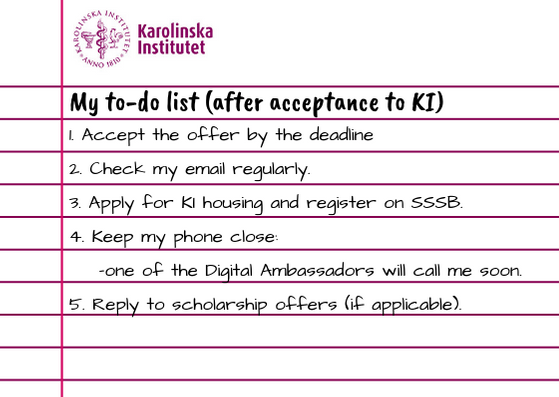 Congrats! You have been accepted to KI, now what?
Hello and welcome!
The results are now officially our for the First Admission round, master's programmes! Congratulations to all those you got accepted! Here are the top 5 things to keep in mind after the results are published.
1. Accept your place in the programme!
If you have applied in the First admission round, the university will contact you via email and inform you if and by when you need to reply to the offer. If you are conditionally admitted to a programme, you will receive more information on what to do to finalise your acceptance in the programme. This applies to students who have to pay the tuition fees (non-EU students), or students in their final year of Bachelor studies for example. It is VERY important that you have been admitted to the programme that you ACCEPT your place in the programme if you wish to secure your place. You can read more about the different result status on the University Admissions webpage.
2. Check your emails
You will also receive a lot of emails about the semester dates, registration, housing and arrival from KI. Make sure to check everything and make note of all the important dates! For non-EU students, one of our DA's Disha wrote a blog about what to do after being accepted to KI as a non-EU student. Make sure to check it out as well!
3. Start looking for accommodation
It is imperative that you start looking for housing as soon as possible. It is difficult (but not impossible!) to find accommodation in Stockholm so the earlier you start the easier your journey of moving and settling down in Sweden will be! Fee paying, international students are usually offered accommodation in the first year at most Swedish Universities. However, make sure to double check your emails for all the important information.
I have attached a link that will direct you to all our previous blogs written by the lovely Digital Ambassadors, on the topic of accommodation and how to find it. Make sure to check a few of them out! They cover all the important topics such as finding accommodation, information about SSSB (the student housing in Stockholm) and why you should apply ASAP.
4. Keep an eye out for a phone call from one of our Digital Ambassadors
After each admission round, the upcoming week you might receive a call from Sweden. As a part of the welcome routine, current students from all the Master's programme who are also the Digital Ambassadors, call the prospective students who have been admitted to welcome them! This is a great opportunity as you can clarify any queries you might have had about the programme, acceptance process and talk to one of the students. If you missed the call, worry not, as you will also receive a follow up email to inform you about the call.
5. Reply to Scholarship offers
This is as vital as replying to your admissions offer from the university and programme you wish to go for! If you have applied for and received an acceptance for any of the scholarships make sure to double check the dates for the reply and do it well in time!
To everyone who did not get accepted or are placed on the reserve list, do not lose hope! You can always apply again next year 🙂
Make sure to have look at DA Rahel's blog about frequently asked questions (FAQ's) about living and working in Sweden and studying at KI!
Also note- we have a new "PRE-ARRIVAL" tag on our blogging platform! Make sure to check it from time to time for important updates and information on what to do before arriving to Karolinska Institutet. 
If you have any questions feel free to contact the admissions office, programme coordinators, University Admissions office or the Digital Ambassadors! We are all here to help.
That's all for now!
See you around.
Nishi and Tetiana.
nishi.dave@stud.ki.se
Cover photo and blog contribution credits to DA Tetiana Poliakova! 🙂