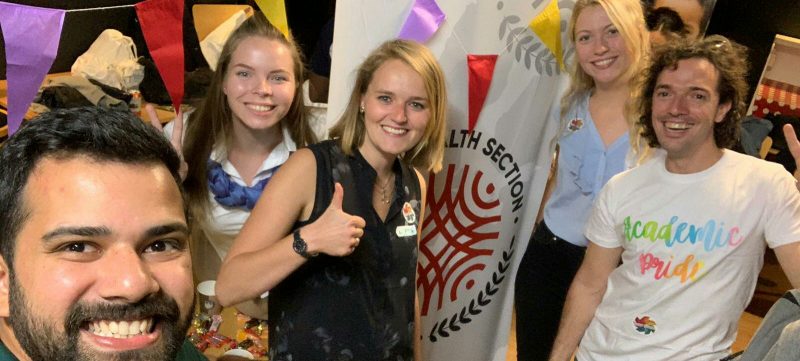 One day in the Department of Public Health
The Widerströmska building feels alive again, thanks to the new students. Here and there you can hear how future health care professionals introduce each other and share their backgrounds and dreams. This week we had some events within our department that I'd like to share with you =)
Our building belongs to both the Department of Public Health and the Department of LIME (Learning, Informatics, Management and Ethics) and last Thursday we had a big mingle event for our students. KI creates a lot of networking opportunities and I believe that it helps in not only in making new friends but also in a future career. According to my experience, creating strong bonds between first and second year students leads to a good transition of responsibilities.
During our mingle we met students from the Public Health Epidemiology programme, first track in Health Promotion and Prevention, Health Economics, Policies and Management and one year programme in Global Health. We all come from different countries, but it feels that the professional world in your field is so small that you will definitely meet again.
As usual, students were greeted by the programme directors, education office and many professors and lecturers. Our department knows that the best ice breakers are cinnamon buns and hot coffee, so of course, we had fika together! I think it's very important that from the beginning our teachers show that at KI the hierarchy is quite flat and students can easily come and talk to their tutors. During our undergraduate education we probably experienced different educational systems, so it's nice to be sure that your opinion will be valued and heard. Mingle with the employees of the department is also useful, as during this event you can meet researchers and possibly get inspired for your own work.
However, do you think we were done with eating and talking for the evening?
Since I'm currently running the position of communication manager for the Public Health Section of Medicinska Föreningen, I would like to tell you more about another side of student life. Public Health Section is a part of Medicinska Foreningen – the student union of KI. PHS represents students from 5 programmes: Epidemiology, Health Promotion and Prevention, Health Economics, Policies and Management, Global Health and Health Informatics. The board is responsible for informing students about upcoming events, organizing social and educational activities and reflecting on students' needs. During the first open meeting we shared our achievements with first year students and told them about fundings and the system itself. I strongly encourage newly admitted students to join one of the boards in KI! This is a university of opportunities and you can make things work in the way you want in the field you want 😉
In the Public Health board we have many positions: President, Vice-president, Secretary, Treasurer, Educational manager, Communication manager and Social manager. Therefore, you can choose an activity you are interested in.
This year we also set up the "Buddy up" programme for first-year students where we had an introduction and creative activities. The idea is that senior students help newly admitted students to navigate in the study programme and life in a new country.  Coming to the university and seeing some familiar faces makes it more comfortable and fun 🙂
And last but not least… I was impressed by how organized the first year students are! Can you imagine how I felt when after finishing my assignment on Friday evening I met them enjoying fika in the hall outside of the classroom? The carrot cake was AMAZING but getting to know them was even better!
I believe in their bright future 😉
Contact me via email
aleksandra.kanina.2@stud.ki.se