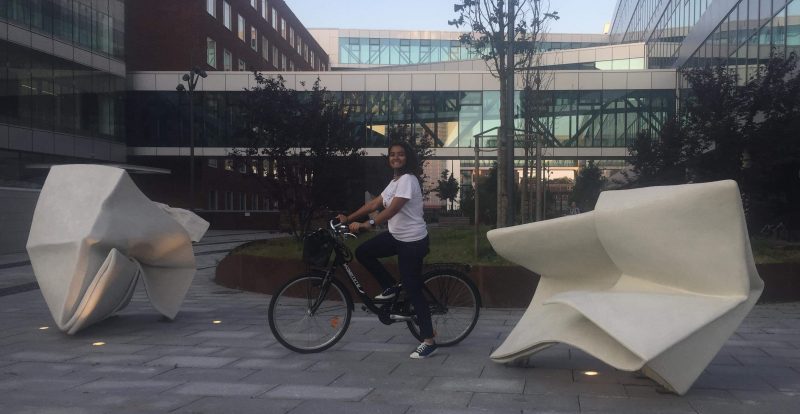 A hello from the new blogger for the Biomedicine Bachelor's Program!
Hello!
Inika here ♥
I'm a first-year Biomedicine bachelor's student at Karolinska Institutet. I've had quite the journey here to the doors of Aula Medica, and I'll be writing as a Digital Ambassador blogger for my program. How did I get here, why did I pick KI, and what will you be seeing from me? Read on to find out∼
How did I get here?
So little bit about me: I grew up in New Delhi, the buzzing capital of India. A little more than 5000 kilometres away from the charming city of Stockholm. How did I end up in Sweden?
A few years ago, my mother decided to pursue her master's degree in this country of snow, lagom, and fika, so I had the pleasure of attending high school in Sweden. Gymnasiet, for those of you well versed in Swedish lingo. And then the next stop was KI!
Why KI?
If you're asking "why KI?", I have a pretty simple answer. Karolinska Institutet's name was thrown around in conversation quite a bit while I was in high school, so my interest was piqued already then. Add that to KI biomedicine being one of the rare English bachelor's programs in Sweden, and one of the best in the world (in the top 10!), and you have yourself quite the compelling case. Unsurprisingly, so did I. 
So right after I graduated, I applied to KI's bachelor's program in Biomedicine. And one fine summer evening, I got my offer of admission! It was very exciting (also super stressful because I didn't know if I would get my study permit on time). All things went smoothly though, and here I am!
What you'll be seeing on this blog
I love writing, dancing, playing badminton, spending time with friends, bringing my ideas to life, and exploring new things (in my education and otherwise). So I have a lot to look forward to here at KI, and I would say I've made a good choice. I'm very excited to see where this program will take me, and I'm looking forward to my time in Stockholm. 
On this blog, I'll be writing about my program, life in and around KI, and insights into university life (that I will do my best to pass on so you guys learn from my mistakes. A noble endeavour, really). Most importantly, I'll try to convey the uniqueness and exuberance of life at KI. There's a brilliant team on this mission, and you should definitely go check out their (beautifully composed) introduction blogs. I've only been here a few weeks but I'm willing to wager that this is going to be a great journey. And you, dear reader, are most welcome to join me!
Cheers,
Inika
ps- I have a lot of exciting things planned and I am looking forward to hearing from you guys.
Hello, Inika here. I'm a third-year Biomedicine bachelor's student at KI. I'm from India and a little bit from Sweden. As a Digital Ambassador Blogger, I'll be writing about my programme, things happening in and around KI, and giving insights into university life.