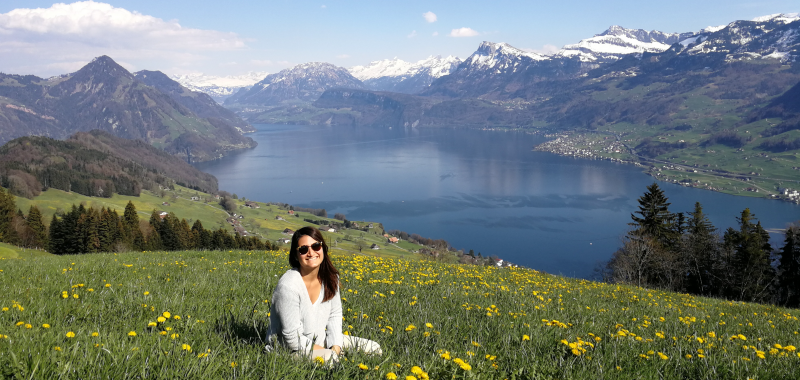 Her palms are sweaty, knees weak, arms are heavy…but here we go!
Hi!! I am the new BLOGGER for the MSc. in Bioentrepreneurship at Karolinska Institutet (KI) and this is me introducing myself to you. I'm nervous yet excited!
My name is Tina.
I am 26 y/o, born & raised in Stockholm with Persian descent, lived in Munich this past spring and have so far traveled to 23 countries and visited over 50 cities! Except for my obvious passion for traveling, I spend most of my time discovering music on Spotify/Soundcloud and meeting new people!
Photo Credit: Patrick Engeler (Our instagrammer for @kistudents)
What is my profile?
As I did a BSc. in Biomedicine at KI, i'm quite familiar with the university already. I was active in our student union, Medicinska Föreningen, worked part time for KI Career Service and was elected into various university organs voicing the opinion of students on important matters.
I took breaks in between my bachelor studies as well and worked (to be able to afford my travelling hehe) within sales, project management, quality assurance and research at pharmaceutical companies and other types of companies. In short – It's been a few busy years!
All my experiences led to me being admitted to this master's programme in the end! #MBE2019
So…..what will I write about?
I'll do course reviews and also general reviews about this masters. I'll hopefully answer questions like "What is Bioentrepreneurship?" "Will I like the programme?" "What are the pro's and con's of it?" through my writing. I might throw in some "food for thought" blogs now and then and also look out for any suggestions you readers might have for me!
This concludes my blogpost for this time. My next blogpost will be about introducing the Class of 2019. Stay tuned! 🙂
"Everyone has their own timeline. Never question your own".
I am studying the Master's in Bioentrepreneurship and will be writing about my courses, my classmates, and the general satisfaction regarding this masters. Being born & raised in Stockholm and previously doing the Bachelor's in Biomedicine at KI, I know more than the average KI student about living in Sweden and the university :) Feel free to contact me: tina.sayari@stud.ki.se