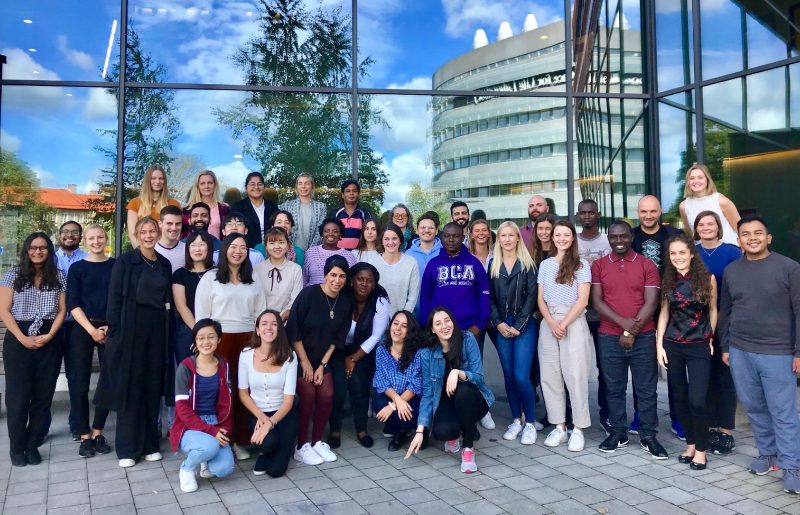 The ins and outs of the new Health Promotion and Prevention Masters Programme
For those of you interested in learning more about the Masters in Public Health Sciences- Health Promotion and Prevention, this is for you! In general, trying to find information deciding which program is for you can be difficult, and since this masters program is in its first year, it is even more challenging. This program summary will provide you with the logistics of the program, infused with my reasons for selecting this program and I hope after reading it you feel like you know what this program is about and whether it is a good fit for you!
Basic programme information
Degree title: Master of Medical Science with a Major in Public Health Sciences
Speciality: Health Promotion and Prevention
Length: This is a 2-year masters program, worth 120 credits (this is considered a full-time program, so keep this in mind if you are planning on working)
Eligibility requirements:

A Bachelor's Degree (equivalent to the Swedish Bachelor's degree) in a public health/healthcare/social science field.
You can be conditionally admitted in the final year of your bachelor's studies (I was!)

Class size: 21 students (2019/2020)

For many of the classes the two streams, Epidemiology and Health Promotion and Prevention are together, so for some classes, there are approximately 45 of us

Evaluation: pass, fail, pass with distinction
For more information you can visit the KI website for Master's in Public Health Sciences!
What will you learn in this programme?
According to the Karolinska Institutet website, the focus of the Health Promotion and Prevention program is "applying methods for health promotion and preventive actions in order to develop skills in planning, developing, implementing and evaluating health interventions at both individual and structural levels."
From my point of view, the HPP stream and Epidemiology stream work in tandem, with the HPP stream being the second step to the Epidemiology stream. Epidemiology focuses on data collection and analysis and Health Promotion and Prevention focuses on planning and evaluating how to best implement a program/prevention/response using the epidemiological data.
Subject areas: It can be difficult to distinguish between the two streams, so below I have included an image which outlines the courses we share and diverge.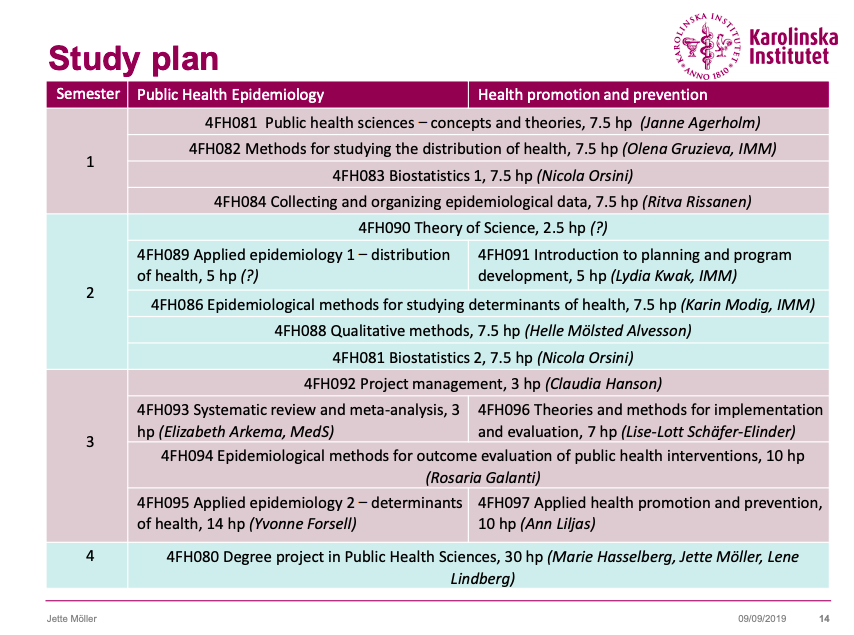 Semester structure: our courses are conducted one at a time and they usually last for approximately five weeks with a final exam at the end.
Thesis/degree project: For this program, our degree project is thesis-based which occurs in the final semester of the two years. There are many options for conducting research including with KI research groups, with a KI partner institution abroad, or there are opportunities to find your own placement! This is still over a year away for our program, so I will write more about this process once we get closer to.
Who is this programme for?
It is really common when thinking about applying for a program to wonder whether or not you think you are suited for the program based on your various academic, personal and professional experiences. I cannot comment on admissions since things can vary between each application year and between countries, but I can tell you a little about my class! This year in the program we have people from very different ages, stages of life, countries and academic backgrounds- including bachelor degrees in medicine, political science, public health, nutrition, statistics, social work and many others. Public health is a very diverse field and our class is representative of that!
For specific questions regarding admissions and pre-requisites, contact KI admissions!
Why did I choose this programme & stream specifically?
I chose the Health Promotion and Prevention stream because I felt it had the right balance between research and application. I think having continuity between the two is very important for effective public health interventions. In this stream, you gain a strong epidemiological foundation, but you also get to build on that and learn to utilize epidemiological research to implement and evaluate public health interventions. I felt confident that after picking this program, I would have a holistic range of skills for the public health workforce.
Once again, for more information regarding admissions or requirements, always refer to the admissions page or feel free to contact admissions directly. If you have any more questions about the Health Promotion and Prevention stream, please do not hesitate to email me!
Thanks for reading!
Lauren
lauren.elizabeth.wiebe@stud.ki.se
Hi! I am Lauren, I was born and raised in Canada, and you probably will hear me talking about how much I love Canada, especially the mountains. I am the blogger for the Master's Public Health Sciences Health Promotion and Prevention stream and I am excited to share my experiences with you!