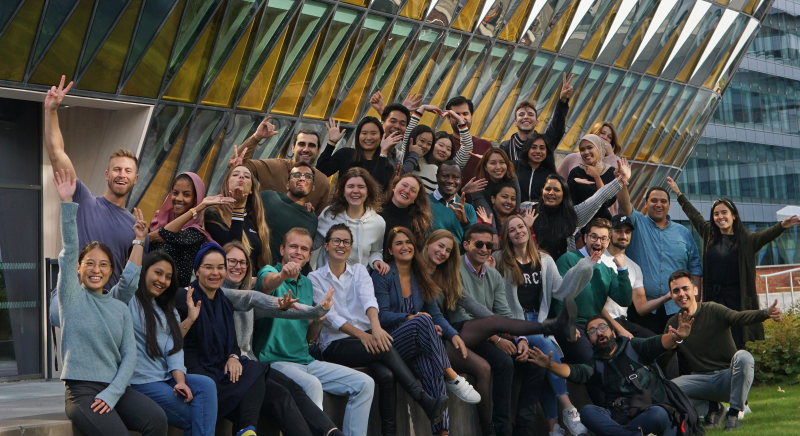 Admitted to Masters in Bioentrepreneurship? Congratulations!
Welcome to Karolinska Institutet and most importantly, welcome to the Bioentrepreneurship family!
You are joining a masters where you will study courses that bridges your previous science background with business studies and learn how to integrate that knowledge into your practical placements and consequently, into your future line of work.
You are joining a masters where your classmates will come from all corners of the world, with different educational backgrounds and with different ambitions. But one thing you all have in common is that you see this masters as a chance to achieve your goals and you can do so by collectively working together.
If you want to get a peak into how my class looks like, read this blog where i introduce where we come from, our educational backgrounds and our work experiences. This means that when you start this masters, we are the cool second years 😉 https://studentblogs.ki.se/2019/10/27/masters-in-bioentrepreneurship-2019-who-got-in/
With that said, here are 3 tips to consider before you arrive in Stockholm for the introduction week in August!
1. Start thinking about Housing
Regardless if you have applied for KI Housing or not – go to https://www.sssb.se/ and create yourself an account. It is the website that allows you to rent student accommodation in the Stockholm area. Almost every student i know is registered here. It works as a queuing system where one day gives you one point. The more points you have, the more likely you are to receive accommodation. You are allowed to collect up to 90 points (90 days) before SSSB requires you to be registered at a course to continue collecting points. So, let's say you start today, in 90 days it pauses and saves your points. Then, as soon as you start a course in September, the collecting of points starts again.
Finding accommodation in Stockholm is very difficult so trust me on this. Go and get yourself an account asap.
2. Enjoy your summer as your first year will be intense. You have earned it!
The first semester is probably the toughest one from all semesters in this masters (speaking from own experience and hearing others opinions). You will have courses with ranging content (basic accounting to entrepreneurship to project management) and you will be faced with Sweden's typical learning methods. It is many new things, but do not be frightened! You as a class will be in this together and you will support each other through it!
Use this upcoming summer to simply read books, see friends and family, learn the ukulele. You have just been accepted to one of the best universities in the world, acknowledge that and save your ambition and determination for September. You will need it then.
3. Make sure to create a good class atmosphere!
You will receive e-mails from our programme director through this spring and she will share a Facebook group where you all can join already to get to know each other. Use this time to "break the ice" and slowly begin the "getting to know each other phase". This is the link to the group if you want to join already: https://www.facebook.com/groups/230074981702716/
As the first semester progresses, you will get to know your classmates by working on group assignments but also through social activities after lectures to hopefully build strong friendships . This is time consuming but essential! Make sure to put emphasis on building a good class atmosphere. If you do that, you will have 2 great years ahead of you! 🙂
This was the end of this blogpost! More tips will come as we go through April and May. I am really looking forward to meeting you all soon but until then, stay safe and healthy.
Congratulations once again in being admitted!
FYI: I am open to any questions you might have in the mean time. Email me on tina.sayari@stud.ki.se or find me on linkedin: Tina Sayari
// Tina 🙂 Blogger for the Bioentrepreneurship programme
I am studying the Master's in Bioentrepreneurship and will be writing about my courses, my classmates, and the general satisfaction regarding this masters. Being born & raised in Stockholm and previously doing the Bachelor's in Biomedicine at KI, I know more than the average KI student about living in Sweden and the university :) Feel free to contact me: tina.sayari@stud.ki.se