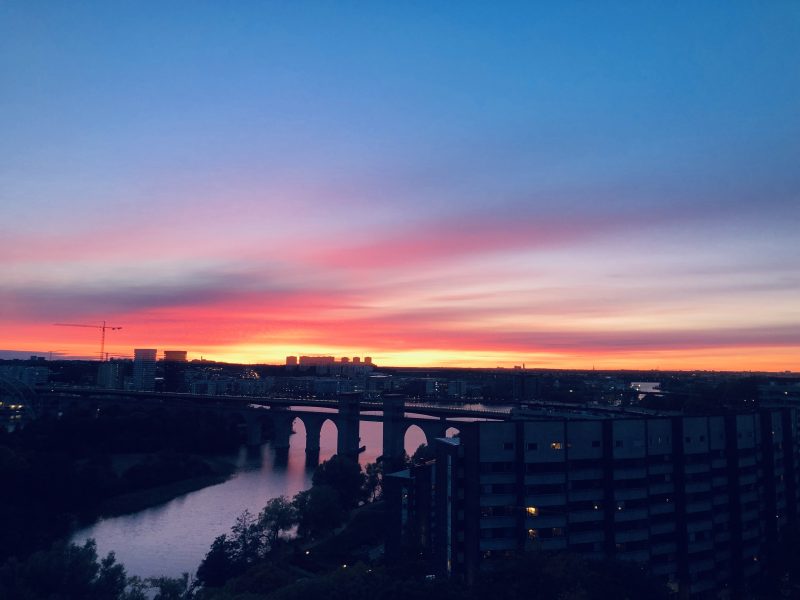 Everything you need to know before moving into KI's student housing Jägargatan
Preparing for your move to Stockholm is such an exciting time, but I know it can also feel stressful as you plan and prepare all the necessary things including flights, packing, housing, etc. I remember for myself, I had a lot of anxiety thinking about where I was going to live. When I received my offer from KI housing to live in Jägargatan I was relieved to have accommodation, but I also had so many questions before moving in. I hope this blog will help answer some of those questions!
Location
One of the best parts of Jägargatan is its location. Jägargatan is in Södermalm which is the south island in Stockholm and is close to Gamla Stan ("Old Town") and the city centre. Not only is it right by the water with great walking paths, workout parks, areas to swim and more, but it is also a great area for students with many restaurants, bars, coffee shops, and museums.
Transit
Jägargatan has many transit options:
It is about a 10 minute walk to the Södra station where you can access the Pendeltåg (commuter train). We are only 1 stop from Stockholm Central Station (a.k.a T-Centralen) and 2 stops from Odenplan station where you get off to go to KI's Solna campus.
There are numerous nearby stops on the Tunnelbana (the metro line):

Zinkensdamm (15 min walk)
Skanstull (20 min walk)
Medborgarplatsen (20 min walk)

There are many nearby bus stops that take you to school, downtown, around Södermalm or even to nearby National Parks like Tyresta!
Getting to school
Getting to KI's Solna campus from Jägargatan is very easy and there are several transit options that take anywhere from 30 minutes to 1 hour.
You can bike in about 30 min
You can walk to Södra station and take the Pendeltåg (#41, 42X or 43) two stops and get off at Odenplan station. From here you have two options:

Walk 10-15 minutes to campus (this is my favorite option!)
Exit Odenplan and take any of the busses that go towards Karolinska (#53, 6, 507)

There are nearby bus stops from Södra station or Södersjukhuset (the hospital beside Jägargatan) that are both within a 5-10 minute walk that offer buses (#3, 4) that take you directly to KI.
Room
Each tenant in Jägargatan has a small room and sink. The room comes furnished with all the necessities: single bed (with mattress, duvet and pillow), desk, chair, dresser, lamp, garbage bin. You have to bring or buy your own sheets. I also bought an extra blanket and pillow since I liked to have my own things and then also had an extra set for when guests came to visit. The whole building also has free wifi so you will not need a router.
Guests
You are allowed to have guests and many people have weekend visitors! They can stay in your room (many people have extra mattresses or borrow an air mattress from another resident on the floor) or there is a guest room in the building that you can reserve/rent for for a small fee.
Shared space
Other than your room, the rest of the areas are shared including the kitchen, bathroom, living room, and laundry (which is free!). Each floor has a kitchen equipped with the necessities (pots, pans, utensils, cups, plates etc.). Each person is given a labelled shelf (with their room number) in the fridge and freezer, and a food locker.
There are several bathrooms on each floor with many toilets and showers. Each floor has a living room furnished with couches and a TV with access to an HDMI cord which are great for movie nights!
KI student housing provides dish soap, hand soap, dish cloths, paper towel and toilet paper. While everyone is responsible for cleaning their own dishes, facility staff clean the kitchen and bathroom every weekday. I found this to be very useful to help with many things that typically can make communal living challenging.
Payment
Jägargatan is very affordable! At Jägargatan you pay per night which means that your amount changes depending on the month which gives you a lot of flexibility. It means if you move in/move out in the middle of a month you will only pay for the nights you stay there, not the whole month.
You will get a reminder email every month when your payment is due and you can easily pay it online through KI housing.
Social life
One of my favorite parts of living in Jägargatan was how easy it was to meet people. I met many of my best friends who were not in my study program through living here. During the week people often like to cook and eat dinner together, watch a movie or play games, and on the weekend you can usually find some social activity that suits you whether that be going out or staying in and having a movie night.
There is a big mix of students from all different programs living at Jägargatan. Some are there on a full 1-year contract and others live there for a short duration for exchange, Erasmus, or a medical rotation. I found this to be great because you are constantly meeting new people!
Local amenities
There are many things nearby Jägargatan.
The closest grocery stores are ICA and Lidl.
It is attached to a hospital Södersjukhuset
Nearby pharmacy (Lloyds)
Located on the water with great walking and running paths (including an outdoor gym)
There are numerous coffee shops nearby. The closest two are Bröd & Salt and the Park.
There is a gym nearby called SATS Södra (although many students use the free student gym at KI)
Safety
Stockholm in general feels like a very safe city and Södermalm is a safe area. Additionally, the building of Jägargatan has a keypad to enter the building (and the code changes every few months), each floor can only be entered with a key (that only those tenants whose room is on that floor have access to) and then each person has an individual key for their room.
Accessibility
Jägargatan does provide a ground level entrance, automatic doors, elevators and ramps into some of the student floors.
Overall, I had a great time living in Jägargatan and it enhanced my transition to Stockholm. For more information contact KI housing! If you want to learn more about other students' experiences with KI housing, check out KI's Youtube page or read other past student blogs on housing. Feel free to contact me if you have any questions!
Cheers,
Lauren
Hi! I am Lauren, I was born and raised in Canada, and you probably will hear me talking about how much I love Canada, especially the mountains. I am the blogger for the Master's Public Health Sciences Health Promotion and Prevention stream and I am excited to share my experiences with you!