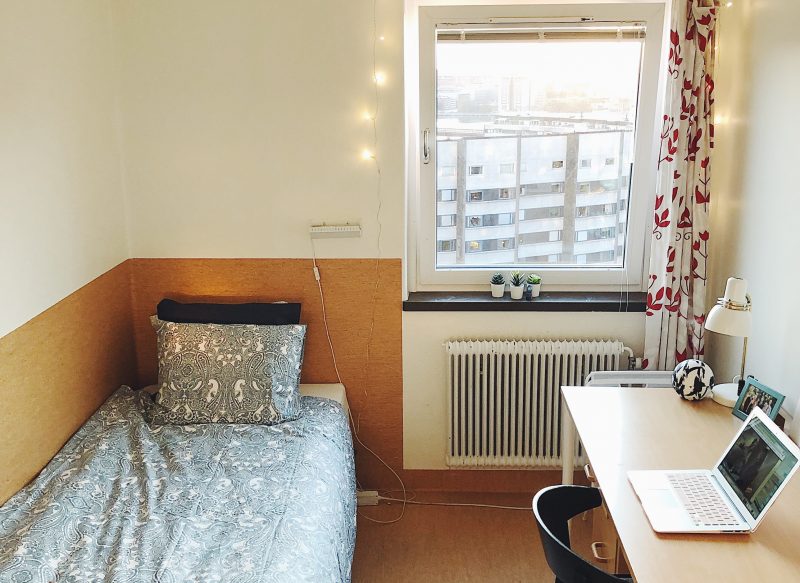 How to decorate your student room on a budget
Moving away from your home can be hard as you leave behind all your things and your space. Especially if you are moving into student accommodation which often can be smaller than what you are used to. However, there are many ways you can make your room feel cozy!
Bring your favorite things from home, but be selective
I know this can be an issue especially if you are flying and limited to the size and weight of a suitcase. I encourage you to not bring all your home goods, everything you need you can find in Stockholm, and affordably. Avoid bringing things such as heavy sheets, towels etc. I would prioritize your must haves or get creative with small things you can bring from home.
I printed and brought lots of pictures of my family and friends to put up throughout my room, a Canadian calendar, my favorite pillow case and I got a soft blanket that had a Canadian flag on it that I used on the plane, so space was not an issue.
Shop sustainably
To save money and to be more environmentally friendly, try searching for things that you can buy used through a second hand source.
Thrift Stores
Good news! Stockholm has many thrift stores/second hand stores. Here are my favorite ones:
Myrorna (Myrorna means the ants in Swedish)- This is a chain of second hand stores in various locations around the city. They sell everything from kitchenware and furniture to clothes and jewelry.
Stockholms Stadsmission– This is also a chain and can be found around town. Some locations have mostly clothing while others have home goods, books, and even seasonal necessities like ski boots and ice skates!
Röda Korset (The Red Cross)- The Red Cross has some locations in Stockholm and is an extremely affordable option for a variety of necessities.
Emmaus– Emmaus is located near Slussen on Södermalm, and it has two shops next to each other. The first one is slightly smaller and more expensive and is for vintage clothing. The second one is on the less expensive side and has clothes, shoes, bags, home goods, and more. Emmaus is a personal favourite!
Blocket/Facebook Marketplace
People in Stockholm actively use sites to repurpose their things. Check out the various sites especially if you are looking for bigger furniture or even for a new apartment!
Markets
Quite frequently Stockholm has second hand markets. The events often are posted on Facebook so keep your eyes open for when they happen. I found so many treasures!
New options
Ikea – is about 25 min outside of Stockholm and there is a free shuttle that runs Monday-Friday from the city centre. Here you can find everything you would ever need for your dorm room or apartment at a very reasonable price. If you are living in KI student housing, they provide your furnishings and your blanket/pillow, but I bought myself a new blanket and pillow at Ikea to make my room feel more comfortable and homey.
Decor stores: H & M home, Zara Home, Lagerhaus, Claus Ohlson, Hemtex, Mio
Online stores: Amazon etc.
Overall, there are so many ways to make your room feel like home on a student budget and it can be quite fun!
I hope you are getting excited to move to Stockholm and make it your new "home". Let me know if you have any questions lauren.elizabeth.wiebe@stud.ki.se
Thanks for reading!
Lauren
Hi! I am Lauren, I was born and raised in Canada, and you probably will hear me talking about how much I love Canada, especially the mountains. I am the blogger for the Master's Public Health Sciences Health Promotion and Prevention stream and I am excited to share my experiences with you!