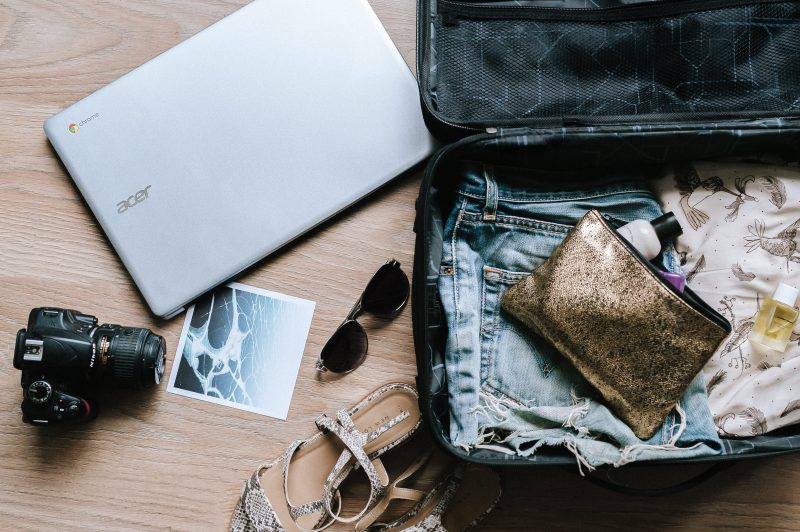 Top things to pack for your move to Stockholm
It can feel overwhelming not knowing what to pack for your big move to Stockholm! Here are my top suggestions:
PLANE
Carry-on bag & backpack
Passport (Make sure your passport is valid for at least 6 months after you plan to return to your home country, you will not be allowed to travel too close to the expiry date)
Face Mask 
Hand sanitizer 
Wipes
Comfortable outfit
Sweater
Headphones 
Book
Wallet 
Neck pillow
Ear plugs
Phone, laptop, etc.
Gum 
Snacks
Glasses
CLOTHING
This might be the hardest part since Stockholm experiences all the weather of all four seasons and it can vary quite quick! Tip: only bring the clothes you typically wear back home everyday. 
Everyday – layers are key! 

Pajamas 
T-shirts 
Long sleeve shirt 
Various pants 
Sweaters 
Rain jacket 
Socks 
Underwear 
Belt 
Business casual outfit 
Going out outfit 
Comfortable footwear 

Winter

Winter coat 
Mittens & winter hat 
Scarf 
Water resistant shoes 
Thermal pants

Summer 

Bathing Suit 
Shorts 
Sandals
Flip Flops
Cap

Other 

Gym shoes 
Exercise clothes 
Hiking shoes 
TOILETRIES 
Get any prescriptions filled prior to leaving to give yourself time to sort out health care in Sweden
Non-prescription medication/creams (Sweden does not have certain things accessible over the counter, such as Cold & Flu Medication and Epsom Salts) 
THINGS FOR YOUR ROOM
If you have space you can bring items such as sheets, blankets, towels. However, these can be very heavy and you can find these things in Stockholm easily and affordably (IKEA!)
Your favorite items (E.g. pictures)
IMPORTANT PRACTICAL ITEMS
Swedish Krona (their currency) 
Passport; other identification cards
Driver's license
Bank cards (Contact your bank and make sure that you have access to your account while in Sweden or that you will be able to transfer it to a Swedish bank account)
Paper work 

Insurance Documents E.g. European Health Insurance Card 
Visa Information 
Notification of Acceptance 
Final transcript (for those in the final year of their bachelor) 
Documents you need to apply for the personnummer 
SCHOOL ITEMS 
Computer 
Calculator 
Agenda 
USB drive 
TECHNOLOGY
Laptop and charger 
Phone charger 
Outlet adaptors and/or power converter (Sweden uses the Europlug (Type C & F and outputs 230 Watts)
Headphones 
Camera 
Phone that is unlocked and able to change sim cards
Bluetooth speaker
Electric razor
External hard drive
HDMI
Power strip
OTHER
Umbrella 
Reusable water bottle 
Sunglasses 
Sports gear (cleats, goggles, bike gear, skis etc.) 
Sunscreen 
Packing to move to a new country can be difficult and your first attempt will probably result in an overweight suitcase. Don't get discouraged! Before you start, you should first identify the airline's baggage policies and fees through their website. Then, what I have found helpful, is to first write down a packing list and lay out all your items to see everything before packing your suitcase, carry-on & personal bag. I hope this list helps make your packing a little easier and remember you will always be able to get many items once you are in Stockholm (i.e. in the "Others" section). 
Good luck and contact me if you have any questions lauren.elizabeth.wiebe@stud.ki.se
Lauren
Hi! I am Lauren, I was born and raised in Canada, and you probably will hear me talking about how much I love Canada, especially the mountains. I am the blogger for the Master's Public Health Sciences Health Promotion and Prevention stream and I am excited to share my experiences with you!