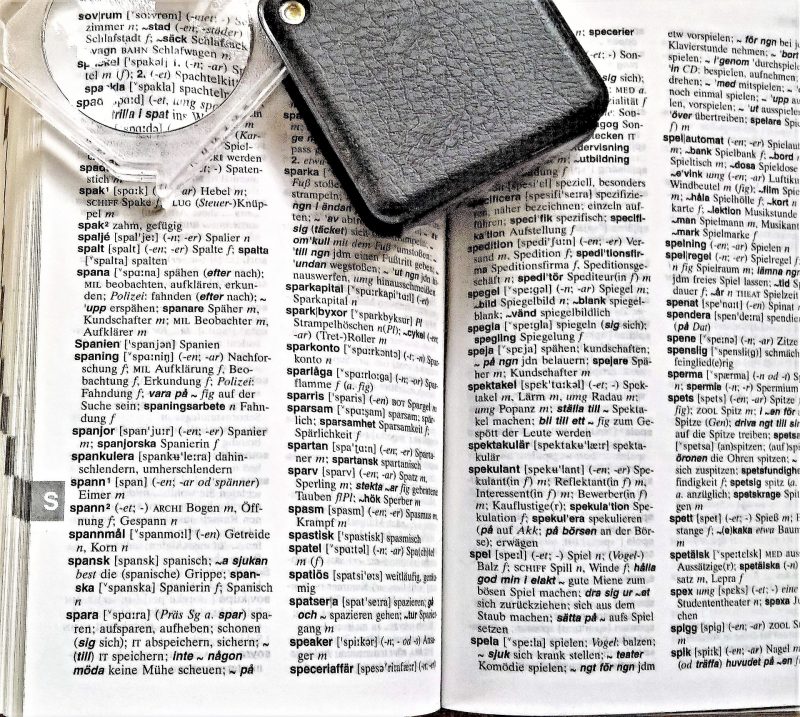 Learning Swedish: A beginner's guide
No matter where you are, it's always an enriching experience to learn the local language. So whether you're new in Sweden or have been around for a while, maybe you're thinking about learning some Swedish? Here are some reasons you shouldn't learn Swedish, some reasons you should, resources for getting you started, and my personal experience with Swedish learning!
5 reasons you shouldn't learn Swedish…
It's worth mentioning the aspects of learning Swedish that made hesitant to try learning Swedish when I first came to Sweden
The Swedish population is quite good at English, so it's rare for encounter a massive language barrier in most place
There aren't many Swedes: about 10 million in Sweden and a few million more, give or take. Learning Chinese or Spanish on the other hand, is a lot more useful in the greater scheme of things.
If your English is good enough for you to be reading this blog, chances are that you can guess a lot of Swedish words anyways
If you're in an international setting—like university, academia, or business—then most matters can be taken care of with English.
Learning a language is an investment of time and energy, and it may not offer you as much of a boost as investing that time in another skill might
…And 5 reasons you should
Keeping the dissuasive factors in mind, there are many reasons you should learn Swedish. Read Resthie's blog about how necessary it is to learn Swedish for lots of insightful details!
It's useful for many jobs and internships which may require Swedish
It will allow you to communicate more easily in many contexts
Government matters and news are often presented in Swedish, and knowing it will let you stay informed better
If you intend to feel more at home in Sweden, knowing Swedish makes a big difference!
The skill set that comes with learning a new language is a valuable one—commitment, time management skill, context based learning, etc.—are part of this.
So how do I learn Swedish?
The community of Swedish learners is big, and the internet is bigger. Here are some great ways of learning Swedish that I've found! If you know any more good ones, send me a message📧
Publicly available apps and resources help you learn on your own: Examples are Duolingo, Babbel, etc. You can also get Swedish books at your local library.
Learning Swedish Course: is a freely available resource for absolute beginners.
Swedish Language Course through KI: is available for newly admitted students at a variety of levels. You can get in touch with your international coordinator for more details!
Language @ KI: is an option run by the International Committee at Medicinska Föreningen for KI students. It's great for practicing and getting to meet people.
Swedish For Immigrants: You can take a level test (nivå test) if you know a bit of Swedish and would like to skip forward. Note that you can only join SFI if you have a personal number. SFI has 4 levels: A, B, C, and D.
After SFI: After you're done with SFI D you can continue with more advanced Swedish with the Grundläggande and SAS courses
Swedish through a university or paid course: You can find many Swedish courses offered by various universities
A good blog for more information and links to resources is this Learn Swedish blog from Study In Sweden.
My personal experience learning Swedish
I've lived in Sweden for 4 years, and didn't make an active effort to learn it for the first 2 since I didn't think I'd stick around for so long (I learned Spanish and dipped my toes in Mandarin instead).
For the last year, I've been paying more attention to the Swedish around me and have also signed up for SFI. It's been fun to do in the summer! I've taken the online version for which I don't have mandatory class time, just study resources, assignments, and tests.
I took a level test that let me jump up to the D level and I hope to take the National Test soon! I'll decide whether I want to continue learning afterwards☀️
It's been fun to finally learn formally what I've picked up from living in Sweden. Keeping an open ear and having Swedish friends to practice with makes a big difference!
Finally
If you were considering learning Swedish or unsure of how to proceed then I hope this helped! And if you are currently learning Swedish (or any other language for that matter) then I'm very proud of you. It can be a challenge but it's also really rewarding and fun. Lycka till!
Cheers,
Inika ❤️
Featured image by Monika Schröder from Pixabay
Hello, Inika here. I'm a third-year Biomedicine bachelor's student at KI. I'm from India and a little bit from Sweden. As a Digital Ambassador Blogger, I'll be writing about my programme, things happening in and around KI, and giving insights into university life.