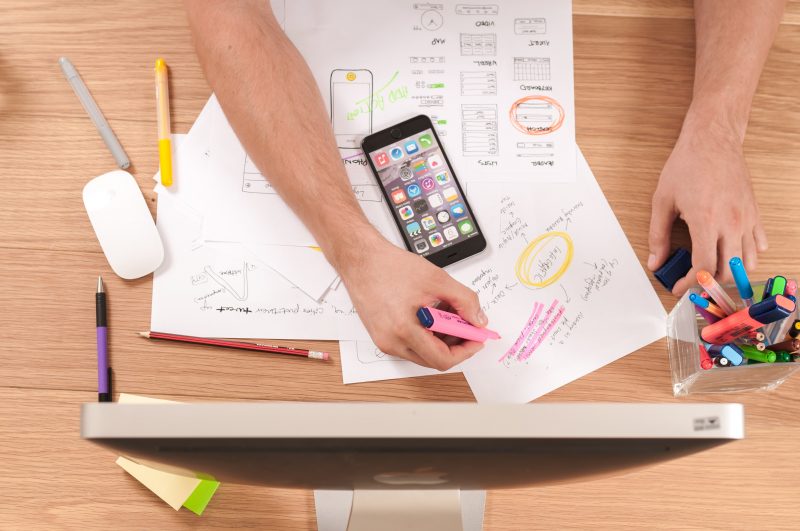 Public Health Project Management: Course Review
Summer has come to a close and we are back for our second (and final!!) year of the Public Health Master's program. This year we started with a new course that they implemented called Project Management (as per the request of previous students). The main focus of this course was learning protocol planning for conducting research. 
Introduction
The course was organized with a combination of lecture and self-learning opportunities. The primary goal was to work and practice our skills in operational project management and data collection protocol. They presented us with three different studies (presented by the researcher themselves) from a high, middle and low-income setting. Based on the presentations of these three studies, we chose one and used that as the case study for our final assignment and application of our new data collection knowledge. Overall, this course let us practice developing practical skills such as timeline planning, budgeting and stakeholder considerations. 
Course leadership 
Throughout the course, we had one main course leader Claudia Hanson, a senior lecturer in the Global Public Health Department. She facilitated the course and was our point of contact if we had any questions. She was very knowledgeable and passionate about her research in the quality of care for maternal and newborn health. I enjoyed her teaching style as she was very open to feedback and prioritized fostering a positive learning environment for students. 
In addition to Claudia, we had infectious disease epidemiologist Carina King, as a primary lecturer, along with numerous guest lecturers who presented their research examples. 
Course themes
The main topics discussed: 
General Project Management 

The start-up phase 
Community and stakeholder engagement 
Budgeting 

Leadership and Human Resources 

Research leadership 

Ethics 

Ethics as part of a research team 
Training data collectors on informed consent 
Risk assessment 

Data Management 

Data management principles 
Governance and Oversight 
Building Questionnaire tools 
Time structure 
This was a two-week course and due to COVID-19, our lectures were dispersed between being in-class and on zoom. Sufficient time was always given for individual reading and our final assignments.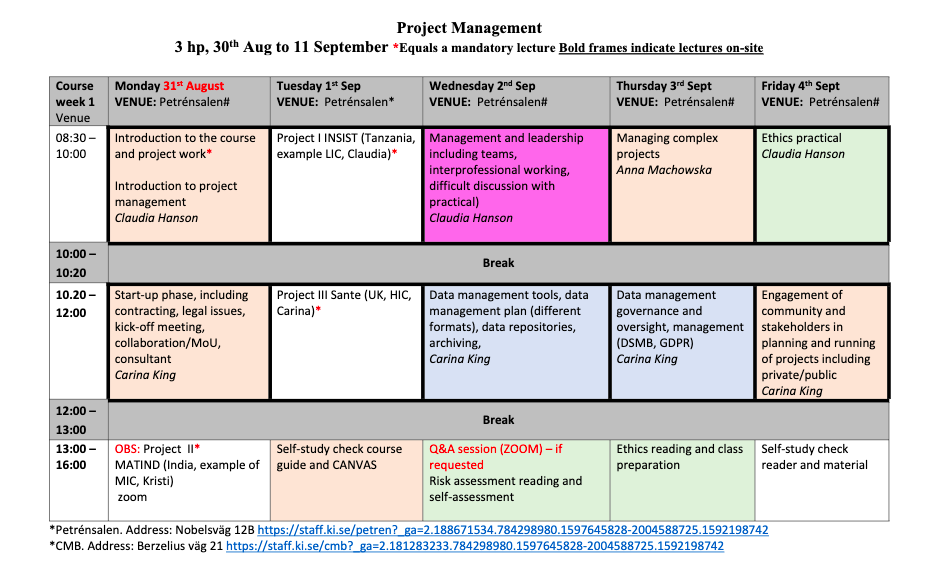 Assignments & Exam
This was a short course, so we only had one marked assignment that acted as our "exam". However, throughout the course, we had numerous small tasks (reflections and quizzes) that they provided feedback on. 
Assignment/Exam: Data Collection Protocol
We were presented three different research studies in three different settings: high, middle and low-income settings. 
Study 1: INSIST – a large household survey focused on improving newborn survival in Southern Tanzania 
Study 2: MATIND – evaluation of two large scale demand-side financing programs for maternal health in India 
Study 3: SANTE – pilot feasibility study for delivering targeted risk education interventions in sexual health clinics in England 
Following the presentations, we selected a study to conduct a data collection protocol for:
Summary, 
A project management plan, 
Data collection plan, 
A data management plan, 
Ethical considerations,  
Annex Diagrams: Gnatt Chart, Organogram, Job descriptions 
This assignment allowed us to reflect on the pros and cons of the existing studying plans, and integrate our new knowledge on effective protocols to practice creating an effective data collection protocol. 
We were given time to ask any questions, receive peer feedback and complete the assignment individually. The grading was pass >65% and pass with distinction >85% and we were given the grading rubric before submission. 
Pros/Cons 
In my opinion, the main pro of this course was hearing the first hand experience from the researchers in varying contexts (Tanzania, India, UK). We were able to hear their real-life challenges and successes which often is not captured in the literature or the theoretical planning. 
For me, the main con was that this course only focused on research project management and not project management in other contexts such as planning a community educational event, fundraiser etc. Being in the HPP stream, I would have been interested to learn more about management outside of the research context and something more tailored to the workforce. 
Overall, this course was interesting and if you are interested in research management you will learn many relevant skills. 
Thanks for reading and email me if you have any questions!
Lauren
Hi! I am Lauren, I was born and raised in Canada, and you probably will hear me talking about how much I love Canada, especially the mountains. I am the blogger for the Master's Public Health Sciences Health Promotion and Prevention stream and I am excited to share my experiences with you!