Why on Earth study Nutrition Science at Karolinska Institutet?
I remember this time last year and I was going through all the options for studying an MSc in nutrition. With so many of you out there making applications, the following blog includes my reasons for studying nutrition science at Karolinska Institutet (KI). Something important to note is that this is my experience and of course there may be some amendments to the course in the future. Nevertheless I hope you find it useful…
It's one year!
Yes the masters programme lasts for one year, and this means that you can potentially fast track the masters stage to move onto the next part of your academic career. I personally wanted a one year course, as I felt that because I did a 4 year bachelor, an extra year would be an adequate amount of time to be live the student life. This means that you can take away a lot of information in a short period of time and then be in a position to apply for PhD's or jobs e.g. research assistant. The course certainly flies by so be prepared to fit in a lot of work in the space of several months!
You learn about important areas within nutrition and on a global scale
This course is not like many other nutrition courses in the sense that it doesn't dive into too much detail on the physiology and biology of nutrition, rather it provides a good overview of the topics presented and you get the opportunity to go deeper in the areas that you find interesting e.g. through reading papers and completing assignments. Nutrition is such a wide area from underlying genetic mechanisms to dietetics to the global double burden of malnutrition.
Some of the topics presented in this course includes:
Public health nutrition
Foundations of a healthy diet
Food and the environment
Sustainable food systems
Judging scientific evidence
Nutrient and physical activity (PA) recommendations
Animal welfare and ethics
From DNA to disease
Endocrine disruptors
Fitness and PA tests (including conducting your own tests and dietary assessments and validating different methods)
PA and disease
Statistics
eHealth and mHealth
No 'strict' exams
I am sure you are familiar with most degree programmes having 2-4hr long examinations in big lecture hall, that contain questions and essay writing. Although this method can be useful and tests your memory/writing skills, sometimes it is perhaps not always the most optimal way to learn. This MSc challenges you in different and dynamic ways, and assignments include: take home exams (giving you around a week to work on them), presentations, designing a food frequency questionnaire, designing a mobile or electronic intervention and writing a study protocol on this, writing reports including abstract, introduction, methods, results and conclusion and even participating in a fish debate. I believe this provides you with useful skills that you can utilise when conducting your PhD or working in a job that requires team work and report writing.
There's plenty of interactive teamwork
I personally really enjoy working in groups and find it useful to see what other people think and what they provide to the task. I think learning from others can really help oneself and combining knowledge can lead to a greater result. This course has interactive team work in every module, with multiple modules having more than one group work assignment.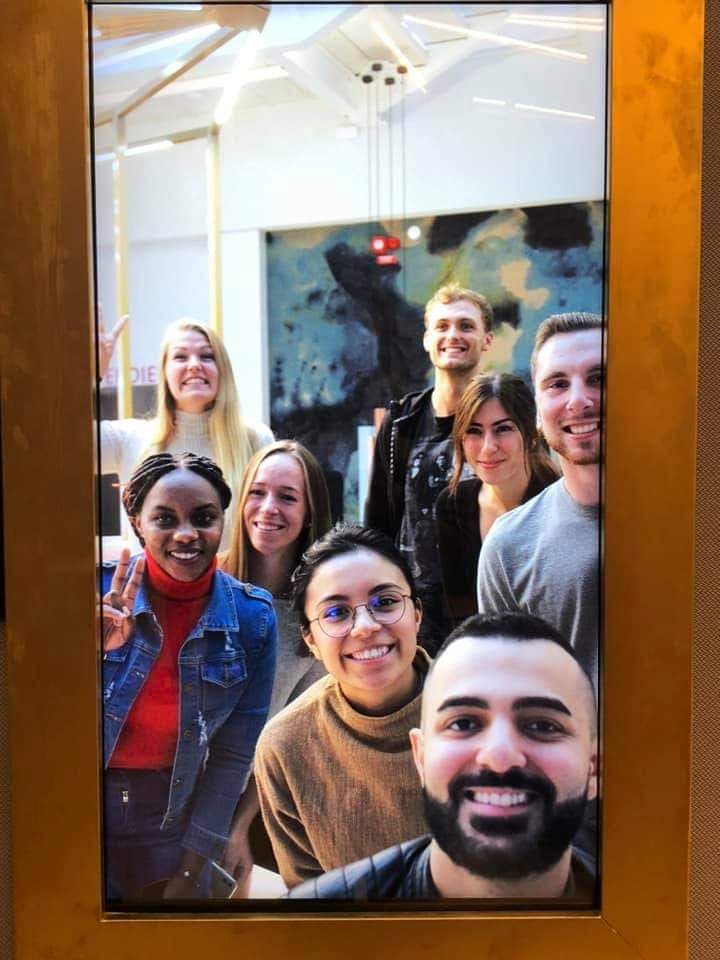 The lecturers are passionate
Most of the lecturers that I have come across are really involved in their work and enjoy to teach and share their wisdom. I really think that it is important to be taught by lecturers who are passionate about their work and what they are presenting; this can truly enhance your learning experience as a student. Furthermore they are extremely helpful and are willing to help you and answer any questions that you have.
Overall this course has been enjoyable for me thus far and I have learned a lot about the area of nutrition and found the subjects presented to be very interesting. Also many students have come from different backgrounds that are not necessarily nutrition, I myself came from a biology background but have found it relatively easy to make the transition and apply myself to this particular area.
I hope many of you are applying for this insightful nutrition course, and to those who are, I bid you good luck
Any questions that you may have, simply contact me at: callum.morison.regan@stud.ki.se
I am from Scotland and have come to Stockholm to study Nutrition Science MSc at Karolinska. I am a blogger for this course and am interested in many areas of Nutrition including ways to reduce childhood obesity and improve adolescent mental health. I love to travel, meet new people, play sport, keep healthy, watch films and listen to jazz music. I also enjoy trying food from around the World and am always searching for the best food out there!