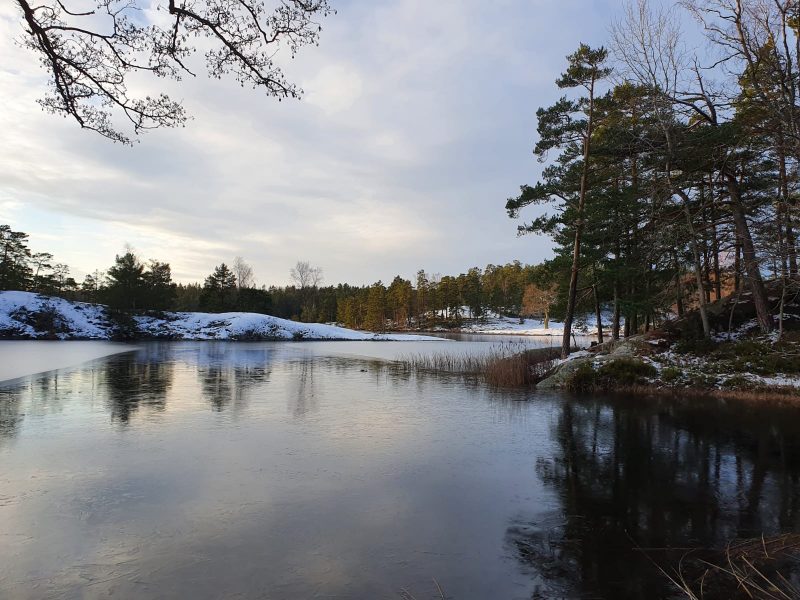 Hiking Trails Around Stockholm
One of my New Year's resolutions for 2021 was to go hiking more often than I had been able to in 2020. So I started off the new year by venturing into the woods and exploring three different hiking trails around Stockholm. If you are looking for a way to spend your weekends that involves getting out of the house and enjoying some fresh air, I highly recommend the following hiking spots.
Grismta Nature Reserve
Easy to reach by taking the green metro line to Hässelby Gård station, Grimsta Nature Reserve was a lovely (i.e. significantly flat) 12-km hike to tackle. The river had yet to freeze over and I enjoyed the picnic tables and small beaches along its margins. We even made some new acquaintances along the way (*the horses*). If you are not familiar with the Vällingby area, I suggest you follow this blogger's footsteps.
Erstaviksbadet (Nacka)
The weather was turning crisp but nothing could kill my excitement for another hike. We started by taking the red line from Tekniska högskolan to Slussen, changing to bus 25B, getting off at Henriksdal, getting on Saltsjöbanan 25, switching to Saltsjöbanan 26 at Igelboda, and finally arriving at Erstaviksbadet.
My friend, Benjamin, coordinated this 14-km trip and led our group through the woods of Erstaviksbadet. When the sun came out to greet us, our smiles were wider than the hills we had to climb along the way. Do not forget to make the absolute most of bringing a Thermos bottle on these hikes (hot chocolate => life-saver)!
Domarudden
We took the Roslagsbanan on an early Sunday morning from Stockholm Östra to Åkersberga, then changed to bus 623 and got off at Solskiftesvägen. My last hike of the month involved crawling through a LOT of fresh snow. Were it not for the prospect of an eventual snack/meal break, I would not have made it through 16 km of hiking through this winter wonderland! But the beauty of the white frosting weighing on the trees' branches makes up for all the hassle the snow cost us. Follow Benjamin's tour for the scenic route through the many magical lakes in this area.
All in all, I'm glad I chose to spend three of January's Sundays on beautiful hikes around Stockholm. It is so refreshing to be able to do outdoor activities (of course, whilst following the public health guidelines) and take some time off from Zoom meetings and other countless hours spent in front of a screen! I highly recommend these hiking trails and I hope you go out there and have some adventures of your own!
Photo credits: Zezhe Huang, Anne Auer and Sofia Drobysheva
Hej! My name is Francisca. I come from the faraway land of the supreme maple syrup, aka Canada. I'm the blogger for the Master's Programme in Molecular Techniques in Life Science at Karolinska Institutet. I love to write about my experience as a student in my programme, a newcomer to Stockholm, and a rookie at life in general. In my free time, I enjoy playing tennis, making music, sketching the city's landscapes, and reading about anything and everything that interests me.