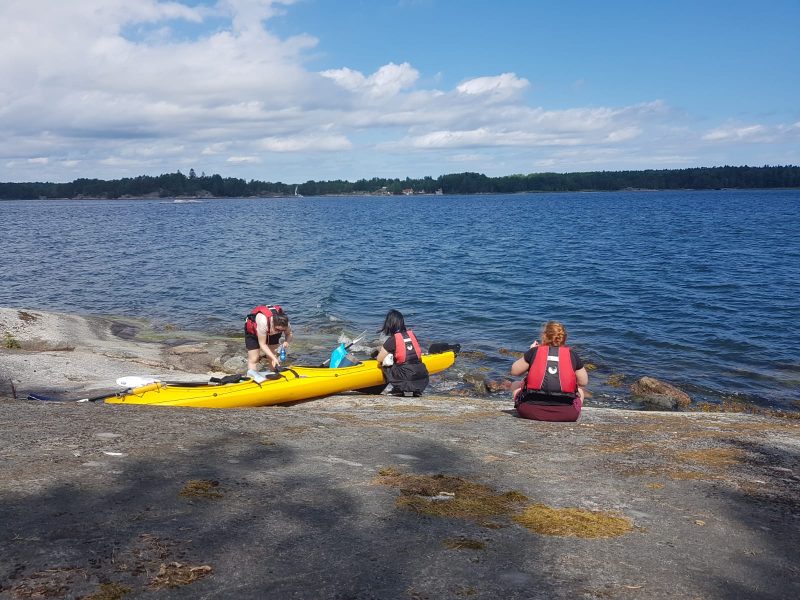 Kayaking in Sollenkroka
It is a well-known fact that Stockholm in July becomes a ghost town. This is mostly due to Swedish families taking vacation during this month and spending time away from the city at their summer house or sailing boat. In spite of me working full-time the whole month of July, I still had my weekends off to enjoy the great outdoors. For this reason, my friends (Benji, Anne, and Zezhe) and I all decided to go kayaking in Sollenkroka for a weekend.
Sollenkroka is located east of Stockholm and it takes about an hour and a half to reach by public transportation. We took the red metro line to Slussen station and then we caught the 434 bus (direction Sollenkroka brygga). We arrived at the kayak rental place at around 9 am on Saturday.
I had kayaked a few times before but some of my friends hadn't so we got some basic paddle instructions from the friendly staff there. We placed all of our bags and camping equipment inside our 2-person kayaks and then took them out into the water. We got into the kayaks and the paddling began!!
Our plan was to go upstream towards the dozens of small islands in this region. We wanted to find one where we could set up our camping site to spend the night. We kayaked northwards for about 6 km under the warm sunshine until we settled for a nice rocky island that was flat enough for us to "park" our kayaks and mount our tents.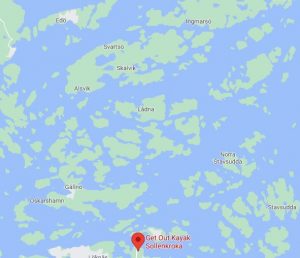 We set up camp and devoured the lunch we had brought from home. In case you are wondering, we rented our tents and sleeping bags/mattresses from KTH's Outdoor Club for a small fee.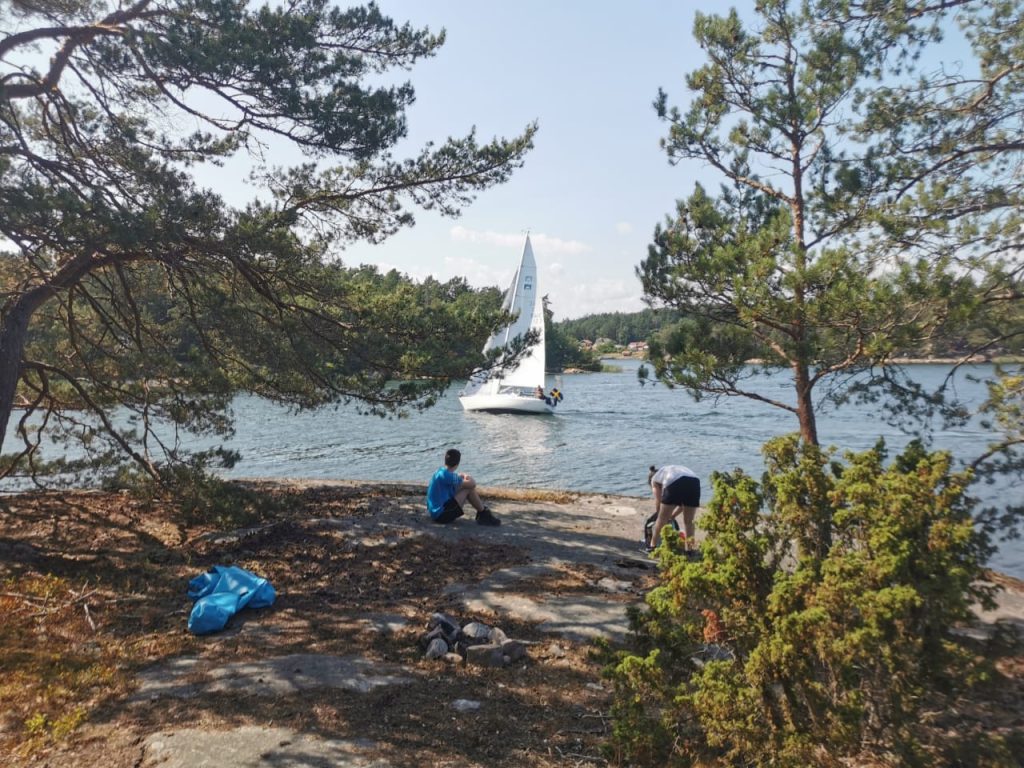 Afterwards, we decided to go explore other islands nearby now that our kayaks were lighter without the supplies we left at our campsite. Since the weather was so nice and the sun so warm, we went for a swim! And, let me tell you, NOTHING has ever felt better than this blissful bath after how much we suffered from paddling for hours on end that day!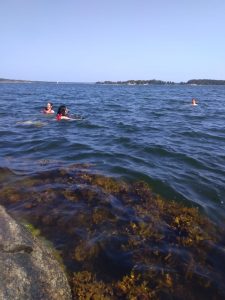 Then, we return to "our" island and started making dinner. We had each brought 5L of water for cooking and drinking as well as some rice and vegetables to make risotto for supper.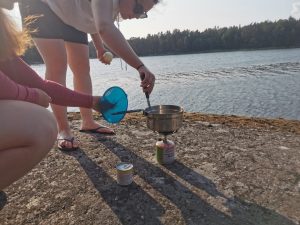 I mostly took charge of cooking and, after a few false starts with the butane stove (the wind didn't want us to eat haha), we finally got our water to boil! The risotto turned out yummy (albeit bland because we forgot the salt lol) and soon thereafter we enjoyed a beautiful view of the sun setting on the water.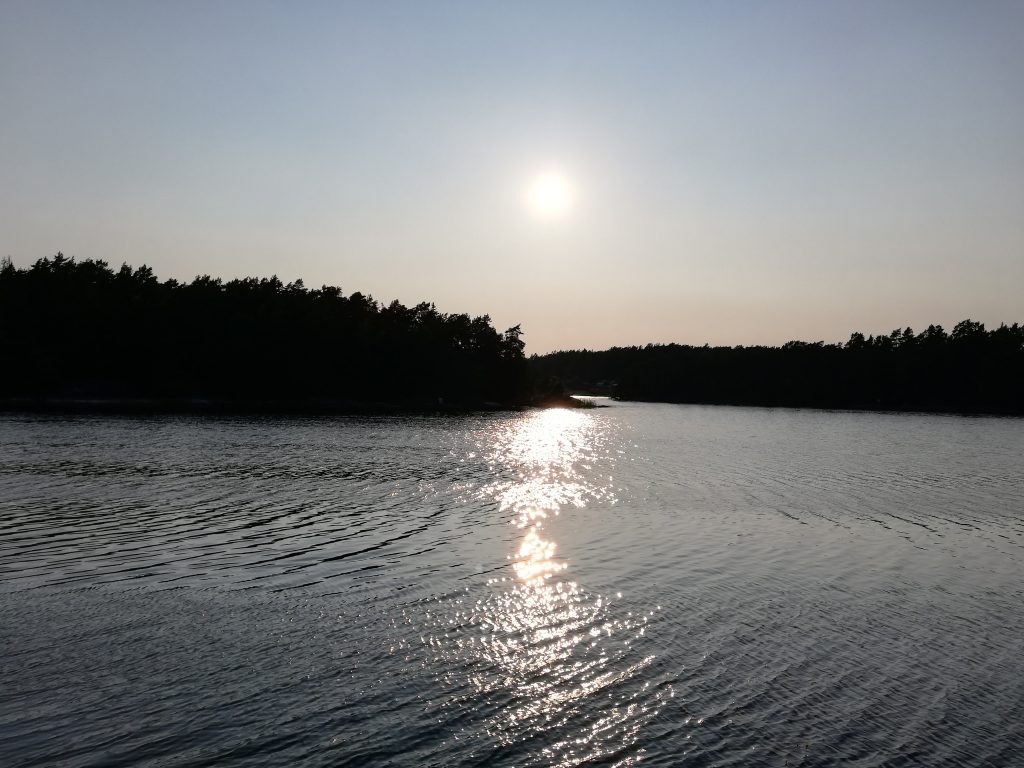 The next day, we packed up everything again into our kayaks and set course downstream towards the kayak rental place. We still explored some more islands and crossed wide streams of water while looking out for the ongoing traffic of sailboats and yachts! We got to our destination safe and sound, but very tired and sunburned. Thankfully, we were welcomed with fika and upbeat music from the friendly people at "Get Out Kayaks".
We got home on Sunday around 6 pm and I was incredibly happy to wash the sea salt off of my crispy skin haha. All in all, I highly recommend trying out this type of outdoor adventure at least once during the summer time here in Stockholm. Even if you have never kayaked before, it's never too late to learn and have a blast!
I can't wait for my next trip! See you then!
Hej! My name is Francisca. I come from the faraway land of the supreme maple syrup, aka Canada. I'm the blogger for the Master's Programme in Molecular Techniques in Life Science at Karolinska Institutet. I love to write about my experience as a student in my programme, a newcomer to Stockholm, and a rookie at life in general. In my free time, I enjoy playing tennis, making music, sketching the city's landscapes, and reading about anything and everything that interests me.