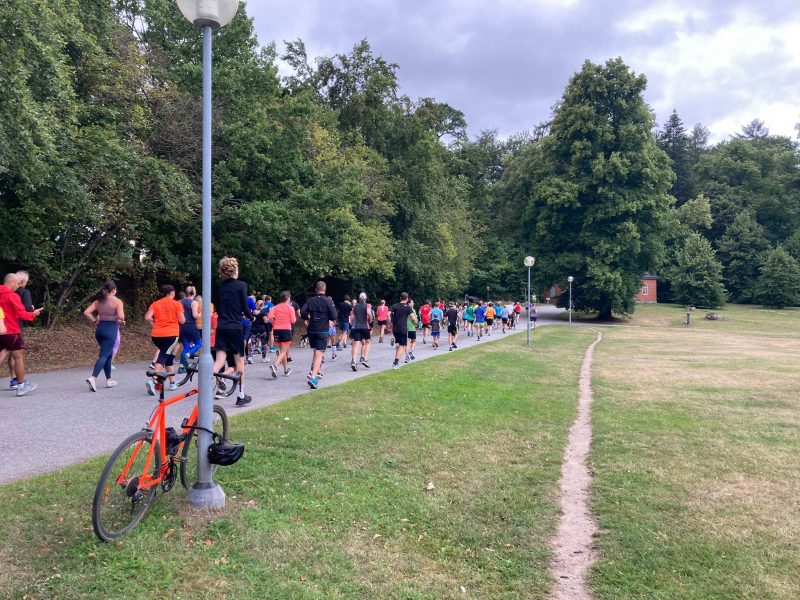 Running in Sweden – parkrun
Hi everyone! I hope those of you who are new to KI are settling in well, and that anyone returning is enjoying being back.
Today I wanted to let you know about parkrun!
Parkrun is a free weekly timed 5km run, and it takes place every Saturday morning. These runs happen in many locations globally, and this includes Sweden. I have done a lot of parkruns in the UK, however, due to COVID, I only managed 1 of these runs in Sweden. The reason I am telling you about parkrun now is that less than a month ago, parkrun restarted in Sweden!
As far as I know, there are 11 different parkrun locations in Sweden, and 4 of these are either in or near Stockholm! These are Haga parkrun, Uppsala parkrun, Kungsängen parkrun, and Huddinge parkrun. You can view all of the Swedish parkruns on the parkrun Sweden website.
Before you can do parkrun, you need to register and print out your barcode. This barcode allows you to get your time recorded when you run!
The parkrun that I took part in was at Hagaparken. It happens every Saturday morning at 09:30. There were 104 people that took part when I was there, and it was really nice to get to chat with many of them. Everyone at parkrun is really friendly and it's always nice to be able to meet new people.
Overall, I really enjoyed Haga parkrun and would love the opportunity to try other parkruns in Sweden too. Parkrun is a great way to meet new people, and keep fit at the same time!
Hey! I'm Katie, a blogger for the master's programme in global health. I'm from England, and I've currently studied half of my medical degree in the UK, and after this year I will return to the UK to complete my degree and qualify as a doctor. If you have any questions about the programme feel free to contact me!